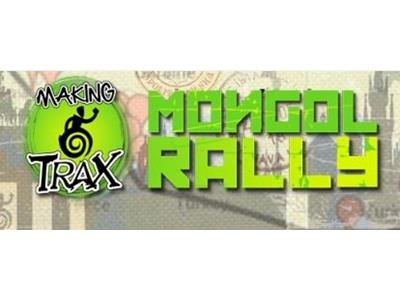 Makingtrax Mongolia Challenge
Makingtrax Team are undertaking a trip of a lifetime to prove life is an adventure & nothing should hold you back London to Mongolia 10000
The Mongol Rally www.traxchallenge.co.nz
With the help of Spark and our support team $22,000 has already been raised. Join our support team and lets change the world togeather.
We have already come a long way. A couple of months ago the idea of going on a new, bigger, better and more life changing adventure got manifested in our heads. We, which is Jezza, director of makingtrax (www.makingtrax.co.nz) and his team of legends around him. Himself a C5 tetraplegic, Jezza started his company makingtrax to give people with disabilities the chance to go on outdoor based adventures, like skydiving, paragliding, swinging down a canyon, jet boating and many more. Having conquered the South Island and parts of the North Island of New Zealand it is time for us to bring freedom through adventure to people all over the world.
It was James who brought up the idea of going on a trip of a lifetime. It was Jezza who took in the idea and then took it to a whole new level. We want to take part in The Mongol Rally: 10,000 miles in a car with an engine displacement of no greater than 1200 cc, starting in the UK and ending in Mongolia. Not only do we want to throw ourselves into the Mongol Rally, but we want to take something extreme and make it even better by having breath taking stops with incredible activities on the way. Skydiving in the Swiss Alps, paragliding around the Austrian Alps, taking in everything we can on the way.
The Makingtrax team consists of individuals who lived their life making the most of what they have and trying to take as many adventures on the way as possible.
Apart from the entire organisation it takes we also have to raise at least £1000 for charity. But we want far more than that. Since that idea came up we have already raised $22,000 showing us it is possible. We have already convinced a fair amount of people that what we can change the world together, make it a better place and help everybody to experience freedom through adventure.
Our goal is to raise 50,000 NZD which goes into the Makingtrax Trust. This trust is set up to give structure and legality to the funds raised. That means all the money we raise over our budget (shown on activity page) will be a available and used solely for Makingtrax adaptions, activities, events and bringing life changing opportunities to the disabled community via freedom through adventure. No funds will be used for financial benefit to any individual. It's all about our cause!!!
Once you donated you will become an active member of our team. You will be given a password which enables you to access the interactive part of our homepage www.traxchallenge.co.nz. Here you can leave comments, give us ideas of where to go and what to do, tell us if you have anything you would love us to do or discover…the possibilities are endless. You will also be kept updated before the journey, throughout the trip and afterwards you can help us to decide how or for which clients makingtrax can use the donated money. You see, we do not only want your money, we want you on the journey because together we can make a difference
You might wonder why we are throwing ourselves into an adventure that is, simply speaking, risk loaded but there are many good reasons to it. We want to change the world. By undertaking this trip as a team including Jezza, a C5 tetraplegic, we want to show that everything is possible. We want to stop society pushing people into stereotypes because of a disability. We want to show outdoor companies all over the world that taking that extra step and a bit more time makes it possible for everybody to take part in outdoor activities. Finally we really want to reach those people that have been pushed into a place or were hold back because they had doubts in themselves. We believe that everybody, no matter what ability, should be able to experience the true feeling of freedom through adventure. A disability should be no excuse to hold back. Life is precious and you only have one, so live it to the max and push the limit.
To find out more about our cause go to www.traxchallenge.co.nz. You can get to know the team, read about and watch our past adventures, learn how you can get involved and much more.
---
Latest update
Sponsorship 17 October 2014
Posted by: Jeremy Wiliams
ABOUT US Makingtrax is a non-profit company that brings infrastructure to outdoor companies providing education, information, and adaption for everybody, focusing on people with physical or mental limitations. We work with some of New Zealand's leading outdoor adventure companies who are excited and willing to tailor our trips to any adventurer's needs. Jezza Williams, the company director, started Makingtrax following a life-changing canyoning accident in the Swiss Alps in 2010. After a life spend in the great outdoors, he was now faced with another extreme challenge. During his 12 month rehabilitation period, Jezza conjured up a way to get back into the industry that he loves so he could bring the joy of adventure to others in similar situations. Now a C5 tetraplegic, Jezza believes that if he can do it, anybody can. At Makingtrax we believe that everybody, no matter what ability, should be able to experience the true feeling of freedom through adventure. A disability should be no excuse to hold back. Life is precious and you only have one, so live it to the max and donft hold back. We are focused on bringing these adventures and experiences to those individuals who may have previously believed it impossible. THE MONGOL RALLY EVENT DETAILS MakingTrax and team are undertaking a trip of a lifetime to prove that life is an adventure and bring our mission into the limelight. We are aiming to complete the Mongol Rally, a 10,000 mile journey from London, England to Ulan Ude, Russia. The rally begins July 11, 2015 and will take approximately two months, depending on our route and problems we encounter along the way. There are only three rules: The car we will be driving must be ridiculous and small (engine no bigger than 1.2 litres), we must complete the journey entirely on our own and we have to help save the world through fundraising and awareness. We will have to find a suitable car, choose our own route, and navigate Europe throughout the 10,000 mile journey. There is nobody to hold our hand if anything goes wrong, no organisation to fix our car, and no one to bail us out of any sticky situations. To make it even more exciting, Jezza and the rest of the crew is determined to throw themselves out of planes, down rapids, off cliffs, and whatever else they can find to do along the way. Why would we go on a mission risking health, life, and sanity? The truth is there are many good reasons, least of which is that we enjoy a challenge and know it can be done. Our biggest motivation is to prove the ideas that have led to the creation of Makingtrax. We want to show the world the possibilities of what can be done, regardless of the special needs or requirements of an individual, and provide a shining example for those who wish to do something similar. It is important for society to see that with the right mindset and support anything is possible. A wheelchair should not be a limitation to achievements in life. MEDIA SUPPORT Makingtrax and the team have worked hard to generate interest in/and awareness of the Mongol Rally and Makingtrax. This includes television and radio interviews, an event website with member access for sponsors, and pages on social media websites. In order to share this event with the world, Zoe McIntosh and her team will be joining us on the trip and make a full feature documentary of the planning stages, all events during the rally and events that occur after our return. A brief biography of Zoe and Hamish is shown below, although more can be found on their website www.zoemcintosh.com. Zoe McIntosh - Director Zoe McIntosh first won attention for a documentary on mail order brides, made while she studying at Ilam. In 2010 Lost in Wonderland, her doco about idiosyncratic barrister Rob Moodie, won the Qantas award for Best Popular Documentary. Currently developing a feature and directing adverts, McIntosh has also helmed award-winning gangster-on-holiday short Day Trip and bogan buddy romp The Deadly Ponies Gang. Hamish Mortland ? Producer Hamish is a graduate of Canterbury Universityfs Ilam School of Fine Arts, where he majored in film (BFA) in 2003. After studying he began working within the camera-line before branching out into producing, directing and editing across various TVCfs, documentaries, films and music videos between his time both in New Zealand and the UK. He holds a strong interest with projects that not only entertain, but also actively engage the audience and reinforce, challenge or shift their original perception, belief or values. He is currently producing TV Commercials, short films and is in the early stages of producing his first feature. SPONSORSHIP OPPORTUNITY We have sent you this proposal as a unique sponsorship opportunity for your company. Every year approximately 250 to 300 teams participate in the Mongol Rally, traveling thousands of miles across every reach of Europe and Asia. Videos from the Mongol Rally are posted all over the internet from various individuals and companies. We will be creating our own professionally filmed and distributed documentary. In addition to that we will be visiting unique places and hold events for the disabled in a variety of places and we will be driving a vehicle that can be a moving billboard for company logos. We hope that our project might be of interest to you as an opportunity to promote your products and company through a sponsorship arrangement. We can offer a variety of sponsorship methods to suit your budget, for example: Equipment and Apparel Our event would use only your companies equipment for the given purpose, which you supply and replace as necessary. We would give prominent publicity to this fact in all our promotional material such as brochures, publicity leaflets, advertising and within the documentary. Advertising Your name or logo featured on our Mongol Rally vehicle; The logo will be seen by every individual we pass by while driving the 10,000 miles from London, England to Ulan Ude, Russia as well as appearing multiple times in the media coverage of our event and social media Travel Arrangements Sponsorship of our flights to and from London, England for the event; We would give prominent publicity to this fact in all our promotional material such as brochures, publicity leaflets, advertising, social media and within the documentary. It may be that you have other ideas that you would like to discuss with us. One of the great advantages of partnering with a local company is being able to be flexible. If there is a possibility we would like to arrange a meeting to talk through some ideas. We would also love to give you a tour of the project so you might see for yourself the great steps forwards that we have already made.
---
Latest donations

jacqui jacobs
on 03 Aug 2015

Interior Aspects
on 21 Jul 2015
Love what your doing, great cause,all your energy and zest for life will touch all who you meet.

Guest Donor
on 17 Jul 2015

tom oswald
on 09 Jul 2015
Good luck guys!!

Jasmine Braidwood
on 16 Jun 2015
---
Who's involved?
---
Page Moderated
The page has been checked by our team to make sure it complies with our terms and conditions.
---
Gallery
View full gallery
---
Got a question for the page owner?
Ask one here
---
Any concerns?
Report this page
---
This page was created on 16 Oct 2014 and closed on 1 Sep 2015.