New Chapter
17 September 2021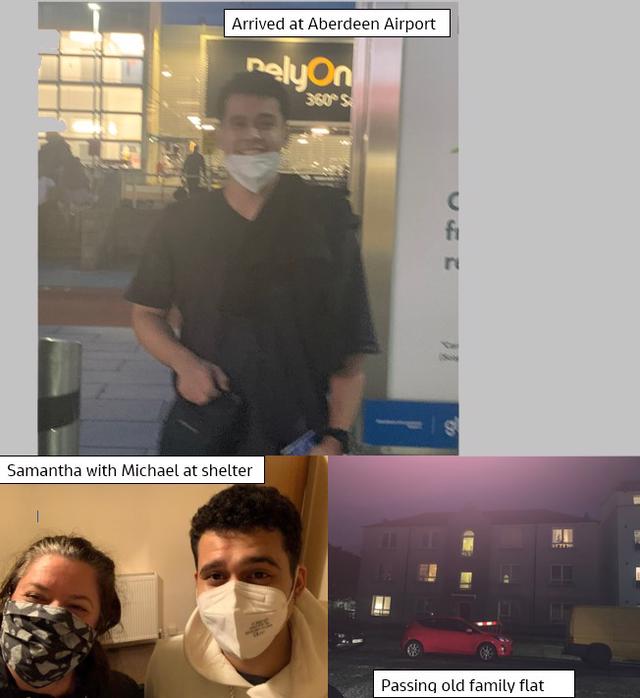 I am so incredibly happy, and somewhat emotional, to share that Michael has arrived safely in Aberdeen. There was a bit of a mix up at London Heathrow Airport initially and he got caught up in a group of people that were to be taken to a covid hotel.
A bit stressful for everyone for a moment as we lost touch with Michael, partly because he isn't very cognisant about communication.
Big thanks to Sam in Aberdeen. The the social support volunteer she arranged at Heathrow arranged to provide assistance to Michael on his arrival was able to make contact with Michael and things came right.
Michael finally got to his Aberdeen connecting flight and arrived around 7:30pm UK time.
Provided are photos of him outside Aberdeen airport, driving pass his old family flat and finally a photo of Samantha with Michael, where he is staying.
I have also have 2 videos. One of him conversing with Sam and husband Max. Also one of his accommodation.
Due to lack of sleep I tagged out when I knew he was safe in the UK, once Samantha could take over. Not clear at the moment if this is his final accommodation as the plan was one night in emergency housing and then hopefully a council flat.
I will hope to catch up with Sam later today to see what the final accommodation arrangements have been.
Thank you again to all of you for your contributions. Everything you have given is generous no matter the sum. As this will help us give him a good start also in Aberdeen. And the new chapter for Michael will come with many of it's own challenges and expenses.
Sam has set up an account for Michael and will manage all funds received and will feed this to Michael in a measured manner or use it for any additional support he will need.
Over the next week we hope to understand better what assistance Michael will get and where we will need to plug the gap.
0 comments |
Login
to leave a comment