Anne's Appeal for Stem Cell Therapy for MS
I have aggressive Multiple Sclerosis (MS). I need to travel to Russia for Stem Cell Treatment to put the MS into permanent remission.
Auckland
My name is Anne Besley. I am a 49-year-old mum of an amazing teenage daughter Devon, wife to my wonderful husband Brett and a part time wedding and funeral celebrant.
In 2006 I was diagnosed with Multiple Sclerosis (MS) when my daughter was 1 years old. My journey with MS has been a very long one and a big roller coaster.
I worked as an operating theatre nurse educator but found very quickly after my diagnosis that standing was a challenge, I was constantly dropping things and breathing became hard, so I had to move to a nursing administration job, giving up the job I loved. Eventually working at all became too difficult as my illness not only challenged me but also my employers.
The nerve pain I had was tremendous and whilst the third drug did manage this, ultimately it proved I needed a much more powerful drug as walking became very difficult again. I again had to give up my beloved nursing career as cognitive issues resurfaced, my memory became worrying, I started to lose my hearing and developed another scary symptom called laryngospasms which could close off my airway.
I was put on a 4th much stronger drug that has helped my MS symptoms considerably. I have however now been tested positive for the John Cunningham Virus (JCV) a virus which means that this 4th drug is now dangerous for me to take as it can cause a fatal brain infection called Progressive Multifocal Leukoencephalopathy (PML) given the positive result for this virus.
If I come off of this drug, all of my old symptoms will come back (breathing difficulties, laryngospasm, nerve pain, walking issue to name a few) and the MS will progress. However, if I stay on it, it's very possible that I could suffer the brain infection that the virus exposes me to. The risk I face for this brain infection is 1:333 escalating to 1:125.
Multiple sclerosis is an autoimmune disease where the body's immune system attacks its own tissues. There is no cure for MS, just a progressive slide into permanent disability.
Hematopoietic Stem Cell Therapy (HSCT) for the treatment of MS is a pioneering treatment successfully used overseas in just 3 countries (Russia and Mexico – Russia by far does treats the most cases and has the best success) to "reset" a person's faulty immune system. The treatment involves harvesting stem cells from the bone marrow, followed by chemotherapy to shut down the faulty immune system. Stem cells are then given back to grow a new healthy immune system. Patients stay in the hospital for a month for the treatment until they are well enough to travel home.
This treatment will save me from the threat of a fatal brain infection, and I don't have any other options. I need to raise NZ$120,000 so that I can receive Hematopoietic Stem Cell Transplantation (HSCT) at the leading clinic A.A Maximov Clinic in Moscow. All of the funds raised will be spent on my treatment at this clinic, my flights, and also flights and accommodation for my husband who will come over for the final week of treatment and help me travel home.
This treatment is led by Dr. Denis Fedorenko, the Leading Haematologist of Russia, Doctor of Medical Sciences, Professor of the Department of Haematology and Cellular Therapy. He has performed this procedure to hundreds of patients with a high success rate (for my form of MS this clinic has an 85-95% success rate that there will be no further progression in my disease). For many patients there has also been an improvement in general mobility and functionality.
I feel like they I am staring into the depths of darkness, pain, disability and dependency. For years I have been fighting this insidious disease, and at times I feel desperate because I seem to fail on all the drugs I have been given. For the first time, I really feel hopeful that there is a treatment that may completely halt this disease and allow me to live a more normal life and be there for my family.
Any contribution you can make would be most gratefully appreciated.
Thank you
Anne
Use of funds
The money will spent on travel, tests, the stem cell treatment.
Other page links
---
Latest update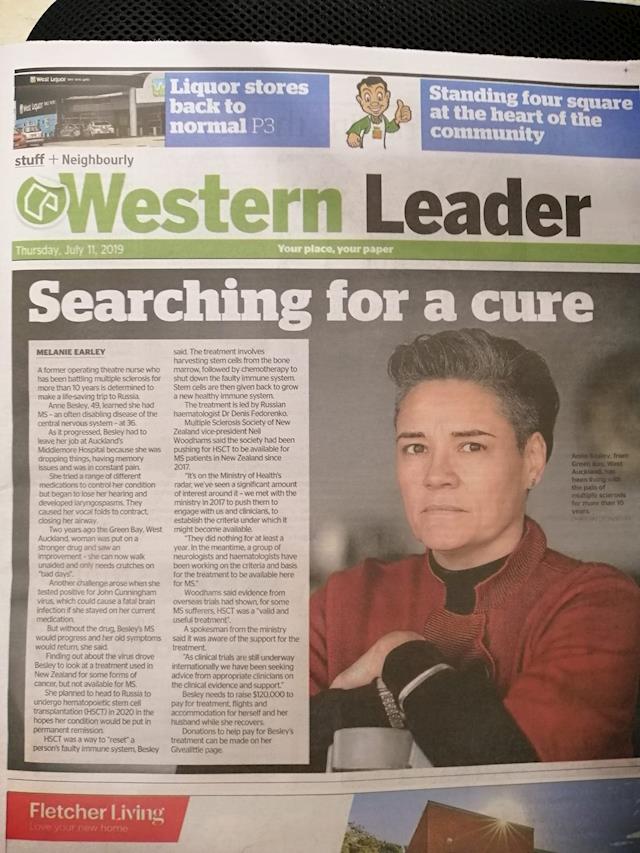 Western Leader Article 11 July 2019
My story made the font page of the Western Leader today. Went to the supermarket, had a friend rush up to me kidding about wanting my autograph! 😊
---
Latest donations
$100

Hey Karin, thanks so much for donating to me! Danni must have told you about this? I am so grateful to you for your generous donation. Thanks my friend. Anne x

Private

Hi and thank you so much for your kind donation to me, I am so very grateful to you. Anne

$100

$50

Hi and thank you so much for your support and donation to me. I am most grateful to you. I hope your friend is OK. Thank you again. Anne

$100
---
Who's involved?
---
Page Moderated
The page has been checked by our team to make sure it complies with our terms and conditions.
---
Fundraise
You can
start a fundraiser
to have your own page that raises money directly for Anne Besley.
---
Got a question for the page owner?
One question has been asked already. Check it out and
ask yours here
.
---
Any concerns?
Report this page
---
This page was created on 5 Jul 2019 and closes on 5 Jul 2020.