July update 11 July 2020
Posted by: Rachel Rogers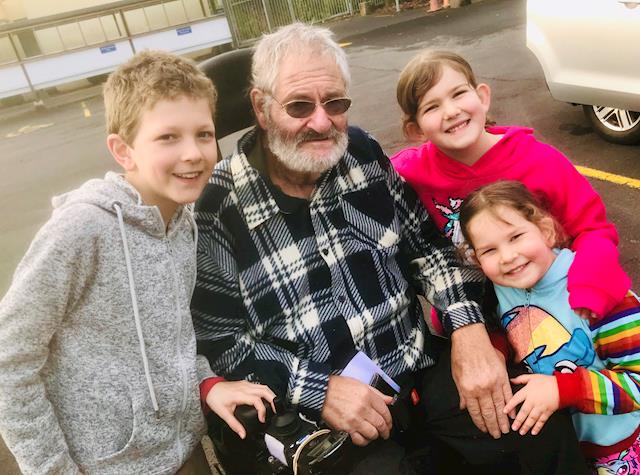 Hi, to all the wonderful people who have been so supportive throughout our ordeal to this point. Art's Rehabilitation programme is full on, five days a week and goes from 9am until 4pm Monday to Friday. Everything they do at the unit is preparing them for life post Spinal injury or medical event. They learn new skills to make them as independent as possible for life outside of this awesome facility. They have electric wheelchair manoeuvring lessons and they go out into the community, learn how to cross busy roads and looking out for obstacles.
Because Art is so busy during the day, I checked out the possibility of getting some relieving up here and it has worked out so well. I have been working most days at a centre close by, it is a small centre and the teachers are lovely. I finish work no later than 4pm and I head out to see Art, get home around 6.30 ready for tea and bed.
Art is learning how to turn himself to prevent bedsores. He is practicing getting in and out of a car. He has Hand Classes which involves massaging but also making different items for his dexterity. He enjoys these classes but he has fallen asleep, some things do not change! LOL. He is able to get from his wheelchair to his bed with the aid of equipment that supports him to stand from his chair and a seat is attached for him to sit on his bed, from there he must bring his own legs up onto the bed. His left leg feels like a heavy weight, and has to be lifted manually. During lockdown, when Art became less and less able to walk, he started using a walking stick but had to get a walker and it wasn't long before he was falling over using the walker. I noticed that his left foot was curling in, this is now a real problem as his foot is twisted so putting weight on it is very painful. Unless they can get the foot to be flat he will not be able to walk. It has not shown much improvement with all the therapy. They are working hard to correct it with massage and moon boot type support but has splints open at the sides. They are painful to wear and were keeping him awake at night, so the latest is that he wears them for two hours during the day. They will slowly increase the time he is in them.
We had a family meeting with all the people working with Art, Rachel was with me and James was on the phone listening in and asking questions. Art was able to have his say and it was lovely to see the close relationships he has built with the Physios and Occupational Therapists. The nursing team are working on his bladder and bowel issues, the feeling in this area is beginning to come back, the nerves feels like someone is poking him with pins. He is now waiting for a more permanent catheter point to be inserted just below his belly button. This involves an operation which is done at Auckland Hospital, he is on the list and they are aware of his situation. We are hoping that he will have this done before he leaves the Spinal Unit.
Even with all his progress they expect that he will be in a wheelchair for quite some time and he will need a hospital bed. They have checked out our house and have suggested that he use the formal lounge as his room, I too had thought that might be the best way. He won't be using a bathroom; he will have to have sponge baths in this setting..... I don't know what I was expecting but it wasn't that. There are still a lot of unknowns for us to work through. When he leaves the Unit, he will go back to Rotorua Hospital to the rehabilitation ward to get more treatment before he comes home. The good thing about that is that he will be able to have more visitors. He will love that!
Thank you, Thank you, Thank you to each and every one. We love you all.
God Bless you
Art, Margaret and family 💕💕
0 comments | Login to leave a comment | Share this update