#1 MONTH POST-OP 7 March 2020
Posted by: Cassidy Power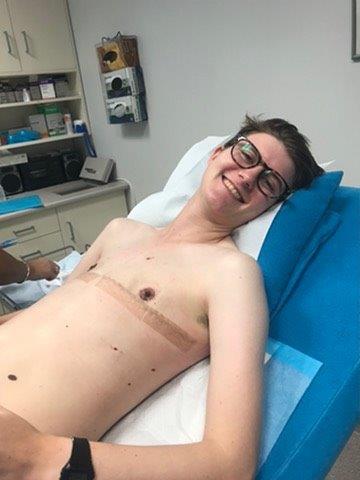 I'm wondering if this is even matters. What I say or include and don't include. I think a photo of me second week post-op after I saw my chest for the first time, kind of says it all. Still a bit swollen, not as clean as I would like to be, but overflowing with joy.
I am now one month post op, I have seen my chest properly still maybe half- a dozen times. if you'd like to know.. Im a lot cleaner and able to take proper showers. I can sleep on my side (tentatively). I can wear a t-shit. <I almost caps locked that one, because its very exciting). I can feel the fabric of said t-shirt touching my sternum as I write this. I feel like me! And low key kind of hotter. I haven't felt this in my entire life.
Despite this, there have been some really hard times, and sore ones. First week, I couldn't do much apart from sleep. And then not sleep. Emotionally it was also very draining. I don't think I have cried so much. Not only sadness and pain, but joy and overwhelming relief. My actual hate for my drains, but we luckily parted ways after one week. And adapting to not being able to reach a single thing in the house. Or reaching it, and dropping it. Stretching too far and being sore all night.
Taylor. Thank you for your patience, your alternative ways to hug me when we cannot, opening every door for me, the showers and adjusting my pillows 100 times a night and then giving me your own.
I want mostly to thank everyone collectively. You all changed my life and helped me through this. It's something quite unique and special and I am so glad to have been able to share it with you all. I can't really say much more, only many other ways to say thank you and that I couldnt have done it without you. You're all my heroes.
Maybe i'll post something again after my 3 month app, but if not, you'll be seeing me around. Maybe at the beach for a swim in the summers to come.
Always
Cass xx
0 comments | Login to leave a comment | Share this update