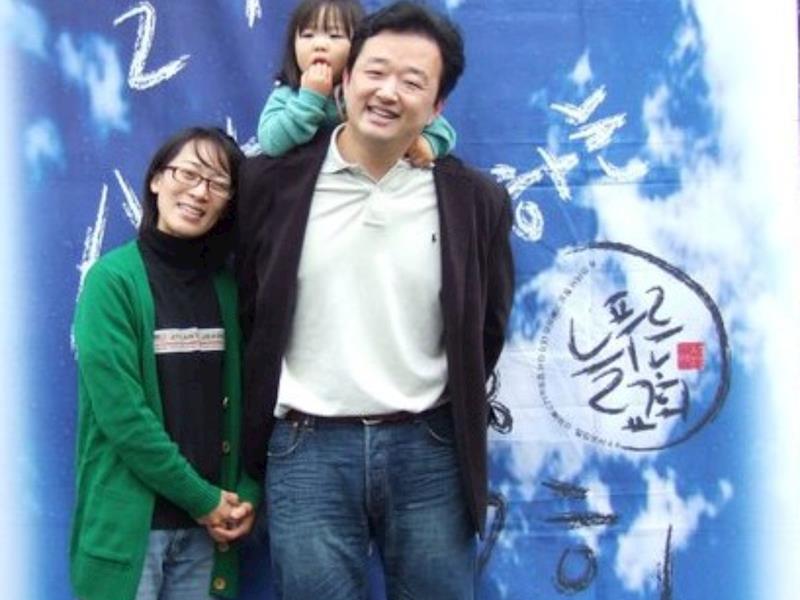 Evergreenies 늘푸른 가족
Please help Kevin's family to fight Myelodysplastic syndrome
Otago
Support Kevin's family to manage costs while he fights MDS (Myelodysplastic syndrome; a group of cancers in which immature blood cells in the bone marrow do not mature, so do not become healthy blood cells.
Our dear friends Kevin and Sung-Hee and their children, Charlotte, Olivia and Alicia need our support.
김경인 목사님의 치료를 위한 모금입니다.
This is a fundraiser for Kevin's MDS treatment.
많은 도움으로 치료목적 한국행 비행기 티켓을 포함한 초반 준비금이 마련되었습니다. 감사합니다.
Thanks to many generous donors, the funds to send Kevin and his family to Korea for his treatment have been secured. Thank you.
하지만 어제 만나서 자세한 애기를 들어보니 비보험 치료로 인해 발생하는 골수이식, 치료비용을
위해 모금이 더욱 필요합니다.
However, after speaking with him we realised that to fund his treatment, which is not covered by insurance, for his stem cell transplant, we require more donations.
예상보다 많아 조금 더 힘이 필요한 상황이 되었습니다.
The required amount is more than expected and so we need even more support.
자세한 치료예상 금액은 의사들의 회의 후에 업데이트 하겠습니다.
The details about the estimated costs for treatment will be updated here after a discussion between the doctors.
치료를 받으시는 동안 가족들이 한국에서 간호를 하며 생활을 하게 되며
세명의 자녀분들과 낯선 한국에서의 생활이 쉽지 않을것입니다.
For Kevin's wife and daughters, adjusting to a new and unfamiliar life in Korea while supporting him will not be easy.
이번 모금을 통하여 모두의 하나된 마음을 느끼며 감사하고 있습니다.
Through this fundraiser, we have felt a sense of unity within our community and are very grateful.
늘푸른 졸업생들, 재학생들, 모든 늘푸른식구들, 더니든 교민 주민들 그리고 목사님의 가정을
사랑하시고 아껴주시고 걱정해주시는 모든분들
Thank you to the graduates, students, Evergreen Church family, our wider Korean community in Dunedin and everyone who has loved and supported Kevin and his family through this time.
감사합니다.
Thank you.
Nari Kim's involvement (page creator)
Kevin is a close friend and mentor who has been the pastor at our local church for over 15 years.
Use of funds
All the funds will be directed to Kevin's account. Mainly to support transportation fee for the whole family to Korea(for his treatment) and also to support his treatment.
---
Latest update
Starting a new chapter of my life 3 August 2020
Posted by: Nari Kim
To the Evergreen Church community,
I am writing to convey some personal news to you all.
Soon, I will be beginning a new chapter of my life. Not in my life as a pastor or member of the church, but to go on a completely unfamiliar journey which I could not have ever imagined.
After recovering from tuberculosis which had troubled me since last year, I was living a free and grateful life. However I received news from my doctor that although I had fully recovered from the TB, my white blood cell count was continuing to rapidly decline. It was suggested that I undergo a bone marrow biopsy.
I had not received the full results from these tests this week, however my doctor recommended that I should start chemotherapy as soon as possible. I was told I need a stem cell transplantation.
The name of my diagnosis is Myelodysplastic syndrome (MDS). They say this is a type of cancer of the blood. If not for the tuberculosis I would never have known about this asymptomatic disease that was progressing. Thanks to the kind and meticulous doctors I was able to get diagnosed and learn about treatment.
Although I can undergo chemotherapy in New Zealand, to have the best chances of getting a match for a stem cell transplant that is the best for me, I need it from my siblings. As you all know, the borders to New Zealand are closed so unfortunately I have to go to Korea.
As this decision was made so hastily, the days are going by in a blur. Although the emotional strain is large, I am busy preparing myself to go to Korea. Above all, I am saddened by having to so suddenly leave my church family whom I love dearly. My hope is that after I undergo treatment in Korea with my family, I return at the end of the year. However, I know that the road to treatment and recovery ahead won't be easy, and will be an uphill climb. At a time that was not expected or desired, I find not only myself but also my family at the starting line of a new chapter in my life. With your prayers and support, my family and I will overcome this and return to our life here.
As a pastor, I have comforted our church community by conveying the divine providence of our God. Now it is time for me to be comforted by trusting in his goodness and providence.
Do not be sad or disheartened, instead please pray together as a community for my family and for our church to be strong in this time and continue to love each other.
On the 9th of August I will conduct the Sunday service and communion. On the 11th of August I will lead the Leaders' meeting, then on the 13th of August I will fly to Korea.
Please pray that I can undergo proper treatment with the doctors that God has chosen to care for my emotional, mental and physical health, and also for my family to have their physical and spiritual needs fulfilled.
Our God's goodness is always enough.
We continue to be grateful for His and your love.
31st of July 2020
Pastor Kevin Kim (Sung-Hee Lee, Charlotte, Olivia, and Alicia)
---
Latest donations



God is your healer and He is always with you!


Jungmin and Soonjae
20 hours ago
목사님 사모님 힘내세요. 함께 기도하겠습니다
---
Who's involved?

Created by Nari Kim

---
Page Moderated
The page has been checked by our team to make sure it complies with our terms and conditions.
---
Fundraise
You can
start a fundraiser
to have your own page that raises money directly for the beneficiary.
---
Got a question for the page owner?
Ask one here
---
Any concerns?
Report this page
---
This page was created on 31 Jul 2020 and closes on 31 Oct 2020.