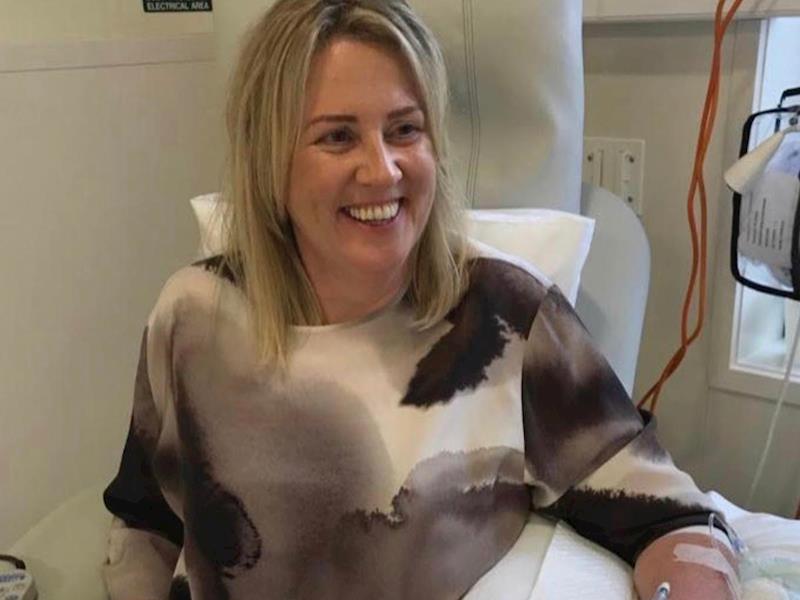 Fighting Cancer With Ange
Ange has Stage 3 Melanoma. A non-funded drug which costs over $100,000 is her best chance of survival. Lets help make sure she gets it!
Otago
Ange received her shock diagnosis of having melanoma in December 2017. She was operated on in Jan 2018 and found to have micrometastatic involvement in the lymph nodes at that time. Although she was reassured that any further treatment wasn't needed unfortunately by December 2018 the melanoma had reoccurred & she underwent surgery to remove the lymph nodes in January 2019, when she was diagnosed with Stage 3 Melanoma.
After seeking medical advice from two leading melanoma specialists, it was recommended she commence immunotherapy treatment in March 2019 using Pembrolizumab (otherwise known as Keytruda) despite it not being funded by Pharmac. The treatment alone would cost $102,700. There was no other alternative.
Ange needs to go to Auckland every 3 weeks for 17 doses of this very pricey drug, but one that has shown significant improvement in relapse free survival. It comes with some nasty side effects that can include tiredness, inflammation of the skin, itchiness & rashes, diarrhea, hepatitis, inflammation of the lung & kidneys & endocrine organs. These can obviously affect her quality of life & even though she has worked full time up until very recently, the cumulative effect of the drug has finally forced her to cut back her hours.
Unbelievably Ange needed a full hip replacement in April 2019. She had this done while also receiving her melanoma treatments. Yes bad things do happen to nice people & life definitely isn't fair.
Ange has so much love in her life, most notably from her amazing husband Andy. At the risk of being inappropriate I can't think of a better person to get cancer with (I know borderline) but all the love & support in the world won't pay their bills.
Andy applied for partial release of his Kiwisaver to help cover the costs but was declined on the basis they hadn't exhausted all their financial options. After submitting additional paperwork detailing their level of borrowing to try & make ends meet, Kiwisaver have agreed to contribute (ie. allow them access to their own money) the grand total of $3,600. Unbelievable!!
I know both Ange & Andy's employers, colleagues & some friends have already been extremely generous, but I'm hoping if we all pitch in we can ensure they not only know how much we love them, but will be freed up to focus on Ange's recovery without the stress of constantly finding the money to ensure she can continue her treatment.
With 2–3 years of follow-up they expect to see a reduction in the risk of Ange's melanoma reoccurring & the future is looking good because the drug is definitely doing what it's meant to be doing. And who says money can't ever buy health & happiness.
Treatment #14 is scheduled for mid-December, then she will have another scan after her last treatment in February 2020 with the expectation that by May/June she should be back to 'normal' with the side effects taking several months to subside.
Ange & Andy are survivors and they are also two of the most giving, loving people I know. They would do anything to help their loved ones but would never ask for help unless they really had to, particularly financial support which is definitely very new & very uncomfortable territory for them. Getting them to agree to allow me the privilege of setting up this page was probably the toughest sales pitch I've ever given. But they said yes & now we have to make their trust in a process like this, when they are at their most vulnerable, really count. Go on hit that donate button. It'll feel really really good!
Rachelle Greene's involvement (page creator)
I'm just one of Ange's many friends who wanted to help & providing a means through which we can all contribute to the hefty financial burden of the drugs she requires that are not currently funded by Pharmac, seemed like the most practical thing to do.
Use of funds
All funds raised will go directly to Ange's treatment costs:
The Drug - Pembrolizumab - $102,700
Airfares - $6,000 - treatment is in Akld
Accommodation - $2,700
Lymphoedema mgt - $4,000
Car rental $1,000
Scans $2,000
Loss of income ++
---
Latest update
Only One Week To Go! 3 March 2020
Posted by: Rachelle Greene
We can't thank all the kind people who have helped Ange out over the 3 months enough. Although we are a fair way off our original target the $23,000 we have pulled together has most certainly made a big dint in the medical bills. Ange & Andy are totally blown away by the generosity and so relieved to have a big chunk of the financial burden taken care of. So thank you for contributing & if you feel you can share the cause just one more time before the page closes on the 9th that would be awesome. It would be superb to see a flurry of last minute donations. Here's to Ange's health & all of you for being there to help when she needed it most xxx
---
Latest donations


Keep fighting hard! Love you

Sending our love, Lisa, Grahame, Danielle and Luke. x

Still praying for you Ang. Love from Maggie Robbie. x

---
Who's involved?

Created by Rachelle Greene

---
Page Moderated
The page has been checked by our team to make sure it complies with our terms and conditions.
---
Got a question for the page owner?
Ask one here
---
Any concerns?
Report this page
---
This page was created on 12 Dec 2019 and closed on 9 Mar 2020.