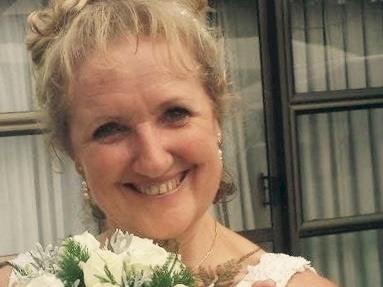 Help Claire Continue to Pay it Forward!
Help us to help mum - let's see if this new drug is beneficial for colorectal cancer patients!
Claire
My mum is a woman of steely determination with an enormous capacity for love.
Throughout her life she has passionately given of her time and energy to help others. I have so many instances of her incredible capacity to give that they are hard to number or share! She has opened her home and her heart to many in need and I know she's meant to be here a little longer to continue that legacy! We desperately need your help to give back something to my Mum.
Some of you may have already "met" my Mum on her previous Give a Little page. I witnessed a very tearful and grateful mother as she viewed the random donations of so many caring people.
The donations of these generous strangers, friends and family have enabled Mum and her now husband, Mike, to get married and allowed her to utilise alternative and complimentary therapies (such as intravenous Vitamin C) that have complimented the conventional, funded cancer therapies she has received to date. As a result she is still on this earth and was present for the birth of my first child, something I wasn't sure I would get to share with her, plus the birth of my sister's daughter too. So a huge THANK YOU! She has been an incredible support to us both and we are so grateful she is hereto share all those special and trying moments with us.
Mum has helped many children as an emergency foster carer (as adults, some are still in contact with her) including adopting our wonderful brother Alan into our family, she took an isolated and lonely pensioner under her wing and gave him a family, something he had never had, and has applied her seemingly abundant energy to assist so many people in her community when in need. Years of voluntarily working as a counsellor assisting new mums saw her invited into people's homes at their most vulnerable - tired, emotional and weary of the struggles - to bolster them, guide them and set them on their way again. Deliveries of meals on wheels, books, furniture, groceries, mulch (yes mum really has leant her hand to many things!) have been made over the years and often with one or more of us kids going along for the ride. Mum has leant her energy, time and a listening ear to many, many people!
But it's not just what she has done for others but also that she inspires others too - therefore perpetuating that wonderful notion of "pay it forward".
Even now, as she fights an incredible battle with cancer herself she still continues to give. She has guided many along the way towards useful research, resources available, good nutrition, what has or hasn't worked for her and inspired many of us to get the juicer whizzing away daily in order to better our own health!
Her next goal is to be present at my sister's wedding in January 2016. She continues to receive the intravenous Vitamin C twice a week at a cost of $220/ session. Most importantly she has just been accepted for a new treatment that has been seeing great results with other cancer types but not yet tested on bowel cancer. However the cost of this treatment is $15,000 / infusion and mum must cover the first two sessions; the drug company cover the next two infusions. Our extended family has managed to pool resources to pay for the first treatment but will need some assistance to achieve the funds for the second one. We have 3 weeks to generate these funds So if you are able to assist we will be so very grateful
I thank you so much for your support of my wonderful mum …… x Fern.
My name is Adrienne and I am one privileged woman to be able to say that I am one of Claire Christie's sisters! As her "little" sister I have always had an inspiring role model to look up to and many words of wisdom have been imparted to me. Without a doubt it is from her that I have learnt the joy and benefits of giving without expectation of return. Even as a child she was the one who brought the strays and the "broken wings" home.
She mentioned to me recently that the thing that makes her feel most angry about her battle with cancer is that she is being cheated of experiencing all those great things that every parent/ grandparent wants to see and be a part of. We hopeshe will be able to continue the fight to see her daughter Helenmarry in January 2016 but we need help from the wider community with funding the treatments that will hopefully enable this.
Claire's battle with cancer started in June 2013 when she underwent emergency surgery to remove a massive tumour from her bowel, along with many lymph nodes. Further inoperable tumours in her liver and lymphs remained. Claire's initial diagnosis was advanced Stage IV Bowel Cancer with a prognosis of 6-9 months in this life. She then underwent two lines of chemotherapy treatment [nine months of chemo in the next eighteen months]. Coupled with naturopathic remedies, daily juicing, supplements and Chinese herbal medicine, Claire tolerated and responded extremely well to the chemotherapy, so well in fact that she surprised the oncologists.
However she has been told that there are no further avenues for her to pursue with conventional treatments. She is now reliant on the intravenous Vitamin C, daily juicing and the naturopathic support she has been taking continuously to support her immune system and now the trial mentioned earlier.
Throughout Claire's life she has been the one caring for and giving to everyone else and during this current battle has had many people contacting her for guidance on how she has managed to cheat this awful disease for as long as she has [coming up to two and a half years]. Admirably even now in her current terminal situation she is still giving. Anyone who has been privileged enough to have met and spent time with her will attest to her compassionate and charitable nature. She applies her seemingly abundant energy to assist so many people in her community when in need, yet, she never asks for help for herself and struggles to accept it when it is offered. SO WE ARE DOING IT FOR HER!
Thank you for taking the time to read this….your generosity means so much to us.
words from Claire,
alias "Clairebear" or "Smiler"
"CANCER SUCKS"
How else does one describe a terminal illness which removes your ability to look forward to your future without pangs of grief and loss? Even simple enjoyable activities with my family make the heart ache as I wonder if this will be the last time we will do this together. To be robbed of the essence of life is cruel :-(
Since my diagnosis in June 2013, I have never once asked "why me" as people so often mention to me! I believe everything happens for a reason ...but I have made a point of getting to know my enemy, because as my daughter in the army said "Get to know your enemies strengths and weaknesses, avoid the strengths and target the weaknesses" so that is how I am doing battle!
I have applied a great deal of time and energy to supporting and strengthening my immune system. This is why I have survived so much longer than I was told I would. Over the last couple of months I have been told by the medical and radiation oncologists that there are no further treatment options available for me now and my prognosis is now "weeks to short months".
I have now been accepted to try a new drug called Pembrolizumab (Keytruda). This has given me new hope and one of the prerequisites for the trial is a strong immune system, to me this is acknowledgement of all my hard work in supporting my immune system for all this time!
This drug is neither approved or funded in NZ so all treatments have to be carried out in private facilities as the public hospitals are not permitted to deal with it until approved. We believe I am the first in NZ with Colorectal Cancer to be given this drug. So I will be a trailblazer, whatever the outcome this will help others behind me on this cancer journey.
Please find it in your heart to 'givealittle' or a lot and help this worthy cause... every little bit helps!
Fern Christie-Birchall's involvement (page creator)
I hope to help mum see her two next goals: Christmas with the family and my sisters wedding.
---
Latest donations
---
Who's involved?

Created by, and paying to a verified bank account of,
Fern Christie-Birchall
on behalf of Claire Christie-Pitfield
---
Page Moderated
The page has been checked by our team to make sure it complies with our terms and conditions.
---
Got a question for the page owner?
Ask one here
---
Any concerns?
Report this page
---
This page was created on 24 Nov 2015 and closed on 3 Feb 2017.