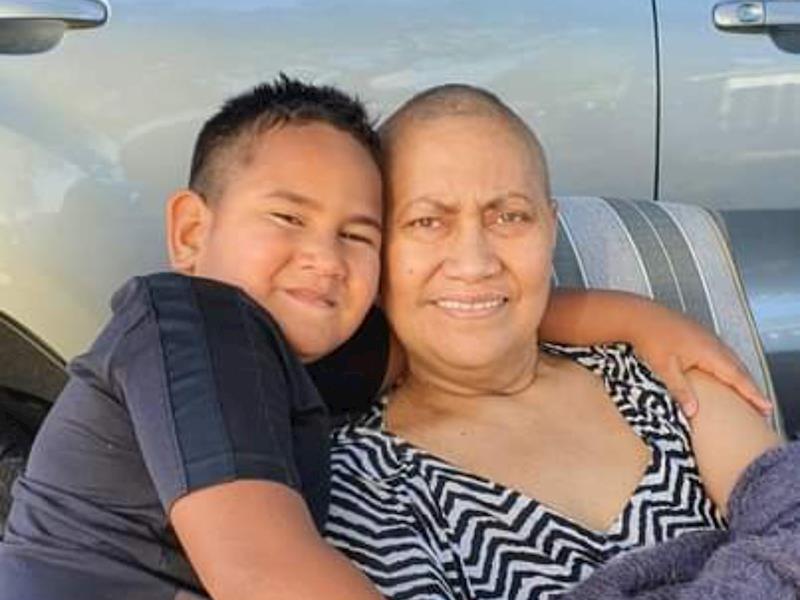 Please help give me more time with my beautiful family
Diagnosed with stage 4 cancer, I am committed to fighting this battle for as long as possible to be here for my children
Auckland
My husband, my six gorgeous children and I have been blessed with so much kindness since my stage iv cancer diagnosis and we are committed to fighting this battle for as long as possible.
I can't thank you all enough for giving me with the opportunity to get this far, by providing funds that helped pay for my Cetuximab treatment. With God's grace it has allowed me to still be here to spend quality time with my gorgeous kids, husband, and extended family.
I've now finished my Folfiri (publicly funded chemotherapy) and Cetuximab (immunotherapy – not funded) treatment and am currently receiving Folfox (funded) and Avastin (not funded) in the hope that will keep the tumours at bay for a bit longer and provide me with some quality of life.
Unfortunately, it wasn't possible for me to undergo surgery to have the tumours removed from my liver, and I'm not tolerating the drugs very well this time around. Still, I still want to continue treatment for as long as I can.
Having said that, the cost of Avastin is even greater than Cetuximab, and costs me over $5100 per treatment each fortnight. I have completed two treatments so far and will continue with more for as long as my oncologist thinks my body can handle the treatment, and for as long as I have funds. With that in mind, I would be grateful to receive any donations, however small, to continue with the program.
I understand that this is will not be possible for everyone, especially after a year like last year. However, I would like to thank all of you who have made it possible for me get this far.
Thank you. Thank you. Thank you.
God bless.
Faafetai tele i lo outou agalelei. Faamanuia tele le Atua.
Use of funds
Help pay for unfunded drug Avastin.
---
Latest update
With all my love ❤ 25 March 2021
Posted by: Penelope Tevita Tuatagaloa
Talofa lava to all of you who have been so loving and generous and donated to my Givealittle page. As I mentioned in my last post I am in awe of the kindness of people who have given to me so selflessly. Thank you from the bottom of my heart.
I'm afraid I have some difficult news to share this time. Last week my oncologist advised me and Fetu that chemotherapy and immunotherapy are no longer keeping my cancer at bay and that I would be best to stop the treatment and instead spend what time I have left with my nearest and dearest.  Of course, we are feeling heartbroken that it has come to this, and my priorities now lie with spending precious time with Fetu and our six beautiful children.
I am also keenly aware that you all gave me money, hoping it would fund further treatments for the privately funded immunotherapy drug, Avastin. This is now no longer the case, and so do please let me know if you would like your generous donation returned. At this stage, I have not considered any other treatment options, but instead any of the Givealittle funds will likely go towards taking a small trip away with my husband and children in the next month or so, if I remain well enough. Anything left over from that would go towards our family's day to day expenses in the coming months. Again, please do let me know if you would prefer your donation returned to you; I will be respectful of your request, and forever grateful of the opportunity you provided me with. For those others, please know that the funds you donated will be spent wisely, and that I'm enormously grateful to be able to put it towards creating loving and lasting memories with my loves Fetu, Rosemary, Alisa, To'osavili, AJ, Eric and Shaun.
Thank you to the amazing team at Auckland oncology department, my oncologist, surgeons, radiologists, nurses and staff, and the Harbour Cancer Care team. You are angels.
With my diagnosis in May 2018 I have received endless love and support from so many, many people. I have never felt so loved, and so humbled, not to mention thankful and blessed.
I continue to pray for God's blessings upon you all and your families.
With all my love
Penelope Tevita Tuatagaloa ❤❤❤
I leave you with this poem I came across on Facebook.
Priorities:
By Semisi Livai
--------------
I've realized something extremely important tonight, while tucking my kids into bed after family prayer.
When I die, most people I know will be sad, but their day will continue as normal.
Respectful condolences will be shared via phone calls, social media, and face to face... but their day will continue as normal.
Thoughts of my passing may cause them to pause and reflect now and then... but their day will continue as normal.
...AND THEN...
There are a few people... whose world would shatter!
They would be in a state of paralysis, both physically and emotionally.
They wouldn't know how to handle the missing puzzle pieces of everyday life.
the bedtime stories...
the popcorn movie nights...
the empty side of the closet...
the bike rides...
the date nights... etc.
They will continue to cry, even after the tears have run dry.
They will lie awake in heartache, hoping to fall asleep so the night can pass.
They will save my voicemails for a time, just to hear my voice.
They will fall apart when they see my empty pillow.
They will treasure such silly things like my neck tie or my empty wallet.
They will still say "goodnight" to me, and they will imagine hearing my response.
They will hug my sweater, and wish to God that I was still in it.
They will leave my seat open at the dinner table, with the salt and ketchup nearby.
They will find a quiet place, just to talk to me out loud.
They will miss me...
Really, really miss me!
Sure, they will eventually find their footing and slowly learn to carry on, but their lives will never be the same - without me.
**NOW, these handful of people in my life, are the one's that deserve the BEST of me!
I must stop giving them my leftovers!!
leftover time...
leftover energy...
leftover patience...
I claim that they are my FIRST priority in life, but constantly attend to them LAST....
I have shown more patience to an angry client, than to my playful children....
I have spoken more kindly to an annoying boss, than to my tired wife....
I have had great workouts at the gym, but too tired for hide-and-seek....
I have called to check up on my friends, more than I have on my own parents....
THIS CHANGES NOW!! I'm sure I will fail time and time again, but Change. Starts. Now.
So, what's the lesson I learned?
I will give the most love - to those who love me most!! 
I highly suggest you do the same.
#priorities
---
Latest donations

Guest Donor
on 26 Mar 2021
Prayers and Love, Lute❤
Penelope Tevita Tuatagaloa
thank you gorgeous. alofa atu


Penelope Tevita Tuatagaloa
thank you sis. love you


Penelope Tevita Tuatagaloa
thank you darling. love you


Guest Donor
on 25 Mar 2021
Penelope Tevita Tuatagaloa
Thank you sis. Love you


Love you sis. Malo lava le faamalosi xx
Penelope Tevita Tuatagaloa
Thank you dear. love you

---
Who's involved?
---
Page Moderated
The page has been checked by our team to make sure it complies with our terms and conditions.
---
Fundraise
You can
start a fundraiser
to have your own page that raises money directly for the beneficiary.
---
Want to get in touch with Penelope Tevita Tuatagaloa?
Ask a question here
---
Any concerns?
Report this page
---
This page was created on 2 Mar 2021 and closes on 1 Jun 2021.