Together we could give my 26 year old Fiance more time and more fight
Together we could give my 26 year old Fiance more time and more fight.
Wellington
We don't know how long Shadow has medically so we ask for your help to help us give her every chance we can to fight this.
Hi everyone, I'm Ayla Trail, Shad's Fiancé and I'm asking for help to raise money for some holistic treatments she can try to help cure her cancer and if not give her more time here with us. We have a wedding to plan and many memories to make and so much loving to still do with our combined 3 children (Shad has Isaak 10 and Olivia 7 and I have Tommie 11).
Shadow has MES - Metastatic Epithilioid Sarcoma Cancer as its now travelled to her bone on her right arm and her soft tissue on her left shoulder and 1 new lump in her chest. Shad has had 40 sessions of radiation and is still getting worse and in her specialist words "we are just patch welding this", so we now want to try some natural Auto Immune Therapy, some nano particle creams and some ancient teas and herbs alongside some more holistic options but still with the doctors and hospice advised medication and treatments. Sadly money is the only thing holding us back from trying these so we thank each and every one of you making this possible.
We don't know how long Shadow has medically as we haven't asked that question but tomorrow isn't promised to anyone so we want to put all our energy into the present and we ask for your help to help us give her every chance we can to fight this.
Here is a wider snippet of the story….
Shadow was Diagnosed in June 2016 at 22 years old with a 6 and 3 year old – just about 4 years ago
Was given under a year to live in 2018 and was never meant to see 2019 due to 2 fist sized aggressive tumours growing in her lymph nodes close to her Venacava and bronchial tubes which was life threatening and cutting the blood supply and oxygen off to her right lung and she had lost ¾ of function in her right lung. She was told then she had MES - Metastatic Epithilioid Sarcoma.
She was in and out of hospital and coughing up blood and not in a good way.
But due to the holistic options, including cbd oil and strength and will she pulled through and was then diagnosed not terminal (meaning she had more than 12 months to live but still stage 4 cancer).
Then this is where I come into the picture and we fell madly deep in love and couldn't shake it. Shadow told me not long ago if she knew she would of got this sick again she wouldn't of asked me to be her girlfriend or wife. This hurt but she was saying this out of fear of breaking me through losing her. But I am not having one piece of that as unconditional love is through it all (sickness and health). The truth of reality is no matter what religion or belfies you have we are all born with an expiry tag and some of us live longer than others and tomorrow isn't promised to anyone.
Me and Shadow started dating 2019 and she was feeling very good and healthy and was slowly building her immune back up and functioning day to day tasks well. We fell in love so fast and our love is one of those soppy movie romantic stories were Shadow is truly my best friend and lover and we fit together like a puzzle piece but are chalk and cheese and opposites at the same time. We have this beautiful connection that we could not deny.
Shadow had a small lump in her left shoulder when we meet, and we didn't think to much of it as it was very small (under a pea) and the doctor had said it wasn't cancer. Then within 4 months that grew extremely fast and by this stage we had our own house together and had blended our family of 3 kids in total.
Shadow has been advised her Cancer, still at stage 4 has got even more aggressive and its now traveled to her bone on her right arm and her soft tissue on her left shoulder and 1 new lump in her chest.
Shadows pain started to get very bad and increase quickly and her function started to decrease so I could no longer go back to my relieve teaching job and my main concern was keeping her safe and keep the house and our loved ones ticking over. We financially are not in the best position with not being able to work due to this cancer but were in a deep financial hole as its money we need to pay for these holistic options we could try to help her. Shadow worked right through her first operation and hand reconstruction until her body wasn't able to keep up so we feel a little humbled and embarrassed to have to ask for help but we truly need it.
Shadow is now under Palliative Hospice care and the hospital discharged her after 40 sessions of radiation,
20 on hand, 5 on liver, 5 on chest, 5 on the bone in right arm and 5 on left shoulder. In my opinion I feel the hospital discharged her with the opinion is they no longer have any other treatments to offer, who actually knows but Hospice are doing an amazing job.
Funded chemo and trials they have available are not successful in the rare cancer that Shadow has so there is no point even trying them as they would simply kill her and with such small success rates with her cancer type it would be like Russian roulette were not willing to try.
Shadow is 27 next month and has so much to live for and we want as much time with her as possible. She is the kindest person with the biggest heart and as I write this she is admitted to hospice for them to yet again juggle her medication so she can function daily tasks etc and all she can think and talk about is when she's healthy again we need to volunteer for hospice and in the meantime drop baking and things off as we can see first hand how much this place is giving and helping families.
Shadow has 2 children, Isaak 10 years old (Son) and Olivia 7 years old (Daughter) and step mum of my son Tommie 11 years old. She is much adored by us all and we want to try as much as we can to help her fight this cancer.
She has the hugest team of beautiful family and friends backing her al the way and we just need this extra help to give her more chances.
There's an amazing holistic treatment called Kambo which is basically the "poison" taken gently from the back legs of the monkey frog in the amazon forest and administered through burn marks in our skin to be safe ,( please check it out https://iakp.org/the-origins-of-kambo/ ) administered from a trained practitioner. From our research and people we've talked to where this treatment has helped there cancer they have needed daily treatments for up to 2-3 week, this would essentially be costing us close to $4200 - $6300 (treatment price being $150 a session could be $2100 - $3150) plus accommodation and costs and we would have to take the kids out of school and home school them for the 2-3 weeks while Shadow received this treatment.
On the plus side we plan on creating memories as a family while this treatment is being done. Take Shadow to see the Zoo for the first time and create memories as a family so these will be cherished forever.
I have not set an amount we would like to fundraise as I would like to keep this open and close this page when we have achieved the result we would like. Which is Shadow in remission or years added to her life if we cant take the cancer away. Shadows health battle has been just about 4 years long so this could be ongoing for the next 6months to 12 months if we start seeing results from some holistic treatments.
If there's anyway you could help we would hugely appreciate that. Please donate what you can if able and it helps us hugely by Sharing this page and sharing her story to help us get Shadow the help she needs.
Lets together give Shadow more opportunities to fight this as she has before.
Shea a fighter and she isn't going down without a fight.
Ayla Trail's involvement (page creator)
I'm Ayla, and I'm Shadows fiance raising money to give her the opportunity to tackle this cancer and be with us much longer.
Use of funds
There's some amazing holistic treatments out there plus supplements and all funds raised would go directly towards Shadows health and recovery.
I have not set an amount we would like to fund raise as I would like to keep this open at this stage.
---
Latest update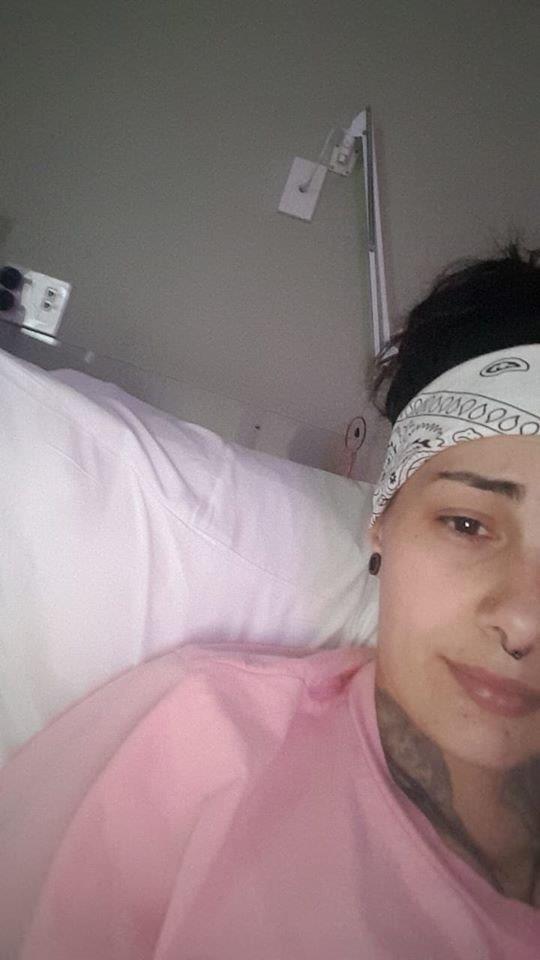 Hey everyone it's shadow here, 30 April 2020
Posted by: Ayla Trail
I just wanted to quickly stop and say thank you to everyone who has shared, donated & supported me during this tough time.
Words cannot express the amount of gratitude I have towards you all and how much it means to me and my whanau ❤
After such a long time feeling like I'm on deaths door I finally feel as though I'm looking upwards.
Today has been a good day, I've been completely taken off the morphine (what was making me feel so ill) and trying a new drug which is working wanders for me. I can't believe how much it has changed how I feel inside & out.
I'm really excited to be able to try some holistic options which I would not be able to do if it weren't for all of these wonderful donations.
Will try and keep daily updates as often as possible. I look foward to see what tomorrow brings.
Let's get this done 💪 I'm ready to kick this bitch in the arse again 💙😘
---
Latest donations


All the best neice, in our thoughts and conversations.


My thoughts are with you. All the best from your old workmate Riki from NZ Post.

---
Who's involved?
Created by, and paying to a verified bank account of, Ayla Trail on behalf of My Partner Shadow Osborne
---
Page Moderated
The page has been checked by our team to make sure it complies with our terms and conditions.
---
Got a question for the page owner?
Ask one here
---
Any concerns?
Report this page
---
This page was created on 26 Apr 2020 and closed on 4 Oct 2020.