Back on The Mall 03 May 2017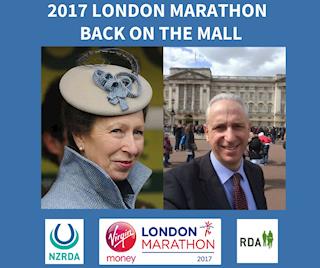 CEO Chris Hooper is now back home in NZ. But before he left London, he had one last very special appointment. At Buckingham Palace, no less. An Audience with Her Royal Highness The Princess Royal, Princess Anne.
Princess Anne is in her 31st year as the President of RDA UK. She is also our Patron and she shows an active interest in RDA activities at home and abroad. Chris was keen to update The Princess on developments since her last visit to NZ in 2008.
Chris takes up the story:
What an experience! On a lovely spring morning, I walked up The Mall to the North Centre Gate of Buckingham Palace. I walked alone across the vast, famous forecourt beyond the Palace gates, past the sentries in their boxes, towards a red carpeted stairway leading to the Privy Purse Door.
Palace staff then escorted me through a maze of hallways, passages and lifts. They introduced me to The Princess Royal and we sat down to discuss the many facets of RDA. She expressed interest in the London Marathon and in our various funding challenges. We also talked about rider waiting lists, joint ventures, carriage driving and RDA programme development.
After 40 minutes, I walked back out onto the Palace forecourt, towards the gates and past the crowds. I felt a real sense of pride in having met Princess Anne. It was a great honour and an amazing opportunity to engage with our fantastic Patron in such a relaxed way.
0 comments | Login to leave a comment