The Shrinking Violet Surgery Support Fund
Help Elora aka The Shrinking Violet raise funds to get life changing and much needed surgery after losing 55kg.
At the beginning of 2013, Elora began her journey to better health. 19 and morbidly obese, she feared she was experiencing pre-diabetic symptoms and on track to an early death.
She started out experimenting with a few different nutritional approaches, before finding her calling in Paleo & Crossfit.
A few months later, her weight loss was going so well that she decided to start a Facebook page and online blog to share her journey and ultimately to help and inspire those on the same journey as her.
Fast forward to February 2015 and Elora is a massive 55kg down and has 20,000+ followers and supporters on Facebook, and its growing by the day! Elora also runs two Facebook weight loss support groups, speaks in seminars around NZ, and mentors women daily on their weight loss journeys. All this whilst working full time, and running a small Paleo Sauce business!
Elora dedicates all of her spare time to helping and inspiring others, when she's not working she's planning or putting something together to share with The Shrinking Violet community, answering questions in the support groups and providing constant encouragement and support. Nothing goes unnoticed.
If I was to describe Elora in three words, I would say selfless, brave and humble. Every day she puts herself out there as her complete honest self, and she shares every personal inch of her journey, and truly wants to see others achieve the success that she has. And now its time to help her..
The one downfall of Elora's extreme weight loss, is a huge amount of excess skin. The main area of concern is Elora's abdomen, but she also suffers excessive loose skin on her arms, thighs, breasts and back. When beginning this journey Elora knew that she would be faced with loose skin, but what she wasn't expecting was the on-going medical issues that the skin would present. She suffers from continuous skin infections, including Staph infection. Despite treatment the infections continue to reappear because of the severe amount of loose skin. Staph infection can lead to worse diseases which is likely in her case considering the continuous reoccurrence of these infections. The only lasting treatment is to have the skin removed.
Besides the infections, the amount of excess skin also causes serious discomfort day to day whilst just generally going about her day and especially whilst exercising.
Ultimately, having the skin removed would be utterly life changing. And this is something that Elora wholeheartedly deserves. We can make this happen for her.
Elora unsuccessfully sought help through the public system to put an end to her on-going issues. After this revelation a lot of her supporters being the awesome people they are, suggested fund raising. With so many people keen to give back to this amazing young woman, I thought to myself, heck yeah! Lets get this kicked off.
I have set the target at $25,000 which is an approximate estimate at what the surgery could cost. But there is no real target for this - any donation at all is immensely appreciated!
Elora has a consult with a private plastic surgeon set for April.
Thank you so much for helping to provide Elora with this much needed, and well deserved, life changing surgery.
Follow her journey on Facebook at The Shrinking Violet
Thanks for stopping by :)
Lydia Harré's involvement (page creator)
Elora is my younger sister, and I am so truly proud of all that she has achieved in completely turning her life around, and the dedication and selflessness she shows towards those on the same journey as her. To help her get this life changing surgery would be amazing.
Other page links
---
Latest donations

Guest Donor
on 21 Jul 2015
I love following you on facebook, good luck for the surgery

Guest Donor
on 15 Jul 2015
You are truly inspiring. Well done! All the best.x

Private Donor
on 14 Jun 2015
Good on you! Awesome to see.


The very best wishes for your continued success and abundant gratitude for sharing your journey in the way that you do. You are an inspiration Xx
---
Who's involved?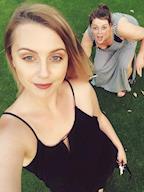 ---
Page Moderated
The page has been checked by our team to make sure it complies with our terms and conditions.
---
Gallery
---
Want to get in touch with Lydia Harré?
5 questions have been asked already. Check them out and
ask yours here
.
---
Any concerns?
Report this page
---
This page was created on 14 Feb 2015 and closed on 31 Jul 2015.