Introducing -The ReMakery 10 May 2017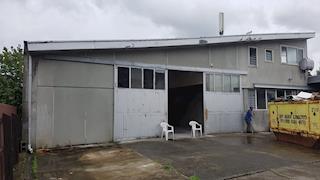 * Extra Special Announcement!!!*
So we have been a little busy - and have done a beautiful thing.
Welcome to our new building - 'The ReMakery' a community owned enterprise that will provide opportunity for employment development from products derived from waste reincarnation. A place to finally build our off grid production kitchen, a home and extractory for our Beeple Honey Collective, our textile enterprise Sew Good, and a whole pile of new ventures we need to tell you all about.
.
From this place we aim to scale to 2500 meals a day over the next 4 years by developing more local urban agriculture and partnering with more collaborators. A place where we can educate, employ, design and manufacture a new model of community owned enterprise that returns profit to development of more food projects and food programmes.
Whilst it's all madly exciting we are needing financial support to get the The ReMakery up and going, pay our staff and finish funding our off grid kitchen, WE REALLY WOULD LOVE SOME HELP!
0 comments | Login to leave a comment