Tiny Travelling Gallery
To build visibility of NZ Lowbrow arts overseas.
NEW WEBSITE: http://tinygallerynz.com
NEW WEBLOG: http://blog.tinygallerynz.com
Hello, Firstly a big THANK YOU we've done it!
We are so excited. Since the project was released on Friday we have been touched by how much support we have had so far.
$2,500 covers the basic cost of building the traveling gallery (we're working with an industrial designer and it's going to be awesome). Transporting it from location to location and getting together some very basic promotional items for the artists taking part. We don't want to end here however. It would be truly fantastic to include more artists in the line up and be able to take the show around New Zealand. If you know anyone else who's passionate about the arts please quickly send them a link to the film as they might be interested in helping us bring the exhibition home.
We have prepared some overfund goals to meet to take this even further:
OVERFUND GOALS:
+ $500 Promotional material (one or two promotional items for the exhibition - postcards, stickers)
+ $1500 Support for 4-6 more artists, extra baggage charges, professional photography of art items
More goals still to be announced!
Once again a huge thank you for your help, you have no idea how much it means to us.
Scott and Colleen
---------------------
ABOUT US:
Scott Savage and Colleen Pugh are a creative couple who live and work in Dunedin. Scott is a graphic designer by day and a art toy maker by night. Scott has an extensive knowledge of the lowbrow arts community and has lectured and written on related topics. Colleen, also known as Dear Colleen is an illustrator and designer. Colleen has work in the permanent collection of Te Papa as well in the kitchen of Hollywood A-lister Ryan Gosling.
THE TRAVELLING SUITCASE:
This November, Scott and Colleen are going on a grand creative adventure which takes them and their art to Los Angles and London. They will take part in two major international events, one in each location which focus on craft, folk, lowbrow and urban arts.
They would love to bring along with them some of New Zealand's brightest up and coming artists. Of course it's not feasible for everyone to physically come on the journey. They hope to instead be advocates for them by creating a facility to showcase their work.
The aim is to help build visibility for upcoming NZ artists overseas and increase awareness of Lowbrow arts and encourage collaboration within New Zealand. Lowbrow art is a fairly inclusive term, encompassing a number of different mediums which blur the line between perceived high and low culture. The outcomes can range from comics to painting, toys to sculpture, as well music and other specific popular culture niches like t-shirt, sticker or skateboard graphics.
INTENT:
The funds from this campaign will be used to create a self-assembly micro gallery that can travel with Scott and Colleen to the art events plus promotional materials that showcase all the artists. The 'gallery' would be a sort of travelling custom 'cabinet' / 'suitcase' where each artist is given an equal space in which to present an artistic work. This could be thought of a very kiwi exhibition, almost sending art on an OE, embodying the spirit of New Zealanders as travellers.
ARTISTS:
Scott and Colleen have an amazing list of artists already signed up to take part. They represent a good cross-section of experience, outcomes and styles in the NZ Lowbrow arts scene:
PINKY FANG | An illustrator, designer and creator of all things bright, weird & wonderful - with a particular penchant for cats. | pinkyfang.co.nz
GRIMOIRE | Grimoire lives on a remote station under the Ruahine Ranges on the East Coast of New Zealand. Grimoire uses pens, pencils and ink to draw obscure and unfortunate creatures and landscapes. | grimoire666.tumblr.com
JARROD MCCUTCHEON | Creates playful, colourful, often juvenile illustrations influenced heavily by current youth culture. | tinyurl.com/qfyte4h
DEVON SMITH | Devon stays up too late, drinks too much coffee, and draws a lot. She has a B.F.A with a major in painting, and is currently an apprentice tattoo artist. | devonsmith.co.nz
PAUL SHIH | An all-round artist, who brings to life exciting characters of vivid imagination which play wickedly in the fuzzy worlds of illustration, toys, games, and more. | paul-shih.com
PODGY PANDA aka Richard Kuoch | An artist, illustrator, animator and graphic designer from Auckland who has exhibited worldwide. He has just come back from America where he had his second international solo show. His creative motto is "Blink, Smile, Share" by creating characters that show his fun and unique take on life | podgypanda.com
BECK WHEELER | Beck Wheeler is a pop surrealist who makes art out of paint, wood, found objects and digital media. Her works create a visual language which explores character based narratives through neo-tribalism. | beckwheeler.net
MICA STILL | Mica's art work will sneak up and frighten you in your dreams while making you laugh out loud in the light of day. Enjoy the ride. | micastill.com
GARRY MCLANACHAN | Illustrator, animator and best of all a designer of funny, charming characters, based in Auckland. | eyesorecreative.com
HADLEY DONALDSON | Illustrating, animating, poster artist. Hadley is often found adding his humorous take on the world to the streets of New Zealand through poster design. | hadleydonaldson.tumblr.com
ALAINA RHIND | Christchurch based pop surrealist who creates highly detailed mysterious illustrated landscapes filled with wonderful weird creatures. | alainarhind.com
LAURA SHALLCRASS | Laura is an artist & illustrator living in Queenstown who lives by the motto "I just want to make beautiful things and get enough sleep". | laurashallcrass.co.nz
JEM YOSHIOKA | Illustrator and comic artist making stories and pictures in Wellington. | jemshed.com/
NIGEL ROBERTS | A Duds artist in Auckland, loves painting letters, letters that jump. Boing. | flickr.com/photos/tenzedwt
KELLY SPENCER | an illustrative visual artist with a soft spot for critters, delicious lettering, and all things India. Based in Wellington, with a tendency to wander. | kellyspencer.co.nz
SEAN DUFFELL | Sean Duffell is a Wellington based Graphic Artist, predominantly acting as a decorator of public spaces with his bold, abstract, nature inspired imagery which can be found on walls throughout NZ.| ghstie.com
JAKE MEIN | a prolific photographer capturing the dynamic, elegance and culture of skateboarding in New Zealand. Jake works with a number of prominent skateboarding publications including Manual Magazine. | jakemein.com
TANE WILLIAMS | Some dude who doodles. | tanewilliams.com
GREG STRAIGHT | artist, illustrator and graphic designer best known for his strong graphic edge and exciting use of bright hues. | gregstraight.com
JENNA ADAM (aka Ninja Bears) | Ninja Bears are kawaii handmade plushies that transform into many different things, they are friend to you and will protect you from evil. | ninjabears.co.nz
EMA FROST | a Auckland based artist making charming creatures that hide in unsuspecting places making themselves visible to only the most discerning eye | emafrost.co.nz
CAPILLI TUPOU | Capilli Tupou is an artist specialising in old school traditional style tattooing. As a New Zealander of Maori (Te Rarawa) and American Samoan heritage, Capilli brings his own unique Polynesian slant to the style. | capillitupou.com
ADRIAN VERCOE | With a background in graffiti and skateboarding, Adrian is a documentary photographer capturing street culture portraits around NZ and overseas. | adrianvercoe.com
OTIS FRIZZELL | Otis Frizzell draws and paints. He has done for over twenty years. He's getting quite good now. | facebook.com/WestonFrizzell & theluckytaco.co.nz
SEYMOUR | (aka Peter Kelk) is a Kiwi born / Melbourne based artist who uses a diverse range of mediums including print, painting, and sculpture to create his stylistically recognisable pieces that range from limited edition 'Giclee prints' and 'Art Toys' to intricately detailed one off sculpted pieces. | seymourart.net
MEGHAN GELIZA | Meghan Geliza's Pop Surreal paintings are of worlds swirling in explosive colour, driven by the metaphysical and the whimsical. Her work references nature, sacred geometry and recurring patterns in the universe, to comment on our inherent connection with everything. | meghangeliza.com
DENISE FORT | Denise draws with black lines her own fun and constantly growing world, with its own evolving culture, inspired by her travels, her multi-cultured up bringing and living far away from her birthplace, her 6th year in Raglan, New Zealand now. | denisefort.co
MICHAEL KENNEDY | Auckland based artist & certifiable weirdo Michael Kennedy (aka Malangeo) creates wonderfully weird portraits of "creepy-cute" critters, sugar-crazed beasties & fragile floral beings. | malangeo.com
ERIN FORSYTH | All that is candidly dark and goopy - booty cheese passion, the delicious and grotesque - come together in Erin's chaotic visual repertoire. | erinforsyth.com
HARRY CULY | Harry Culy take pictures of dreams. He also work in a fish and chip shop and like to make books. | harryculy.net
In Scott and Colleen's goal towards raising the profile of LowBrow Arts they would love to take you all along the journey.
They plan to document the whole process through weekly updates which will include photos and descriptions of how the exhibition begins to take shape, as well interviews and profiles with the artists. At the events they will show you the exhibit in place and as much as they can to be advocates for the artists involved and the New Zealand Lowbrow art scene in general.
Scott Savage's involvement (page creator)
We will be curators and the voice of the project when it travels with us overseas as well managing all the behind the scenes organisation.
Other page links
---
Latest update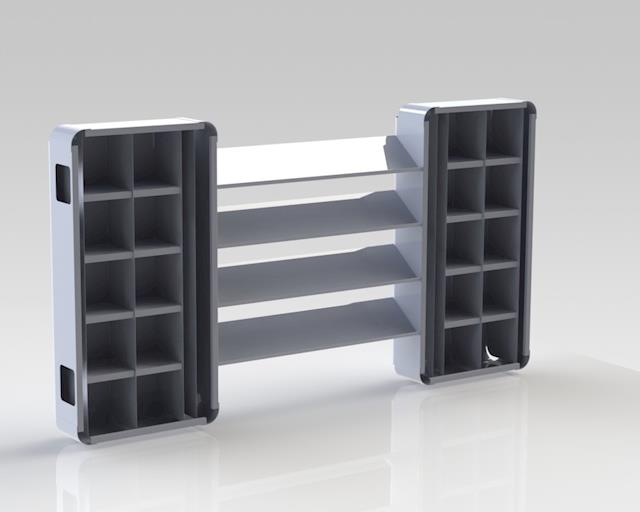 Tiny Gallery - First Reveal! 16 September 2014
Posted by: Scott Savage
Thank you so much to everyone for helping us reach our goal! We are now well on our way to preparing everything for the trip.
First reveal! Here is a CAD WIP of the Tiny Gallery case! Isn't it sexy? We have been working with top gun industrial designer Andrew Wallace who has done a brilliant job to realise the vision of the gallery. We are so excited. Some little finishing details still to finalise and after that will go into production later this week!
Just a reminder, that further updates will be done through our blog, so please follow us to track our progress (we will transition to using this solely soon):
---
Latest donations

Cassie and Ant
on 08 Sep 2014
Hope this helps for your great adventure

Guest Backer
on 08 Sep 2014

Guest Backer
on 08 Sep 2014

Guest Backer
on 08 Sep 2014

Wonderful that you'll get to share great NZ art with the world!
---
Who's involved?
---
Page Moderated
The page has been checked by our team to make sure it complies with our terms and conditions.
---
Gallery
---
Got a question for the page owner?
Ask one here
---
Any concerns?
Report this page
---
This page was created on 8 Aug 2014 and closed on 9 Sep 2014.