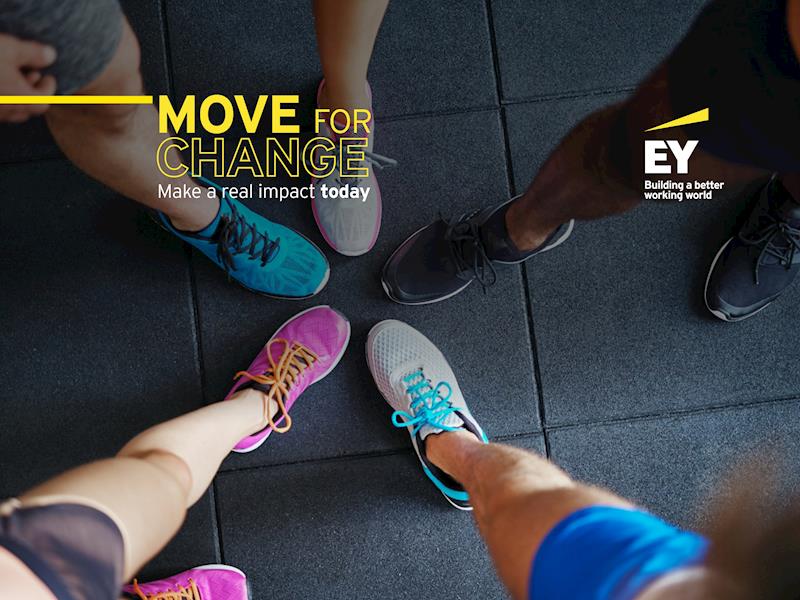 EY Move for Change
Starts: 3 May 2021
Ends: 7 Jun 2021
47
fundraisers participating
Move for change is a movement challenge to raise money for the Ernst & Young, New Zealand ("EY New Zealand") focus charity – KidsCan.
Throughout the month of May we are asking EY people to commit to move in any way you like. Whether this is walking, running, swimming, or doing yoga or weights or even roller-skating! In these virtual times, we encourage you to move away from your desk because, regardless of your fitness level, taking opportunities to move throughout the day will lower stress and strain.
But we are not just asking you to move. We want you to move with purpose, to Move for Change. When you set your personal movement goals, align this to your fundraising goals. The more you challenge yourself to move, the more your networks may be prepared to donate. The more that your networks donate, the greater the impact you will have on the children supported by KidsCan!
And for every dollar EY New Zealand people* donate through their pay on Givealittle, EY New Zealand will donate a dollar with total matched donations being donated to KidsCan.
There are also some great prizes on offer. Check them out here - http://go.ey.com/nzmoveforchangetcs
Don't forget to post your progress using #eymoveforchange.
*EY partner and credit card donations are not matched
Don't forget to post your progress using #eymoveforchange.
About KidsCan
254,000 Kiwi children live in hardship which can impact their educational growth and lead to a lifelong pattern of underachievement. KidsCan supports almost 44,000 children every day with food, clothing and basic health items, a number which surged 25% with the COVID-19 pandemic.
KidsCan programs are currently available to 200,000 children in over 800 schools and 100 early childhood centers, with 5 million items being sent from our Auckland warehouse each year.
By joining the event you agree to the following waivers:
1. By enrolling and participating in this event you certify that you are healthy and that your physical condition allows you to perform moderate to intense exercise. If you experience any physical symptoms such as abnormal or sudden blood pressure changes, fainting, dizziness, or irregular heartbeat or any other physical symptoms which seem abnormal to you while participating in this event, stop exercising immediately and consult your doctor without delay.
2. I understand that if I am a covered person 1 or 2, I will not actively and personally approach audit clients of which I am a covered person. This does not prevent me from posting the sponsorship request on social media. For further information please click this link - http://bit.ly/eyindependence.
For all your questions, refer to http://go.ey.com/NZ_MoveforChange_FAQs or email oceania.cr@au.ey.com
Other page links
---
Participant Leaderboard
See all 47 participants
---
Teams
See all 12 teams
Select a team to join or to donate to one of the members
---
---
Donations go towards:

KidsCan Charitable Trust
KidsCan provides food, clothing and basic healthcare in schools to enable disadvantaged Kiwi kids to reach their full potential.
---
Got a question?
Ask one here
---
This page was created on 18 Mar 2021 and closes on 16 Jun 2021.