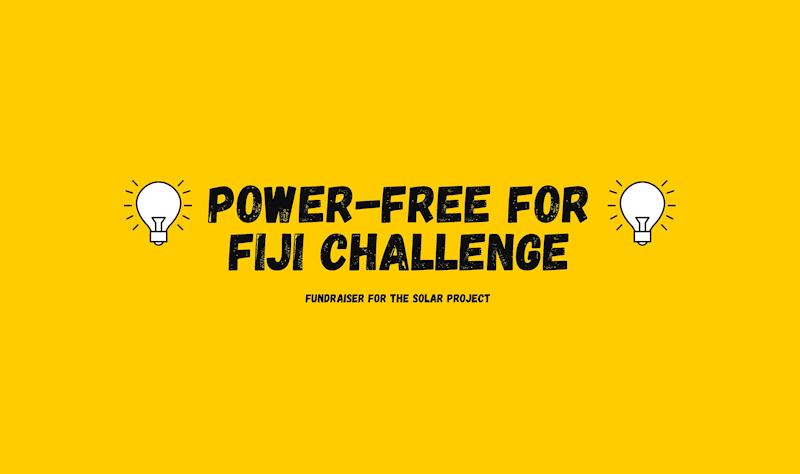 Power-Free for Fiji
Starts: 10 Jul 2020
Ends: 12 Jul 2020
10
fundraisers participating
Challenge yourself to go 40 hours without some form of technology or electricity and give families in rural Fiji the gift of solar light
Join in and make a difference to families in rural Fiji!
When you sign up for the Power-Free for Fiji Challenge, you commit to going without some form of electricity or technology for a length of time (we recommend 40 hours) and having people sponsor you to do it.
This year, the Power-Free for Fiji Challenge will take place on the 11th – 12th of July, the second weekend of the July school holidays.
Your fundraising challenge could be to spend 40 hours going without something you rely on that requires electricity – like your devices, motorised transport, hot water, or the lights in your house.
Whatever you decide to do, make it fun! Let your friends and family know that you are doing it and ask them to sponsor you. You can even encourage them to take part as well.
Ideas for a Power-Free Challenge:
• No lights
• No motorised vehicles
• No hot water
• No device(s)
• No hot food (unless cooked on a fire!)
• No heating
About the cause:
The Solar Project is an initiative founded by St Cuthbert's Year 13 students Hannah Went and Amber Waymouth that aims to provide rural Fijian villages with solar lights.
The need for electricity in rural Fijian communities has never been greater. Recent events such as the COVID-19 pandemic and recurring tropical cyclones have devastated many communities in Fiji, meaning that people living in rural areas don't have access to light after the sun sets or are forced to rely on expensive, carcinogenic kerosene lamps. The impact on children is particularly damaging, as their ability to do schoolwork is severely limited by their lack of access to light.
The Solar Project has a baseline goal of sending 1000 lights to remote villages in Fiji to give families an efficient, reliable, light source for evening school work and activities.
---
---
Participants Leaderboard
See all 10 participants
---
Donations go towards:
---
Got a question?
Ask one here
---
This page closed on 31 Jul 2020.