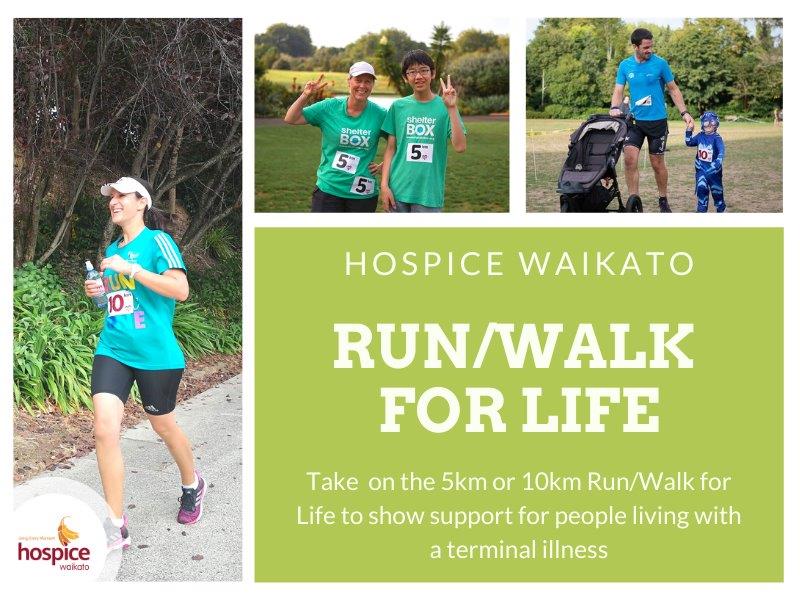 Hospice Waikato Run for Life
27 Aug 2020
1
fundraiser participating
Enter our 5km or 10km Run/Walk and raise additional funds for Hospice Waikato!
We are excited to announce that Run for Life is back!
COVID-19 has made it challenging to fundraise this year, especially with our major events cancelled. Nevertheless, we cannot stop - our patients and their families still need our care and that means we must raise the funds to make that happen.
By fundraising for Hospice Waikato or Rainbow Place, you are helping us to deliver specialist palliative care to 1600 patients and their families who are living with a terminal illness.
The money you raise will go towards providing vital care and support for patients and their families. You really can make a difference!
Your fundraising efforts can contribute to:
$50 – Pain Medication - will pay for a day's costs of a Hospice syringe pump that will help with a patient's pain management.
$100 – Massage Therapy - Massage is an excellent way to relieve stress and release tension. Your donation will allow for a pain-relieving massage for a patient.
$500 – Can fund bereavement counselling for an entire family, helping them to come to terms with their loss.
$1000 – Inpatient Unit Stay - Your donation will pay for a patient to stay in our Inpatient Unit for one night for symptom management, respite care, or end of life.
$2000 – Nurse for a Day - Your donation could pay for 50 hours of specialist nursing care for our Community Nursing Team visiting patients at home and giving the care they so desperately need at the end of their life.
Thank you for your support - we can't wait to beat the pavement with you!
PS. Don't forget to register for our event - https://www.hospicewaikato.org.nz/runforlife
Other page links
---
---
Participant Leaderboard
---
Got a question?
Ask one here
---
This page closes on 26 Oct 2020.