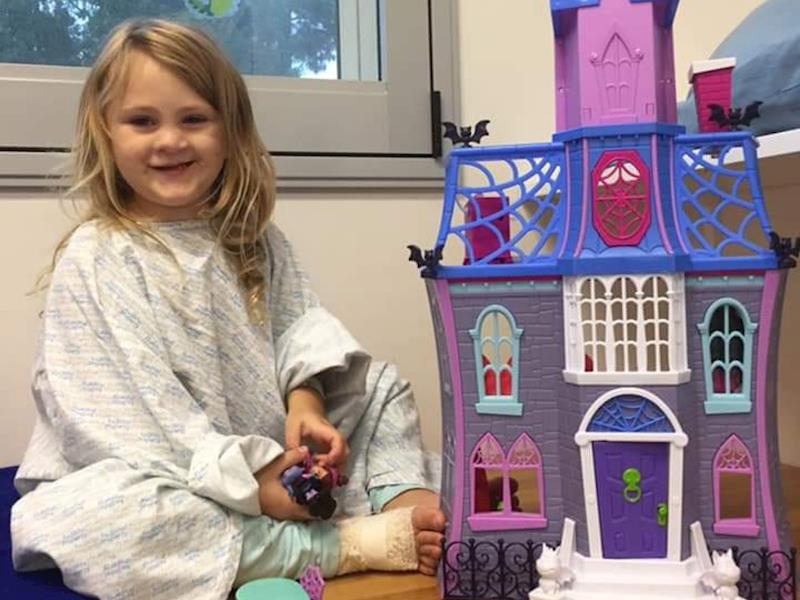 5 year old Alivia has a rare cancer
Alivia was diagnosed with rare cancer, 2 days before starting school, she just turned 5. Please help her family focus on her getting better.
Marlborough
Around Christmas 2018, Mummy Rebecca noticed a lump under her 4 year old daughter, Alivia's, arm. This was a painless lump with no associated symptoms. Nevertheless Alivia's family were concerned and Alivia had time off Kindergarten to have various doctor's appointments, tests and a scan in Blenheim, about half an hour away from their rural home in Tua Marina.
After a course of antibiotics and observations there was no change in the lump. Alivia was having school visits during this time and had her 5th Birthday on 6th March. Alivia was excited about starting school, but
Christchurch Hospital was the next destination where she had a biopsy. Our sweet little friend had to have a tube in to drain out the blood/fluids. This meant lots of dressing changes, which she doesn't like at all but who could blame her!! Her Dad, Russel and little brother George were also on hand to provide hugs and great stories.
Alivia had MRI and CT scans in between visits to the Zoo and celebrating her brother, George's 4th Birthday. They joy and excitement of their planned ''joint sibling birthday party'' together back at home and Alivia starting school was overshadowed by the unknown results they were waiting on. Throughout all of these tests and monitoring, everyone was positive and hopeful.
Finally came the day, Friday the 15th March 2019, the worst day anyone could ask for, finding out their baby girl Alivia has a rare cancer "AFH" Angiomatoid Fibrous Histiocytoma. The doctors told them not to look it up on the internet, as this cancer is different for kids to adults. They added that it was curable and would need to do 2 rounds of chemotherapy. Rebecca and Russel went through lots of emotions at this point and couldn't comprehend telling Alivia that she is sick and that she won't be starting school yet. This was hard because she was excited to be dressing up for her first week of school, playing, learning and building new friendships. This was devastating.
That same day they were in the meeting being told this life changing news, the Christchurch shootings happened and the hospital was put into lock down. The tired and emotional family didn't get back to the Ronald McDonald House until 7pm. Mummy Rebecca and Dad Russel, had to contact their friends back in Marlborough, to share the news and say the joint birthday party on the weekend was cancelled.
20th March, Russell and George travelled back home and Alivia had to have another surgery, this time to get a central line in, called a Hickman, which is put into her little chest. This is a thin flexible, partially implanted silicone tube which extends outside her small body. Inside her body, the catheter lies under the skin of her chest. It goes into a central vein near a small incision by her neck. This line is now how she can have blood taken and the chemo put in. This now has to stay in until she has completed her treatment. They are hoping to start chemo the week of Monday 25th but things may change, as they can do.
A small group of friends have created this page in order to help relieve some financial stress of travelling from Marlborough to Christchurch and paying household bills, with Rebecca not working and Russel taking time off work to be down in Christchurch whenever he can. Please help Alivia's family out.
Gemma Franken's involvement (page creator)
Our children are besties. A small group of us have gotten together, to show support for this awesome local family
Use of funds
This Marlborough family will be traveling to Chch and back constantly, it's where they have been for 2 weeks already, house bills pile up when parents aren't working. Donations will also help this family spend quality time together, when they are together
---
Latest update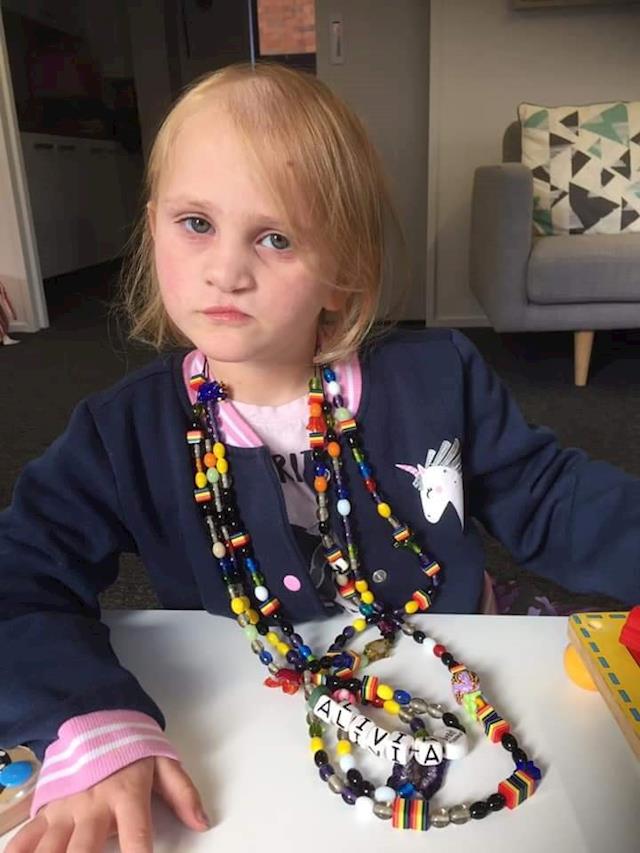 Beginning of May 2019 8 October 2019
Posted by: Gemma Franken
May began with 7 daya of Vitamin G and red blood transfusions. Liv and her whanau have managed a trip to OranaPark.....
While Alivia was 'under' she had an MRI and had a feeding tube put in her nose. She has no desire to eat, and hates the flavor of everything! Bead count #205. Mothers day, not where anyone wants to celebrate it.
Liv had one chemo drug through her for an hour and the second drug go through for two hours. That had to be repeated every day for five days. This chemo is alot stronger and knocked her around, yet she was still trying to smile,?!! Be kind out there guys
---
Latest donations


Hi Alivia, We are twins Portia and Luca who are the same age as you. We were touched by your story. We have a lovely friend Billie who is also turning five tomorrow and asked for no presents. So we are instead donating the money we would have spent on her present to you on her behalf. We hope you continue to get the treatment you need.

Beyond the Fringe
on 27 Jul 2019
Your journey has been so humbling to be apart of. Hugs and kiss to such an amazing young girl and to you all xoxo for the Team 💕💕

Kathy and Simon
on 20 Jul 2019

Tamsin alice baker
on 18 Jul 2019
Hope you are getting better soon from tamsin
---
Who's involved?

Created by Gemma Franken

---
Page Moderated
The page has been checked by our team to make sure it complies with our terms and conditions.
---
Got a question for the page owner?
Ask one here
---
Any concerns?
Report this page
---
This page was created on 24 Mar 2019 and closed on 24 Mar 2020.