Leo and Tiffany Assistance Dog
We are raising funds for Assistance Dogs New Zealand in support thanks for the dog we are receiving for our two children Leo and Tiffany.
We are Dan and Gretchen, proud parents to Leo and Tiffany
Leo is six years old and Tiffany is four. They both have Down syndrome and some of the additional complications that can come along with Down syndrome.
Leo is registered with the Blind Foundation and BLENNZ (The Blind and Low Vision Network of NZ). And both children have some orthopaedic problems, which means they must be supervised very closely when they play.
The children are very active with school and Playcentre, swimming lessons, music therapy, speech therapy, and Leo attends Riding for the Disabled to help with his poor muscle tone.
We are doing all we can for our children to develop independence, to be healthy and happy, and we really appreciate the help an Assistance Dog like Caz will bring to our family to keep the children safe and to be a loving companion. We have seen what an Assistance Dog can add to a child's life and we look forward to having that for Leo and Tiffany.
We have high expectations of this dog and are very excited about the help she can be to all four of us. The dog is being trained to be a guide for Leo, who is vision impaired .
Neither of the children have good safety awareness and both are runners, Tiffany in particular causes us lots of concern as she has no sense of fear and is an especially good 'escape artist'!
This dog will help us all stay safe and together when out and about. With an Assistance Dog, we have hope that we can get out and about much more frequently and safely and that with her help it may be necessary to have only one adult on these outings!
We know Caz has the energy to help us keep these two magnificent and energetic children safe.
Another very exciting prospect is that Leo, who is nonverbal, may begin to speak in the company of a canine companion or even just learn to communicate with us a little better. We understand many children do start to socialise more when they receive one of these lovely dogs.
Leo is very drawn to animals and loves to sit near them. He is a very affectionate and gentle boy.
Tiffany, on the other hand, is more playful and mischievious but we have no doubts that learning to take care of our dog will be great for her too.
This dog can help the children with some socialisation and friend-making skills and we envisage that she will help calm the children when they are anxious or there is lots going on - this often happens when we enter noisy or crowded places, which can be a real challenge for our family.
Because this dog is trained by a NZ Government recognised organisation, it will be allowed to accompany us in public places and we are so enthusiastic about future trips to movie theatres, bus and train trips and safer adventures to do our shopping, in the company of a trained assistance dog. The potential of the world opening up to us is so exciting!
If you are in a position to contribute to our fundraising for Assistance Dogs New Zealand in the name of Leo and Tiffany we would be so appreciative!
If you would like to make a donation, select the 'Donate Now' button. It's simple, fast and totally secure. If you live in New Zealand your donation is tax deductible and a receipt will be issued.
Thank you so much!
Leo and Tiffany's Mum and Dad
Gretchen Good's involvement (page creator)
We have been on a waiting list for two years to receive a service dog from Assistance Dogs New Zealand (ADNZ) and have recently received notice that we have reached the top of the list and a dog is being trained for our family!
We have now set our goal to help by raising $20,000 for Assistance Dogs New Zealand. We hope you may be willing to help us fundraise by spreading the word or maybe contribute to ADNZ on behalf of Leo and Tiffany.
---
Latest update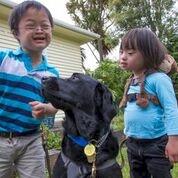 Big Donation! 28 August 2016
Posted by: Gretchen Good
Thank you to Donna Bednarczyk, her family and friends who raised a huge amount for the second August in a row toward our fundraising for Caz. Her Brownies for Buddies has been a huge success and Gretchen had the opportunity to be there to help on one of Donna's baking days. It was great to see so many of you who donated to our cause and purchased Brownies for Buddies. Than you!
2016 Update on Caz and her family!
Caz arrived into our family a year ago. Since then she has truly become our fifth family member in our household! She has helped us in so many ways. Our children are Leo, 7 and Tiffany, 5. Both children have Down syndrome and other significant health conditions. Caz has a special harness that allows each child to have their own dog leash which is attached to Caz. They can either just hold onto it or it can be clipped onto their belt or backpack. When we all walk together, the children are kept safe and do not run into the street or parking lots and they are very happy to stick close to Caz (and Mom and/or Dad!). They walk further than ever before and Leo, who is legally blind, knows where he is because he likes to trail right behind Caz's tail. Leo can tell when Caz is going up or down a curb or making a turn. It is great for Leo's navigation! And the kids have such freedom this way; Mom has not got a death grip on their hands anymore!
Caz has an important skill that we are using a lot these days. She has been trained tolean on Tiffany! Tiff has ADHD and sensory issues, as well as Down syndrome and she craves the deep pressure Caz can provide. We place a bean bag on top of Tiffy's lap and Caz then crawls on top of it. This helps Tiff calm down and settle, especially after a long day at school. Tiffany just started school on her 5th birthday and she needs Caz's comfort a lot in the evenings!
Caz still lets us know if anybody wakes in the night. This has become especially important now that Leo wants to get up and cook eggs at 4:30 am!
And Gretchen, the Mom, who has impaired vision, has come to rely on Caz a lot in the last year, as a guide when traveling or when out at night.
And besides all of the jobs she does, Caz is a loved, comforting presence in our home. The children take turns brushing her and feeding her and while Tiffany loves to rough house with her and wrestle, Leo loves to cuddle and relax with her.
In the past year, with help from friends like Donna and you, we have raised over $17,000 toward the cost of raising and training Caz. We thank you so much for helping us to achieve the goal of raising $20,000, which is each family's obligation when they receive a trained dog like Caz.
It's the little things that really make a big difference. With Caz, if only one parent has driven somewhere with the children, one child can be left with Caz, who has been trained to be an anchor and will not let the child walk away into danger, while the other child is being loaded up in the car. It is nearly impossible to keep both children safe while loading and unloading from a car, without Caz!
Thank you so much for adding to our quality of life!
---
Latest donations

Grandma and Grandpa Good
on 11 Dec 2016

Guest Donor
on 29 Nov 2016
Gretchen Good
Oh my goodness...thank you for your generous donation! We really are grateful!


Guest Donor
on 26 Nov 2016
Gretchen Good
Thank you so much! This is indeed what Leo and Tiffany want for Christmas! Love from all of us.


Brownies for Buddies
on 28 Aug 2016
70 pans of brownies for 50 happy customers from Michigan to support Caz as she support Tiffany and Leo.
Gretchen Good
Thank you so much to the amazing Godmother and friend, Donna and her whole family and family of friends that have rallied around us since we began this journey. Love, hugs and slurpy dog kisses to all of you.


Guest Donor
on 22 Aug 2016
---
Who's involved?


---
Tax credit
Donations of over $5 are eligible for a New Zealand charitable giving tax credit.
Page Moderated
The page has been checked by our team to make sure it complies with our terms and conditions.
---
Gallery
---
Want to get in touch with Gretchen Good?
One question has been asked already. Check it out and
ask yours here
.
---
Any concerns?
Report this page
---
This page was created on 12 Jun 2015 and closed on 31 Dec 2016.