Baby Maddie's Heart Breaking Struggle
Help we Maddie fight and get through such the hard battle she has been facing with the support of her family around her.
Canterbury
This journey is about their precious daughter Maddison born on 11th June this year. The first 3 and half months of Maddi's life were all perfectly normal. She was hitting all her milestones, gaining weight, and producing her beautiful smile. Laurel and Daniel were very proud parents. Then Maddi caught a cold, a virus. She was taken to doctors and after-hours who told them she would be fine once virus runs its course. A week later following a morning nap Laurel heard her awake to loud screaming. She went white and was gasping for air. Laurel rang the ambulance and they arrived, backing out driveway she stopped breathing and needed bagging. She then needed an electric drill into her leg to find a vein as baby's veins weren't on the surface, to get antibiotics into her. She stopped breathing again on the way. She was rushed with Laurel to ChCh emergency department. They managed to get her stable and the next day Daniel took Laurel home to have a shower and get a car. Whilst away they received a bad phone call that Maddi had taken a bad turn. Daniel being closest rushed up and witnessed her stop breathing again and she was shocked by a defibrillator as her heart stopped.
She was rushed to the theatre and put on a ventilator. They discovered she had narrow airways. She was transferred by a starship hospital plane with Laurel in the middle of the night. In Auckland they discovered she had two vascular rings constricting her airways which along with a common cold left not much room to breathe.
Laurel and Daniel were told she needed surgery to snip the rings and one of three things would happen. 1) Wind pipes would bounce back fully and home in 2 weeks. 2) They would bounce back halfway and they had some options. 3) They wouldn't bounce back and there would be nothing they could do and she probably wouldn't survive. The surgery was an agonizing wait but miraculously they bounced back to 50%. Now came the process of coming off the ventilator, on high doses of morphine and sedation and still producing mucus from the virus this was a long process. 1st attempt she crashed and was straight back on, 2 days later they tried again but the same result she was back on. They agreed to try one more time as the tube had caused swelling and if this failed we were looking at a tracheotomy (a machine in a hole in windpipe). The little fighter however on 3rd attempt came off the ventilator and breathed through a mask fine.
She shocked and surprised doctors with her fight. 3 days later they decided to try to step down to high flow oxygen (everyone has after surgery) and low and behold she handled it fine. They were talking about moving to a ward and coming home in a few weeks. She was a superstar.
Then tragedy struck. Only 6-8 hours later nurses started noticing spikes in temperature, and then she stopped breathing. They cleared her airway but it was as if she had forgotten how to cough. Daniel was back in Christchurch working and looking after there other children and sadly Laurel was hotel room bound as had a bad bout of food poisoning. They felt helpless.
The doctors acted fast after Maddie had a seizure. Her head had begun to swell and after having a CT scan and fluid sample from her head made tragic discovery she had somehow contracted bacterial Meningitis. This had nothing to do with her condition that she was in the hospital for, she had practically beaten that and the family was dealt with this very cruel blow. She was rushed into surgery, a drain inserted in her head, her brain given a wash and all pus sucked out. They have been told she has a chance of brain damage, their stay in Auckland will be long, and she remains a risk of reinfection and is back on a ventilator.
Understandably her parents are devastated. She had shown so much fight, and to be struck down by an infection that could have long term damage is heart-breaking. They have never been people to ask for anything and have remained positive throughout. Laurels maternity leave runs out in 2 weeks, she was looking at returning to work in late January but with maddis condition,this has been put on hold. They are not people looking for grand gestures, and have been very humbled by the offer of this give alitte page. They want to be able to bring Maddis siblings up to see her, and it is financially difficult to live out of two cities. They take great strength from their friends and family and are greatly appreciated.
Maddie is a fighter, she has overcome countless obstacles and the family would like to thank you all for the messages of support and love. They have given them so much comfort in their darkest hours.
Keryn, Hayley, Charlotte, Karina Hore, McIntosh, Hansen, Obrien's involvement (page creator)
We have been close friends with Daniel and Laurel for many years and just feel so heartbroken they are going through such a tragic time. We just want to do anything we can to help.
Use of funds
The funds received will go towards travel expenses and household expenses as Daniel (and the children) understandably need to be with Laurel and Maddie as much as time allows.
---
Latest update
Daneil and Laurels Update 27th Feb 29 February 2020
Posted by: Keryn, Hayley, Charlotte, Karina Hore, McIntosh, Hansen, Obrien
Maddi update: So big day tomorrow. Basically the doctors aren't 100% sure why she cant come off the high flow oxygen. Tomorrow morning shes going to be put on a ventilator (cant use high flow on a plane) then Laurel and her will fly back to Auckland on a starship plane. They will keep her sedated and on the ventilator over the weekend. We will be back in Piccu. On monday the starship doctors will put a camera back down and also give her a CT scan. They will then decide what they are going to do. There are a few options on table but they will discuss this after her procedure on Monday. It's going to be hard seeing our smiley baby back on ventilator but hopefully after monday we will finally have some answers and a plan.
---
Latest donations


Happy New Year. boombeach

Private Donor
on 10 Dec 2019

I'm a friend of Heather's and I have a granddaughter around the same age and my heart goes out to you.

Stay strong, love and prayers for you all. Your baby is gorgeous x
---
Who's involved?

Created by Keryn, Hayley, Charlotte, Karina Hore, McIntosh, Hansen, Obrien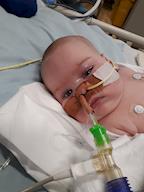 ---
Page Moderated
The page has been checked by our team to make sure it complies with our terms and conditions.
---
Gallery
View full gallery
---
Got a question for the page owner?
One question has been asked already. Check it out and
ask yours here
.
---
Any concerns?
Report this page
---
This page was created on 18 Oct 2019 and closed on 18 Apr 2020.