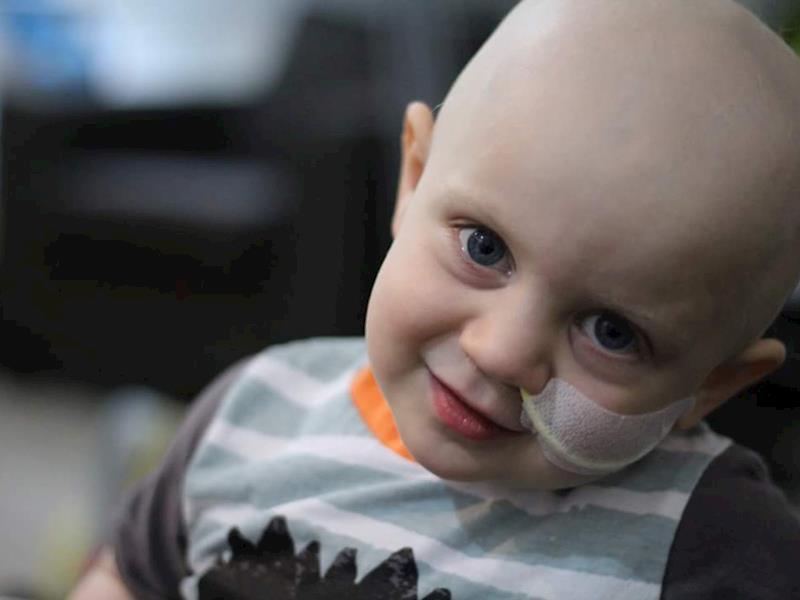 Corey the Brave
Corey is two years old. He has incredibly aggressive Neuroblastoma cancer. This now requires international treatment and hospitalisation.
Taranaki
It is with a heavy, but hopeful, heart that Hayden and I would like to update you all on Corey's Neuroblastoma journey. Corey has now completed six rounds of induction chemotherapy and towards the end of June had a very successful surgery that removed over 90% of the tumour that was growing in his abdomen. We were incredibly thrilled with the progress that he had made and so immensely proud of how well he had pushed through each round of chemotherapy.
During this treatment we celebrated Corey's second birthday. We watched him develop in many ways like a healthy two year old. He began to play imaginatively and his vocabulary continued to increase. He developed a love of the rescue helicopters watching them take off and land, which provided much excitement and entertainment for a sick child waving frantically from his hospital room. When well enough, he wanted to climb, run, sing and dance and assert himself, in a way only a two year old can! We navigated parenting, learning how to care for a very sick child and maintain a healthy balance and some normality to Corey's life, often in a very small hospital room.
Over the past few weeks Corey has had a number of tests in preparation for the next phase of treatment. All the results were positive, and we were hopeful that we had this terrible disease under control.
The last test Corey needed was a full body MRI, which had been delayed by a few weeks due to a number of medical events that were out of our hands. Our expectations for Corey's MRI were positive. We in no way, shape or form were prepared for the phone call we received after his scan. The MRI showed aggressive new growth at the primary tumour site. However, this was not the worst of the bad news… a new spot of concern was found on Corey's brain. Rather than preparing our son for the next phase of treatment we began prepping him for brain surgery.
His 2nd major surgery was the 11th of September and it all went well. It will take a few days/week to get pathology results back but we are pretty certain that the mass they removed is Neuroblastoma. This new finding is classified as a Central Nervous System (CNS) Relapse and is extremely aggressive. There are only two hospitals in the world with a protocol for a CNS Relapse. One is Memorial Sloane Kettering in New York City. We need to travel to New York ASAP in the hopes of getting Corey the life saving treatment he needs.
The pain and hurt that comes with our little boy's cancer battle is devastating and something that we cannot even begin to describe. He shows such courage. He amazes us each day with his resilience and strength facing procedures and invasive treatment, while still managing to smile and experience some joy in each day. It is heart-breaking for us to see him suffer but his response to treatment indicates continued treatment is worth fighting for. We ask you to pray we are able to make it to New York in time for Corey to receive the treatment available for CNS relapse and give him the best chance of life.
We have kept a lot of the details of Corey's cancer and treatment within our family network. We have already been humbled by the kindness and compassion of friends and strangers since Corey's diagnoses. We are now very much in need of support from the wider community. We have created a Facebook page for Corey's story so you can follow and stay updated with his progress.
Thank you all for your love and support throughout the last six months. Corey is the strongest person we know, we believe he has the strength to win this battle.
A previous givealittle page raised approximately $20,000 to help Aly and Hayden manage costs as neither of them could work while caring for Corey in New Zealand. Now that Corey's fight is looking to be longer, more complicated, and more costly we would like to try and help them as much as we can.
(Aly & Hayden are going to be very busy over the next wee while getting Corey to the States, and navigating through a new hospital system and organising his treatment, so they may not be able to get back to any well wishes or messages right away. They will endeavour to respond to you as soon as they can, as all your thoughts and prayers are greatly appreciated.)
Malinda Wynyard's involvement (page creator)
Corey's parents are very good friends with myself and my partner. Corey's mum and I were pregnant together and our boys are three months apart in age.
Use of funds
The money raised here will be used to fund Corey's treatment as well as Aly & Hayden living overseas while Corey continues in his fight.
Other page links
---
Latest update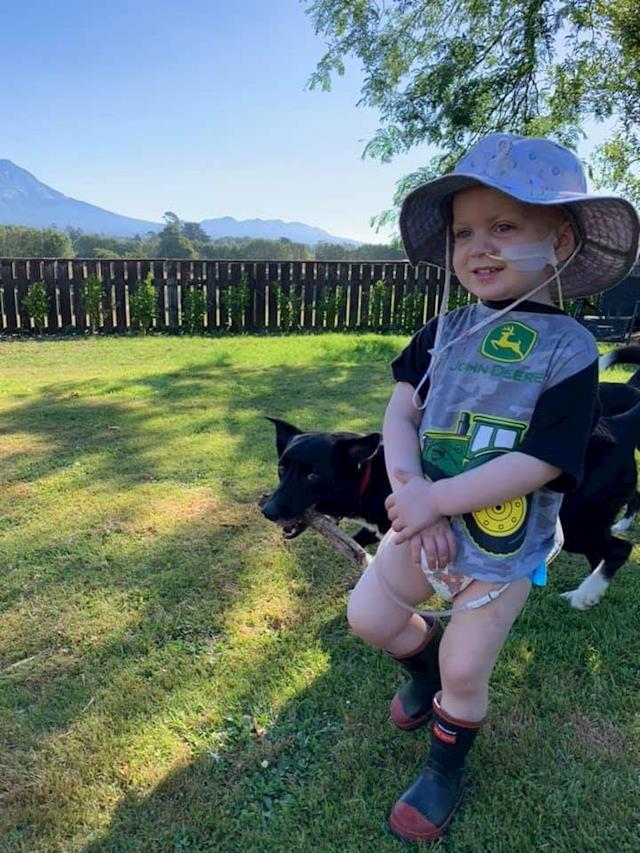 Corey comes home.. 18 February 2019
Posted by: Malinda Wynyard
There are many of you that already know but several who have yet to find out the news about Corey.
Last week we learned the results of Corey's remaining scans. The clear MRIs that he had a few short weeks ago did not cover his whole body, just the areas that Corey had disease in prior to us getting to New York... The remaining scans unfortunately showed that Corey's disease has continued to spread, despite the horrifically toxic treatment he has endured.
Corey's body is still not healed from the VOD that we've been treating since the start of January and he is still requiring the drain in his abdomen. Even if Corey's liver was healed he most likely would not be able to tolerate any additional treatment without the VOD returning.
The best thing we can do for our son now is to get him back to our home in New Zealand. He deserves the chance to feel and play like a normal toddler.
Corey has fought this battle so courageously over the last 11 months and there are no words that can express our heartache. We are so immensely proud of our son for going through what he has gone through, all with a smile on his face. He has truly been to hell and back and he will always be our hero!
We left New York almost as quickly as we arrived and are now back home. This is the first time in 6 months that we've been here, and it is so bitter sweet. Corey is happy playing in the New Zealand summer sun with his dogs, cat, chickens and cows. He's been driving his truck and collecting the eggs with his Papa. We even got him a new puppy, which Corey has names Biscuit. We will spend this very precious time creating memories and celebrating the best thing that has ever happened to Hayden and myself.
I have always found it difficult to share Corey's story so publicly and will probably be stepping back a bit more to truly enjoy every moment we are given. Thank you to everyone who has supported our family. There is no way we could've fought so hard with out you all!!
Special thanks to everyone in New York that helped us get on our feet and made us feel at home. We are sorry for leaving so quickly and wish we could have said goodbye properly! We've been blessed to have crossed your paths and will do our best to keep in touch!
💙🎗💙
#coreythebrave #thankfulforthefight
---
Latest donations
---
Who's involved?

Created by Malinda Wynyard

Paying to a verified bank account of
Hayden Keeling
on behalf of Corey Keeling
---
Page Moderated
The page has been checked by our team to make sure it complies with our terms and conditions.
---
Gallery
---
Got a question for the page owner?
One question has been asked already. Check it out and
ask yours here
.
---
Any concerns?
Report this page
---
This page was created on 13 Sep 2018 and closed on 13 Sep 2019.