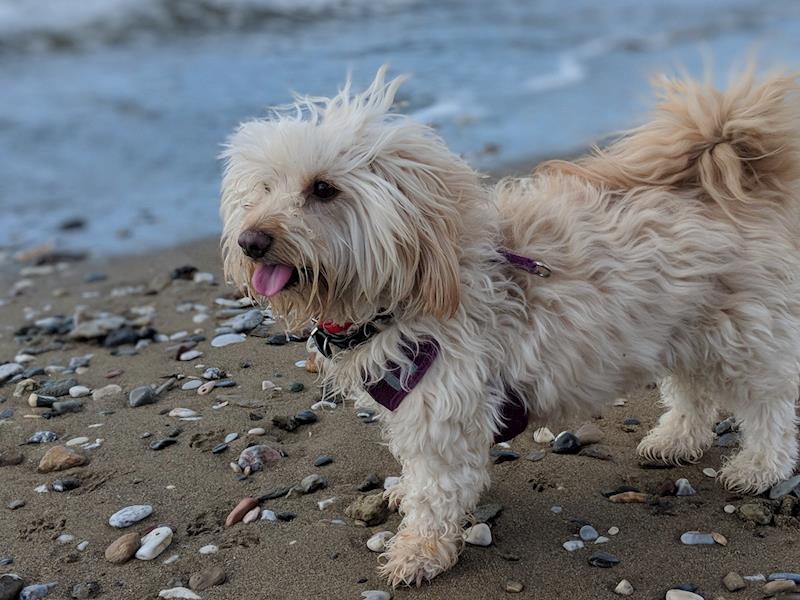 Desperately Need Support in Bringing Tilu Home
This is my desperate cry for help! It's a long story to read but def worth a shot. I wouldn't be here if I hadn't exhausted other options...
Auckland
Hi there,
My name is Salome and I live in NZ with my partner. Both working full-time trying to make ends meet in the not so cheap Auckland city.
I'm originally from Iran and I moved here about 12 years ago and I feel as much Kiwi as I feel Persian. New Zealand is definitely my 'Home'.
Anyhow, this is my story and before you read it, I like to thank you for taking the time to do so:
6 years ago I took a gap year in my studies and went to Iran to visit my mum, family and friends. A couple of months past, my friend & I came across these 2 little puppies (less than 2 months old) that were left for a week, separated from their mother, in an abusive home with people who didn't love or care for them. So instinctively we took them with us. My friend took the girl (named Lucy now) & I took the boy (Tilu) 🐾
My mum didn't approve at all first. She didn't want a dog... I begged her to let me keep him, and I promised that I will take him back to Nz with me, thinking that it would be only a couple of grands max and as easy as filling out some forms and going through quarantine! So little I knew about how costly, frustrating, stressful, and almost impossible it was going to be...
A year had past & my time was up to comeback home, so I started looking into importing my pet...
Next thing I knew was that It was impossible to do so from there anyway & the only possible option I had was to take/send him somewhere for 6+months in one of the MPI's (Ministry for Primary Industries) approved countries. Then after extensive health checks, vaccinations (which of course he already had, but wasn't acceptable by MPI), etc. he could be imported here, and yet stay in the most expensive quarantine and then eventually be cleared and released to me...
Now do you think I could afford doing all that as a student with a part-time weekend job?! Of course not, so I ended up leaving broken-hearted, asking my mum to look after him for me & let him be her companion (as she has no other children but me, and lives alone) - she agreed. After All it had been a year by then and we had both fallen in love with him so much that he was already part of our family!
On my return I planned on saving as much as I could to go back once I had more money and my degree was finished to bring Tilu here by taking him to stay with a friend/family in Europe for over 6 months to qualify for import step by step...
And I did just that 3-4 years later - Except that I failed !! 😓
Last year I went back, with my partner this time. We took Tilu away from my mum and to Europe (who by this time was extremely attached to him beyond words and this separation has literally made her depressed). We worked our way through the months we were there but came the last, and the most expensive and stressful month and we ran out & the stress had left us both mentally on the edge !!
The budget I had calculated and saved was not enough, because I had a figure in mind from when I had started saving up for it few years back. I hadn't taken into account the exchange rates, fluctuations, our own living cost, and so on and so forth... My plan was flawed !!
So long story short, we were lucky enough that our relatives in Germany agreed to look after him for some time until we find a way to bring him home to us... and it has been a year since we got back but we have just started to find our feet again, got a place to live in, got settled back into work, etc. and so have not managed to save much really because everything seems so expensive these days - life !
Unfortunately now our relatives overseas can't keep Tilu for much longer... and my mum eagerly wants to move to Nz to be with me & fingers crossed, Tilu. Not to make it more complicated but she's been under so much mental & emotional pressure because of these distances, attempts to reunite, and other family issues, so have we. I fear it is not very safe for her to be over there for much longer & what it means for us is that it is an urgent matter to sort out...
Tilu is about to become homeless and she cannot move here until he has because if I don't manage to bring him here, he has to be sent back to her in Iran! That also means his whole time in Europe would be for nothing and it resets to not being eligible for import again unless he spends another 6+ months elsewhere... And we simply cannot abandon him there - he is family!
I believe not only it's best for my mum to join me here & live with me, but it is for Tilu too as a dog! I could go on about how frowned upon pets are in Iran for hours but in short: they're not welcomed by government or police, they can be taken away from their owners if seen in public for no reason, they're banned from parks... Basically, they're prisoners in one's apartment & every time you take them for a walk, you have to be so cautious & anxious of not going to the wrong place, at the wrong time, and be seen by the wrong people who think your animal is a sin !! (and yes many people have pets there these days as we do, but my point is that they don't have the best life)
The thought of abandoning him makes us sick, yet we have tried finding him a good loving home but he's almost 6 years old now and nobody wants him. At the end of the day, he got no one but us!
I know it might sound crazy to some people, but I also know of people who've gone through similar situations and understand where I'm coming from or have pets that are part of their family & know abandoning them feels like abandoning your child...
I found it very hard to open this page and ask for help. Someone suggested it to me last year, but I couldn't convince myself to do so. But now I've become so hopeless with everything going on taking a massive toll on me, that I'm just throwing a rope for a lifeline here and trust me, I'm not proud of it but we've exhausted all other options.
So here is my desperate cry for help to not just bring my dog here, but to bring my family together. They say money doesn't bring you happiness, but sometimes just so little can solve a lot problems that simply wouldn't exist if it wasn't down to cost !!!
Thank you so so much for reading my story - Apologies for how long it was, but I wanted to explain as much as I could to give you a good picture ... and I truly appreciate any support, even if it's only a good wish or a prayer 🙏 Please share my story if you see appropriate and help me make this impossible possible.
- Below is a rough breakdown of where the money would go to and links for more information if you're keen to know more -
> about x15 visits to vet in order to complete tests and treatments for certificate A&B (links below)= between €150 to €250 each time ~ €200 average x 15 = €3000 ≈ $5000 NZD
> Import permit, initial pet inspection, vet inspection, MPI travel charges to quarantine facilities, and x10 days quarantine fees= between $2000 to $2500
> Return flights ≈ $2500 + living cost of at least $2000= $4500
> Air freight fees, transport & handling to AKL= €1800 ≈ $3000 NZD
→ Total of $15000 NZD if nothing goes wrong. But my goal is higher to take into consideration of unforeseen circumstances. *** Any surplus of your generous donations will go towards animal shelters in NZ and other great causes on Givealittle. I also encourage you to leave a comment about where you'd like any excess money to go to if I meet my page's goal and the cost of bringing Tilu here ends up lower.
*You can find all the information about the required processes I mentioned here:
https://www.mpi.govt.nz/importing/live-animals/pets/steps-to-importing-cats-and-dogs/
https://www.mpi.govt.nz/dmsdocument/30489-bringing-your-dog-to-new-zealand-support-document-and-checklist-for-pets-coming-from-category-3-countries
https://www.mpi.govt.nz/dmsdocument/1574-cats-and-dogs-import-health-standard
https://www.mpi.govt.nz/importing/live-animals/pets/fees-and-charges-when-importing-pets/
*The costly veterinary certificates that requires many vet visits in the last month to complete:
https://www.mpi.govt.nz/dmsdocument/5782-category-3-model-veterinary-certificate-a-cats-and-dogs-from-specified-countries-or-territories-where-rabies-is-absent-or-well-controlled
https://www.mpi.govt.nz/dmsdocument/5785-category-3-model-veterinary-certificate-b-cats-and-dogs-from-specified-countries-or-territories-where-rabies-is-absent-or-well-controlled
*Shipping and Quarantine:
http://www.petrelocationgermany.com
https://www.pethavenquarantine.co.nz/
https://www.aucklandquarantine.co.nz/
#animallovers #family #pets #animalwelfare
Use of funds
A short trip to Germany to do Tilu's last month of extensive paperworks, vet visits, tests, etc. to meet the strict requirements, quarantine and freight fees.. And bringing my fur baby home so our family can finally be safely reunited, happy & stress free.
---
Latest donations
---
Who's involved?

Created by, and paying to a verified bank account of, Saloomeh Khandar Yaghoobieh
---
Page Moderated
The page has been checked by our team to make sure it complies with our terms and conditions.
---
Got a question for the page owner?
5 questions have been asked already. Check them out and
ask yours here
.
---
Any concerns?
Report this page
---
This page was created on 9 Jul 2019 and closed on 9 Oct 2019.