Week 2 of the vigil begins
13 July 2020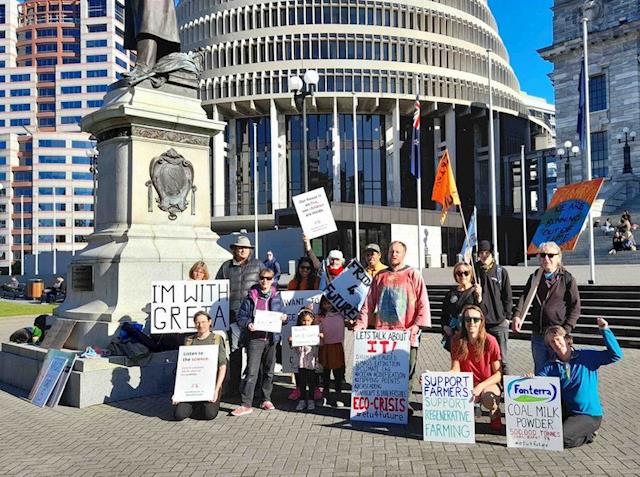 Many thanks to all the wonderfully generous people who have donated to support the E Tū Stand Up vigil in front of parliament. Last week was just a warm up (not literally!) for what lies ahead. David, Tim and many other friends have stood their ground in front of parliament over the past week in fair weather and foul. You can read all about the ups and downs in their daily blog (https://etu4future.nz/) and also on the Facebook page (https://www.facebook.com/E-T%C5%AB-Stand-Up-for-Our-Future-105735837870020/). They have received encouragement and assistance from many kind Wellingtonians and are ready to step up the action from today.
More vigil-keepers and supporters are arriving, including Robin Treadwell from Waiheke Island. David, Tim and Robin start hunger striking together from today (Monday 13th). Tim is planning a short hunger strike in solidarity, while Robin and David are hoping to hunger strike for some time. If you are able to please head on down to Parliament and stand with them. They intend to be on the lawn every day from 8:30 AM until 5 PM (weekend hours may be slightly less).
There is also a vigil every Friday 12.30 to 1.30 in Otautahi/Christchurch. Please join in, extend or start your own vigil wherever you are. E Tū for our future, for our children.
Love and rage
Dave Evans
0 comments |
Login
to leave a comment