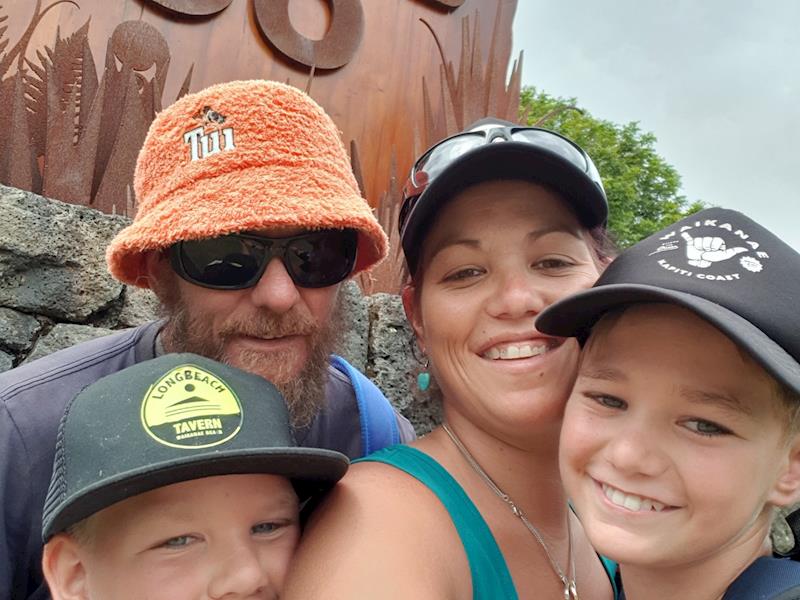 "HELP BUY US MORE QUALITY TIME WITH OUR DAD"
The Doctor's diagnosis of '6 - 12 months' left to live, isn't long enough time to watch both his two sons, grow into teens.
Wellington
The Doctor's diagnosis of '6 - 12 months' left to live, isn't enough time to watch both his two sons, ages eleven and nine, grow into teens.
Hi my name is Kiritea Morehu. I'm thirty-three years and I'm in need of your help to keep myhubby Andrew Hercus (fourty one years) alive.
In February 2019, Andrew had a mole removed from behind his ear which
had been giving him grief. In March a biopsy and CT scan showed that Andrew was carrying the mutation B-RAF gene. Suddenly, we were no longer dealing with a little misbehaving mole, but with the diagnosis of stage 4 metastatic melanoma a terminal cancer, with a 6 - 12 months life expectancy.
He had surgery to remove the primary, 7 nodes and his left salivary gland;
leaving a 30cm scar line from the top of his left ear, around, down to his upper chest. This caused nerve damage making every swallow, even of his own saliva, like shards of glass moving down his throat. He also lost the use of his left arm. We were hoping this was temporary.
Unfortunately in April a PET scan showed that the surgery did not get all the cancer and it had spread into his spinal bone. An MRI and second CT scan also showed masses in his liver and lung causing
emphysema.
We did four months of immunotherapy treatment. Our hope was that by using
Pembrolizumab (Keytruda), an IV administered drug, Andrew's internal cancer cells would be targeted from growing any bigger.
We expected the side effects: nausea, vomiting, diarrhoea, thermal issues etc. But I didn't realize that that meant there might not be any hot water left in our cylinder by dinner time from all the clean-up, or that he'd be so cold, I'd have to light the fire even if it was a hot day outside, or that I'd have to spoon feed him crushed electrolyte ice blocks, just to make sure he was hydrated.
In May, two weeks of daily Radiation was targeted at the primary site on his head to prevent the tumour from spitting out into new ones.
It is dis-heartening to say that all the funded ways to fight this cancer have failed.
We have now been given the opportunity to try a targeted treatment for the B-RAF gene. Its called Cotellic and Zelborah a combination drug which is taken orally and daily, indefinitely. This Medication fights the cancer every time he takes them. Its hoped to give him up to five years of a better quality of life.
Only probably is, it's a "self-funded" medication that costs $10,031.90 a month!
Andrew has always been a hardworking man who barely ever got sick. Physio and nerve medication have helped him to be able to swallow and use his left arm again, but he hasn't been able to work at
all this year due to the nasty nature of this disease. We have been living on my single income since his work pay ran out not long after his surgery. Both Andrew and I worked so hard to buy the house over our heads that we never travelled as a family and we were slowly building a holiday fund and thought we could go once the boys were teenagers.
Unfortunately, due to this year's life changing circumstances our holiday funds have already been dwindled to pay for the first unfunded treatment. We had lots of plans, but now time and money are running out.
Imagine what it would feel like to know that there is a treatment out there that could give you more time with your loved one, but that you couldn't afford it…
Please, would you consider giving a little to help alleviate the financial stress of ongoing medical treatment costs, our expenses due to the loss of income, and our desire to create a few lasting memories for our sons to remember their father.
I appreciate your time in reading this and hope you are able to help, any amount is highly appreciated.
A Hopeful Wife and children who still believe in miracles …
Kiritea Morehu's involvement (page creator)
Im his wife, we have two children together and he has been diagnosed with terminal Cancer which his medication is unfunded at $10,031.90 per month. We need help
Use of funds
ongoing medical costs of over $10031.90 per month indefinitely, including travel to hospitals, and other medication script, as well as general financial hardship due to reduced income.
---
Latest update
Hes a fighter 19 November 2019
Hi All Thanks for following our journey
This past month was mostly managed from home but his monthly visit ended in an overnight stay being pumped with fluids.
He had his normal cycle of side effects during the third week but unfortunately he may have overdone it in the garden the week before, where the strength of his mind was stronger than his body, meaning he needed some extra hydration to help power through this cycle.
His Blood work came back with no visable issues with liver or kindney but that his white blood cells count was low.
Doc said she is happy with how we are coping to manage things from home and that we can carry on doing so in a more comfortable place. We were sent home with a follow up appointment next week.
These meds work wonders for Andrew. Though the side effects are still there they are not as intense as Keytruda combined with radiation.
I am so thankful for these meds. I feel like my husband will be here on earth with me for longer now at a quality worth fighting to live for. Sometimes I can see it in his eyes, the "I wanna give up" "im too tired to keep fighting and I just wanna rest" look. That look deep within his soul, and as his soulmate, I feel his pain, but somehow I'll turn it into strength and through me, together we will continue to battle through it and when that good day is back, after a day of rest and recharge, we make memories somehow.
Our memory created this past month was Halloween as a family. We dressed up and scared the neibourhood trick or treaters from our fence and had such a great laugh doing it. Andrew doesnt usually dress up or get into these sort of things but this year he did and the kids loved it.
Andrews my world, he is what gives me the strength to keep fighting his fight, while raising our kids together as a unit.
Im still working fulltime, to pay our everyday bills but I have to keep raising these funds for these meds and on a single income unassisted its hardwork. I have to raise $2500 a week for this wonder drugs.
Its your support and kindness that keep the smile on my face and the happiness bubble inside still inflated.
I am so greatful for the money raised and cannot thank you all enough so please keep those positive vibes coming our way and Thank you for following our Journey
Mrs Kiritea Hercus
---
Latest donations
$50

Private

Private

🖤❤ thank you Anita for those lovely kind words. Enjoy xmas with your lived ones.🤜🤛🖤❤

Private

$30

🖤❤ thank you Huia.life is precious indeed. Have a good xmas🤜🤛
---
Who's involved?
---
Page Moderated
The page has been checked by our team to make sure it complies with our terms and conditions.
---
Fundraise
You can
start a fundraiser
to have your own page that raises money directly for the beneficiary.
---
Got a question for the page owner?
One question has been asked already. Check it out and
ask yours here
.
---
Any concerns?
Report this page
---
This page was created on 11 Aug 2019 and closes on 11 Feb 2020.