From the Bottom of our Hearts
30 September 2021
Posted by: Graham Dickason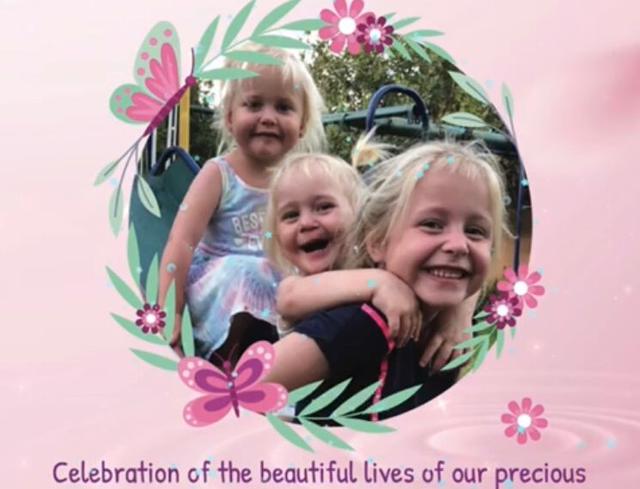 I have been overwhelmed and humbled by the response and support on this page. The kindness and generosity has left me fathomed. I want to thank each and every person who felt it in their hearts to donate on this page. The messages has been heartfelt and comfoting. One person donated $9.97, and appologised that it was unfortunately all they had to donate at this moment. That struck a cord in my heart and made me realise that these donations are not for myself, but that I have a responsibility to manage these funds well for the purpose it is being given for, and once all has been done, to make sure I pay it forward to people in need, or a foundation of sorts. So I would like to take this oppertunity to thank everyone for their contribution.
With much love!
Graham Dickason
We can see how much you both loved and cherished those girls, and the life of service you have led so far. I'm so sorry you are both suffering this pain but Graham you've lightened all our hearts with your words of forgiveness and love. It seems like modern society makes us suspicious, distrustful but it makes you really believe in a higher power when people are capable of such forgiveness and faith. We will cherish our children as you asked us to, and let them laugh and dance. We wrap our arms around you both.

That is a lovely message. I hope you can find happiness again.

Dear Graham and Lauren

I was so touched by your story.

For days I could not stop crying.

The Lord really pressed it onto my heart to intercede for you during this time. One morning early He showed me a vision of your 3 little girl's, they were dancing in n circle holding hands with Jesus, singing and laughing. It was such a beautiful vision...I just hold onto that vision. Knowing that this life is temporary and you will see them again.

We do not always understand but what the Lord has showed me is that His ways are higher than our ways and His thoughts are higher than our thoughts...I just pray for wisdom and understanding.

I pray for healing and restoration. Ps34:18 that He is close to the brokenhearted.

I pray that promise over you both.

I believe that this will be a testimony to many others on unconditional love and forgiveness. That it will give many, many other people the courage to forgive and be set free, no matter what has been done to them.

May you both just experience Father God in a new way.

We still praying for you and Lauren.

Lots of love

Izelle

Thank You guys. And thank you Izelle for you amazing message of the vision you had. I would love to hear more about this from you at some stage.

I hope Izelle can tell you more, it sounded beautiful and it's true there is so much we can't understand in this earthly life, but in the transcendent one. Please never feel that no one cares, even as the story moves from the media onto others, your story will stay with us and we will continue to pray for you, all of you. Everyone here and many more not able to contribute, really do care. I wish I had a million dollars and not just for you, for so many people around the world in conflict and pain, it can be overwhelming to wonder how to help and give. I really appreciated your words about forgiveness, faith and love as the true path to healing. It helped me with my feelings of despair about suffering around the world. This world is beautiful and there is meaning to be found. I hope through your lives ahead you can enjoy again God's glory in things, like standing in a forest or with your feet in the ocean. Your girls would want that for you both.

Dear Graham

The Lords keeps on reminding me of Isaiah 55:8-9:

For my thoughts are not your thoughts,

neither are your ways my ways,"

declares the Lord.

9 "As the heavens are higher than the earth,

so are my ways higher than your ways

and my thoughts than your thoughts.

I know now that even if we don't understand, we need to trust Him and know that His ways are higher than ours. I truly pray for wisdom and understanding for you both.

I would like to share with you the visions that the Lord showed me. The first vision I had was when Jesus showed me they were in Heaven. It was such a beautiful day, the sky was the bluest colour I had ever seen and the grass was bright green, the sun was shining brightly.

I saw Jesus and your 3 Little girls holding hands, standing in a circle and playing "ring-a-ring-a-rosies". They were signing, and when they got the part of that song…"and they all fall down"…I saw how they and Jesus would fall to the ground and laugh so loudly. Then they would jump up and start playing it all over again. They seemed so happy, their faces were shining with a bright light. Your eldest daughter, Liane was standing between Maya and Karla, she was holding both their hands. She was so gently and her eyes were beaming with so much love for her two sisters.

After I had that vision, I heard the Lord saying clearly to me, that this life is temporary. I hold onto that and I truly pray that you will too. You will see them again and when you walk through the gates of Heaven they will be running with open hands towards you, welcoming you, with big hugs and plenty of kisses.

The second vision the Lord showed was where they were playing hide and seek with all the other kids in Heaven. I saw many, many children, all different ages.. I saw Jesus standing behind a big tree counting…1, 2, 3… as He was counting all the kids were scattering across an open field, looking for the best hiding place. I heard the kids laughing loudly as they were running…I saw your 3 little girls running across the field, they were holding hands and laughing. They were really having such a great time.

Words cannot comprehend for your loss and pain, we can only continuously pray for you and believe that God will give you the courage and strength to go on from here. Stand vast on His Word and promises. I truly hope that you will have the opportunity to share this with Lauren, that she will find peace and know that she is not alone, Jesus is with always.

Many blessings and love.

Izelle

I am sorry for you both and praying a lot. It must be so difficult for you and I am sorry that you are going through this terrible pain. Take slow, gentle steps. God is with you. And you will be reunited with your daughters in Heaven. There will be a happy ending, God makes good out of bad/difficult things. It's hard to see that at the moment. But God makes everything good, no matter what. Just cling to Him.