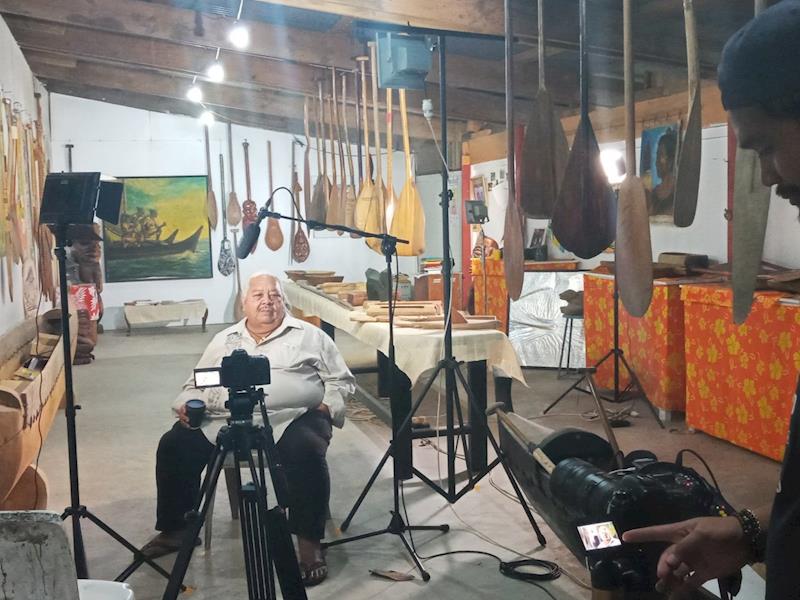 Help us raise funds to make our short documentary - Taonga - An Artist Activist - Mike Tavioni
Mike Tavioni is a living legend. We seek your support to assist in our funding drive to make this short documentary
International
The short documentary looks at a small part of Mike's extensive life story and is a sequence
of conversations with our Cook Islands living legend Artist Mike Tavioni. where he provides us
with his story on why he had to build his own Gallery Tavioni and Vananga – Art School and
what drives him. Sitting with Mike at any time is an adventure into the mind of creative genius. For many in the art world across the Pacific he is admired for his carving, visual arts, poetry and unwavering commitment to his own beliefs and processes. When Mike speaks the storytelling naturally unfolds. We will sit with him at his Gallery Tavioni - Vananga and Art school, his home for
aspiring Cook Islands and International artists to learn from him and give him the space and
time to relay the important story of why his Art school became the project of his life.
For me as a New Zealand born Cook Island Creative throughout my career Mike Tavioni has been the artist from the Cook Islands that myself and many Pacific Islanders revere and refer to for his insight, skill and bravery not only as an artist but as a provocateur and activist. Early in my career writing and directing plays Mike's spoken word and his recordings of those had an impact on me. His low
murmuring voice in an audible context delivered his words in a way that was at times hard to decipher but once you understood his patter revealed poetic phrases of beauty, statement and story. His Art was not like the standard Pacific artists and clashed or pushed the boundary of what was expected of art from the Pacific region in the 80's 90'sand-2000's.
Mike Tavioni is now in his early 70's and has over his lifetime lived to create art. His thirst for artistic experience is a life force for him. He is unrelenting in the pursuit of his own arts fulfillment at a cost to his own financial stability and safety. Mike has the respect of our community but for some they cannot comprehend why he forfeits the luxuries they cherish for the pursuit of his own
artistic craving.
The reality is that his story, especially the reasons behind his need to build his own Gallery and Art
School is not widely known nor has he been filmed often to relay his own story in his own words.
Gallery Tavioni is so very important to him. Mike is fearsome for some and uncompromising when it
comes to what he believes in. Mike has over the years shared his writing with me asking for advice or
to just sit and talk over stories he has. I have had the honor of interviewing him several times for articles for Escape magazine, he is not only a friend but an artistic reference point for me and many other creative people in the Cook Islands and the wider Pacific.
Many may fear him, think he is crazy, misunderstand him but it cannot be denied that Mike Tavioni is our Cook Islands Arts Godfather! I have spoken to Mike over the past year about my desire to film him capturing the wild and wonderful stories he has of his life. He knows this is the time for him to open up to being the topic, the art within the art. This project would be the first contribution to that.
We just have to be real about things, he is getting older and in these uncertain times if he is not captured on film now we may miss this opportunity. This project for me is a day of reckoning, for so long I have heard people herald Mike as the great artist but often when he seeks support they turn away. He has a loyal base of artists and friends who support him but the true significance of Mike Tavion's influence on the Arts community in the Pacific is still not fully recognised or recorded.
Mike's life story is a journey of art, his connection to artistic expression in all its forms is what
wakes him up in the morning and sees him retire to bed late at night. A renowned Master
Carver and Vaka builder, Painter and Poet. Mike's connection with art is as important to him
as breathing is to life. He experiments and pushes boundaries when others will remain cautious. He provokes and questions the status quo always seeking knowledge and answers to
questions that others may be too conservative to ask.
Mikes Gallery and Arts school was opened in November 2018 and has forged ahead to bring
school's programs, exhibitions, workshops and artist mentoring to life. This Documentary is about recording a living legend and honoring the brilliance of Mike Tavioni.
Glenda Tuaine's involvement (page creator)
I am the Glenda's husband Mo and I the sound tech on this documentary. We know that Mike is Taonga and want to make this documentary to share some of the life and work of Mike Tavioni
Use of funds
The funds will be used to assist in paying the crew on the documentary who are doing this for reduced rates as well as paying Mike Tavioni a fee and the Vananga location fees
Other page links
---
Latest update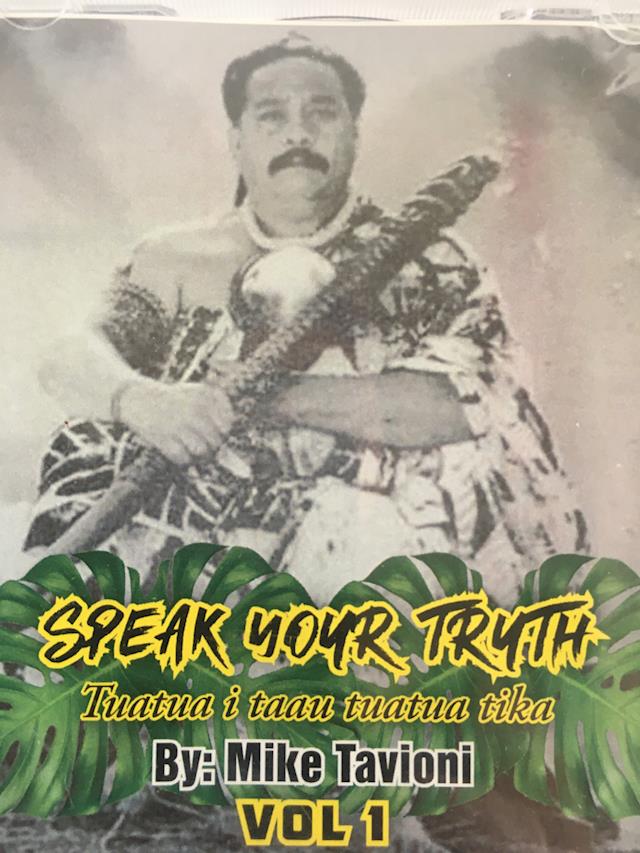 The times we live in 24 September 2020
Posted by: Glenda Tuaine
Apologies for not updating sooner, but these are indeed strange times we live in. With our doco we have commenced work and begun filming Mike at his Gallery and Vananga. Next week we will film Mike and his long time collaborator Hawaiian music legend Rudy Aquino. They will be delivering 3 of his poems to camera which I am so happy to be doing. I first came across Mike Tavioni on Radio New Zealand reciting one of his poems. I had no idea who he was back then but his voice and words stopped me in my tracks and from that moment on I wanted to know who he was. His poetry is on CD and so worth listening too. Now I have the privilege of filming him. I thank you all for your support on this page and yes we may not reach our target funds here but every little bit helps and for that I am so appreciative to you all
---
Latest donations

Glenda Tuaine
Kia orana Elsie, Meitaki atupaka e'oa Kia manuia Glenda


Glenda Tuaine
MY darling Clare, Thanks so much for this - I really look forward to the day you can some see us here and sit on my deck with Mo and I. Stay safe you gorgeous Vaine G


Glenda Tuaine
Karin you my friend are an inspiration and I count my lucky blessings to have your support as a mentor and as a friend Love G


Love your work darl - smash it xx
Glenda Tuaine
My darling Tans you my friend give me reasons and purpose to make things like this doco. My golly Toi Whakaari is one blessed place to have you at the helm. Love ya and yup we will smash it - Mike deserves nothing less


John & Rose Dunn at Motu
on 14 Aug 2020
From John & Rose Dunn at Motu.
Glenda Tuaine
John and Rose Meitaki Maata from all of us on this project. Making this short doco on Mike is so important to us and to him. His story is one of resilience and being resourceful. I am proud to have him as a friend and mentor and we thank you for supporting Cook Islands Creatives to make this short doco. Meitaki ano e Kia manuia Glenda

---
Who's involved?
Created by Glenda Tuaine

Paying to a verified bank account of
Maurice Newport
on behalf of Glenda Tuaine
---
Page Moderated
The page has been checked by our team to make sure it complies with our terms and conditions.
---
Got a question for the page owner?
Ask one here
---
Any concerns?
Report this page
---
This page was created on 21 Jul 2020 and closed on 20 Oct 2020.