❤ 13th  August Update on Amie's Give a Little Page 😍
15 August 2021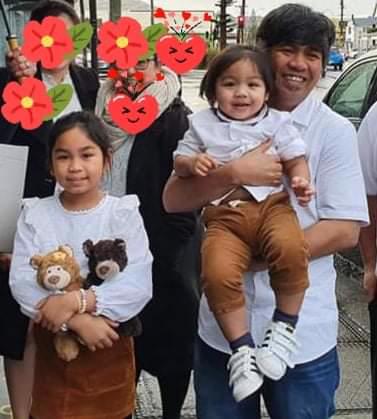 Hyrine, Amie and their baby Alas and daughter Anne have been part of KABALIKAT since 2019.  The Kabalikat Families are a small bunch of friends who have been afflicted by cancer or whose family members have gone through or are still going through a cancer journey.  We named ourselves KABALIKAT (meaning a shoulder to lean on) as we get our strength from each other, carers included.  We often catch up and get together to share our stories and experiences along the way.  We give each other support physically, emotionally, mentally and spiritually.
We have been part of AMIE'S journey and have witnessed ourselves how strong she was, how loving and caring, how patient and kind, and how she has formed close relationship and friendships with people she meets, especially from the school of her daughter Anne and kindergarten care for Baby boy Alas.  Hence, we have initiated this give a little page for Amie.
Moving Amie from the care of the Wellington hospital to Mary Potter hospice was a very hard decision for the family. It was a sign that the end was almost near. But Amie and Hyrine never lost hope.  She actually regained her strength during her first week in the hospice. Just by being with her children made her so happy.  Amie was at peace and always smiling and telling us that she was overwhelmed after speaking to all her family and friends in the Philippines, in Dubai and NZ.  She realizes that a lot of people loves her.
"Amie, you are a beautiful soul and there's no reason not to love you at all. Thank you for being an inspiration, not only to us your Kabalikat family but for all people that knows you."
We would like to take this opportunity, to thank all that have supported through your prayers, your messages of comfort and concern, and your most generous donations to the GIVE A LITTLE PAGE to help support the Cabral family.  Every dollar counts and will be a huge blessing for them to be able to cope with some of their financial needs.  If Amie's story has touched your lives, you have definitely touched theirs.  On behalf of Amie and Hyrine, we want to extend our deepest gratitude for your help and support.
We would also like to acknowledge all the doctors, nurses, health care assistants from Wellington Hospital and Mary Potter Hospice, especially during the last weeks of her remaining days. You have cared for her so well and amazingly assisted Amie's family to go through this difficult transition of their lives. They are forever grateful for this.
Thank you to all who have visited Amie, brought her food at the Hospice, prayed for her and cheered her up everyday.  Thank you to those that helped organise Amie's wake and funeral service and making it easy for Hyrine to focus on his grief and his children.
"So long, farewell Amie, it is not yet goodbye but until we see each other again."
God bless us all. ❤ 🙏❤🙏❤
0 comments |
Login
to leave a comment