Help Vanessa get life-saving treatment
---
$167,541
of $190,000 goal
Help Vanessa get life-saving treatment for atypical hemolytic uremic syndrome (aHUS)
Auckland
On January 24, Vanessa, a senior lecturer at The University of Auckland and NZ citizen, was admitted to Auckland City Hospital and later diagnosed with atypical hemolytic uremic syndrome (aHUS), an ultra-rare, life-threatening disease for which the only treatment proven to be effective is eculizumab (marketed under the brand name Soliris). Eculizumab has been approved in New Zealand but it's not publicly funded.
Eculizumab treatment costs about 100 000 NZD for the first month and then about 60 000 NZD each subsequent month.
Vanessa has savings to cover just the first month of the treatment. Her intention is to get treated in New Zealand for as long as it's necessary for her to be healthy enough to travel to Spain to continue her treatment.
This fundraiser aims to cover 3 months of treatment, at 60 000 NZD/month.
Marina Sanchez's involvement (page creator)
Use of funds
All the money received through this campaign will go exclusively to support Vanessa's hospital and treatment expenses for as long as it's needed for her to be strong enough to fly to Spain and continue her treatment there.
---
Latest update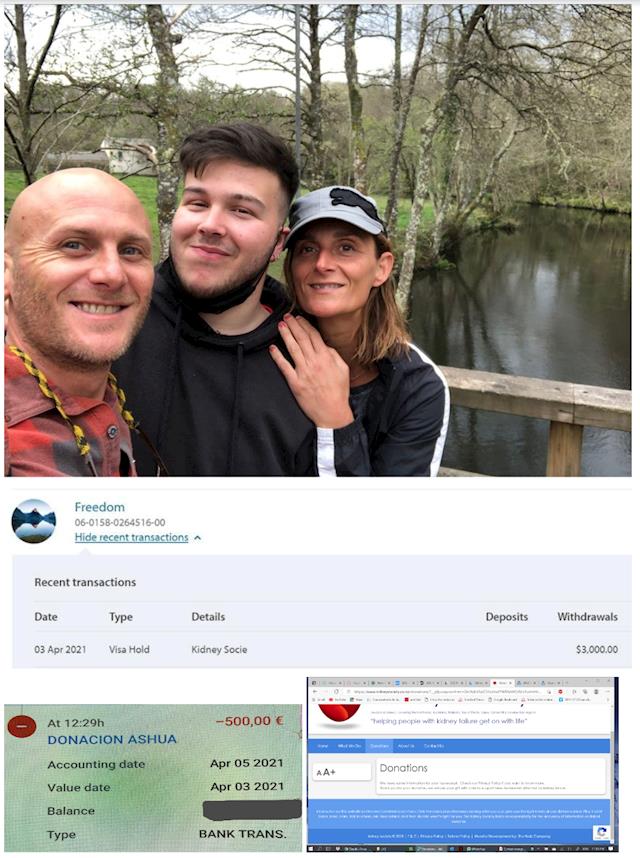 An update from Vanessa herself 5 April 2021
Posted by: Marina Sanchez
Dear Friends and Family,
I have finally arrived safe and sound in Spain, following a very long and exhausting trip to La Coruña!
It all feels very 'new' to me and I very much miss New Zealand, yet I am happy to be surrounded by all my beloved ones on this side of the world.
I received my 7th dose at Hospital Arquitecto Marcide in Ferrol, Spain, on Wednesday, 31 March. I felt terribly pleased to taste the flavour of government-funded treatment and obtain confirmation that my kidneys are slowly recovering, which are currently functioning at 35%! 😉
This has only been possible thanks to the strong support of my nephrologists and medical team in Auckland and Ferrol, as well as the invaluable financial (and psychological!) help from all of you to cover the costs of previous doses needed in March and make it to Spain in time to receive the next dose.
I will be forever indebted to you for saving my life.
I am also very pleased to announce that I was able to save, from scratch, some funds from my own salary in order to make much-needed donations to support:
New Zealanders affected by kidney failure ($ 3,000 to the Auckland-based Kidney Society).
Patients with my syndrome (aHUS) in Spain (€ 500 to the Asociación Síndrome Hemolítico Urémico Atípico España or aHUS Society in Spain).
I look forward to continue supporting these and other organisations financially, emotionally as well as via strong activism as I go through my resettlement period.
To my fellow New Zealanders and whānau around the world: I miss you dearly and lovingly, and I cannot wait (truly) to hug you all again in the not-too-distant future.
To my fellow Ponteses in my home town and elsewhere: thank you kindly for your warm welcome and massive support. I look forward to greeting each and every one of you as I bump into you, slowly, but surely.
THANKS. A MILLION.
For being my eyes when I could not see.
For being my voice when I could not speak.
For being (my) heart when mine could barely beat.
For being there for me – no matter what – thereby helping me be (almost) re-born.
Mete mihi nui,
Vanessa
Para os meus queridos veciños de As Pontes y demás compañeros, amigos y familiares del alma:
Me alegra mucho poder escribiros ya desde casiña y compartir con vosotros la alegría de haber llegado sana y salva a Galicia, así como de haber recibido la séptima dosis en el Hospital Arquitecto Marcide de Ferrol el miércoles día 31 de marzo. ¡Nada de esto hubiera posible sin vuestro apoyo incondicional ni vuestra tremenda ayuda emocional!
Os quedo eternamente agradecida por haberme ayudado a financiar las dosis necesarias durante el mes de marzo en Nueva Zelanda, pudiendo así alargar mi vida y recuperarme lo suficiente como para poder llegar a Ferrol y recibir a tiempo la siguiente dosis a través del SERGAS y en régimen subsidiado (¡qué distinto sabe!). Gracias al tratamiento que necesito para seguir con vida, mis riñones se están también recuperando poco a poco y ya están funcionando al 35%. ¡Yupi! 😊
Gracias a vuestra ayuda, he conseguido ahorrar de mi propio sueldo los primeros fondos que tanto necesitan organizaciones como a las que personalmente he donado para apoyar a:
Pacientes con insuficiencia renal en Nueva Zelanda (donación de 3,000 dólares a la Sociedad Renal de Auckland).
Pacientes con mi mismo síndrome en España [donación de 500 euros a la Asociación Síndrome Asociación Síndrome Hemolítico Urémico Atípico España (ASHUA)].
Sois muchos a quienes quiero agradeceros personalmente toda la ayuda que me habéis prestado y, desde luego, espero poder hacerlo a medida que me voy "topando" con vosotros, bien presencialmente, bien por vía digital. De momento, aprovecho para dirigirme especialmente a nuestra querida amiga y vecina pontesa, la Doctora Laura Ameneiro Romero y a sus compañeros de nefrología del Complejo Hospitalario Universitario de Ferrol, los Doctores Pablo Bouza Piñeiro y Helena Díaz Cambre.
A todos y cada uno de vosotros: GRACIAS. UN MILLÓN DE GRACIAS.
Por haber sido mi luz cuando mis ojos no veían.
Por haber sido mi voz cuando la mía no se alzaba.
Por haber sido corazón, cuando el mío apenas latía.
Por haber seguido ahí, día y noche, hasta que conseguí, casi, casi, volver a nacer.
Por siempre vuestra.
Vanessa
---
Latest donations

Myriam Gonzalez Navarro.
on 24 Feb 2021
Esperamos verte pronto, ánimo.

Angela and nicholas kölling
on 23 Feb 2021
love from Angela and nicholas kolling

Hola Vanessa lo mejor para vos, tu puedes hacerlo.


---
Who's involved?

Created by Marina Sanchez

Paying to a verified bank account of Vanessa Enriquez Raido
---
Page Moderated
The page has been checked by our team to make sure it complies with our terms and conditions.
---
Gallery
---
Want to get in touch with Marina Sanchez?
7 questions have been asked already. Check them out and
ask yours here
.
---
Any concerns?
Report this page
---
This page was created on 3 Feb 2021 and closed on 24 Feb 2021.