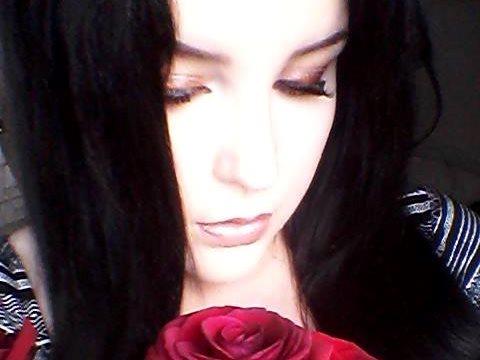 Hope for Michaela
$1,611.02

donated

20

generous donors
Michaela has a long History of illnesses that have been a mystery to our medical community until recently but we need help desperately
Michaela was born the year of 99, a miracle in the making as I was deemed infertile so we got a little help ) from specialists and God.
As a baby she had apnoea and was on a monitor for many months,
the cause was unknown she would just forget to breath even when wide awake and she had oral defensiveness where she would choke on everything,
she was a wee little girl as struggled to gain weight due to this so was under the dieticians.
Michaela was so sweet and full of life and was loved beyond measure and gave back so much love to all that she touched, we called her our goldilocks due to her curly blonde hair.
Michaela loved school and was very bright and academic she was moved up fast and made some good friends.
Suddenly around the age of ten she had a few episodes of falling over onto her face where her legs had given out, she had a huge rash on her neck flare up too also migraines and body pain with constant fatigue hit relentlessly.
We thought she may have contracted the swine flu but the government had stopped testing, at this stage she was ill with the flu for weeks.
Michaela was taken to many Gp visits and then onto specialists and the pain team at starship Hospital.
The Drs had no answers and her bloods were all clear, over and over again at this stage she needed a walker to walk or crutches to support her, they admitted her for a week into hospital and ran more bloods again, everything was clear she had unexplained bruising come up on her chin and her knee and also the bottom of her back, she also had blood come out of her ear with no explanations.
The pain team at Starship were really good to work with and we were with them for a couple years but sadly my daughter's med list became more and more and she outgrew them, once you are 15 that's it.
Michaela was missing so much school that the hospital school got involved and home visits began along with part time school.
Unfortunately Michaela would pick up every bug going and it would hang on for weeks and weeks,
she would get strep throat for 6 weeks, even on the antibiotics she would have infections just pop up like orbital cellulitis which required a IV in Hospital, we went and saw an immunologist privately who ruled out immune deficiency but assured me something was up and science hadn't caught up with my girl yet.
My dad had paid for the immunologist and for Michaela to see a Rheumatologist privately as her face rashes looked like possible lupus, but due to her young age it's like a wait and see even though her blood was ANA positive and had the right shapes for lupus.. Our family was running out of funds and hope for answers and decided at that point that we just needed to get on with it the best we can day to day.
Been the mum I am I would never give up seeking answers and her symptom list increased, she had mouth ulcers constantly and her HR was always tachy, she had Raynaud's in her hands and feet and her arms and legs go purple, she also had tremors, and her speech was slurred a lot.
Michaela was around 16 when her bladder went into full retention along with excruciating pain in her sacral area she was rushed to ED where they treated her with great disrespect and traumatized her due to non-belief that a 16 year old could be in retention.
we had to threaten CYPFS involvement to make them do something and my mum had to throw in a couple swear words to make that Dr move as apparently my daughters screams weren't enough as there scanner was reading wrong at 95mls, they ended up draining 1750mls and that was far from the end of the dismal treatment during her stay.
I could go on and on about it but this page is for Michaela to get the right support in place now but just know I am following it all up and won't let it go ! I mean we still are supposed to use this hospital system if she's in crisis, and there's zero trust there and they sadly let her down again recently even with a plan in place with them.
Michaela was in our local news for chronic fatigue syndrome last year speaking up for all youth that suffer out there I believe it sparked some interest.
People also judge us at times about how ill Michaela is as she has absolute amazing makeup skills and will do her own makeup and look terrific "If only they saw what lay under that "and what she goes through daily, an hour out at the moment is about all she can handle before she feels her head may explode, and she loves to walk her dog too but sadly even that is stolen away most days.
Michaela started getting intense pressure in the back of her head too and a load of neurological symptoms, we were sent to see a neurologist who said I think it's just her chronic fatigue syndrome, I asked for a MRI to rule out MS as it's in our family
The MRI was refused.
so for the last couple of years it has been bowel bleeds and nausea, loads of excruciating pain then migraines and then at times excruciating pain in her back, and more bladder retention then collapsing to the ground with extreme back of head pain we rushed to hospital again, but again they did nothing just more pain meds and sent home.
Michaela lost going to school she just couldn't make it anymore so hospital schooling was it 2 hours twice a week but that was even a struggle and often not sustained.
We returned again to ED with another migraine when she lost use of using her knife and fork or been able to walk in her high heels, she's also was having swallowing issues which are becoming worse, she chokes and scares everybody especially when it comes out her nose.
This time they ordered a CT, this CT showed a Cerebellar Tonsillar Ecotopia, in other words a part of the back of her brain had herniated into the bottom of her skull /spinal cord, they never mentioned it and said all good go home.
I did some research of my own when I read the results and was horrified to say the least so many of Michaela's symptoms fit into what they call Chiari Malformation and it can be life threatening. I wrote to the CEO at the Hospital demanding help but they came back saying it was a normal anomaly and that her symptoms weren't caused by this and she does not have Chiari malformation.
I went to my family and a sister kindly scrapped up some funds to see a neurosurgeon privately, whom said a lot of her symptoms fit, and sent her for a MRI when the results came in Michaela was diagnosed with Chiari Malformation, it was firstly a relief then the surgeon did something unbelievable he said I do not believe it's causing her symptoms " Hits head on brick wall ".
I went back to him and said hang on you said a heap of her symptoms fit Chiari Malformation hence the MRI, then she's diagnosed with Chiari, then told it's not causing her symptoms, it doesn't make any sense at all, it also completely aligns itself to her issues as a baby, he didn't comment any further.
I believe we are fighting a conspiracy high up amongst egos and ignorance supreme, and I shall fight back when I can catch a breath for a moment.
Others have also suggested that Michaela needs checking for tethered cord in her spine as she has swelling there and excruciating pain on and off but always pain at the moment, she is on 17 meds a day to cope, and we top that up when things get worse but it hardly touches the edges.
So this is where we are at today my daughter needs her brain MRI reviewed by a couple of specialists that know exactly what Chiari malformation is, and as it's so rare they need to know what they are talking about and specialize in it, the problem is this has to be private and we have lack of funds, I am on a careers benefit to stay home and look after Michaela.
We need to know if Michaela needs surgery or is a wait and see as Chiari is progressive,
There is no cure for Chiari and permanent damage may be there already, but if they can relieve the pressure if it's too much on her brain stem, or becomes too much in the future it gives my daughter a fighting chance at life.
Also I would like an acknowledgment from these private experts that Michaela's symptoms are mainly Chiari Related, so the hospital ED doesn't treat my poor girl like a drug seeker when she's in excruciating pain.
No child should have to go through what she has, and no mum should have to watch her child beg her for help and not be able to do something, it breaks my heart constantly.
I would also like to take this opportunity to thank those of you that came to the hospital at times for support and help keep Michaela's spirits high,
and those that helped with wound gel for her mouth and homeopathy workup,
not that we could afford the meds but maybe this could help there too.
Our power bill is always overwhelming as Michaela has a lot of hot baths and showers to try ease her body pain, and also her electric blanket, she finds it very hard to keep warm.
I would also like my daughter to have some comfort in way of her bed, a Hospital type bed can adjust to help her when she is in excruciating pain and shower chair when she's too exhausted to stand or too sore at times, I believe she needs a wheelchair at times but she refuses,
We would also like some reviews by other specialists to recheck for autoimmune diseases and particularly Ehlers Danlos Syndrome, which can come hand in hand with Chiari Malformations.
Michaela is waiting right now to see the sleep clinic, as is having times of apnoea and that can also be caused by Chiari, she is also under cardiology for her fast HR, she had an echocardiogram which the lady said was good, just her heart was way to fast which can also be caused by Chiari so we see them again soon, I guess for a plan to slow that HR down.
She is also waiting to swallow a pill camera due to her bowel bleeds, and that is happening at the end of August all going well, they already did a colonoscopy and all looked well, but it clearly isn't.
I have never been good at asking for help, I am such a giver on so many levels,
But I have come to a place to reach out to everybody reading this, our family our friends our community please if you could just give a little it would help a whole lot in this dire situation we find ourselves in.
It would mean so much to me and my daughter to finally get the right help in place,
And her needs to be finally met, and for her to be a little more comfortable in her daily living.
Also I would like everyone to know that Michaela has read through this and has agreed to make her plight public, she has struggled though as it makes things so REAL as there is safety in denial no matter how brief.
She is one of the most courageous young ladies I know and her strength to carry on through this is so inspiring, she has a depth of maturity that so lacks in so many especially at her young age, and I am so so proud to call her my daughter, and I am honored to be her mum.
Brooke Miles
.
Private Neurosurgeons intervention if not found in NZ then America we go purchase a hospital type bed for Michaela but a double size which she has found will get her in positions that can relieve her pain a little when its so excruciating .some other gear for disability's to help her along like a shower chair
Private specialists intervention to look into her many Auto immune type symptoms
if some spare funds then towards Hospital parking petrol and power that Michaelas health demands
Page created by:
I'm Involved as I am Michaelas Mum and caregiver I want my daughter to have the best care possible when coming to her brain as its so important
All funds raised benefit:

Michaela Hope Miles
Funds will be paid to a verified bank account of Brooke Miles on behalf of Michaela Hope Miles.
Donor Confidence Key
Givealittle moderated
Donor validated
New Zealand registered charity
Eligible for tax credit
Concerned? Report this page
Email your friends & family
×
The link has been copied
×
Donor Confidence Key
Givealittle moderation
Givealittle values the importance of an informed decision when making a donation. We check to make sure that adequate information is provided to donors and that pages comply with our terms and conditions. Pages are not browseable nor searchable until moderated and donor validated. For more information, check out this support article.
Donor validation
A page becomes donor validated when it receives donations from at least three different sources. Pages are not browseable nor searchable until moderated and donor validated. For more information, check out this support article.
New Zealand registered charity
Is registered with the Department of Internal Affairs (DIA), Charity Services (formerly Charities Commission) as a charity.
Tax credit eligibility
Has been granted 'donee status' by Inland Revenue (IRD). Donors to a page with tax credit eligibility may be able to apply for a tax credit.
×