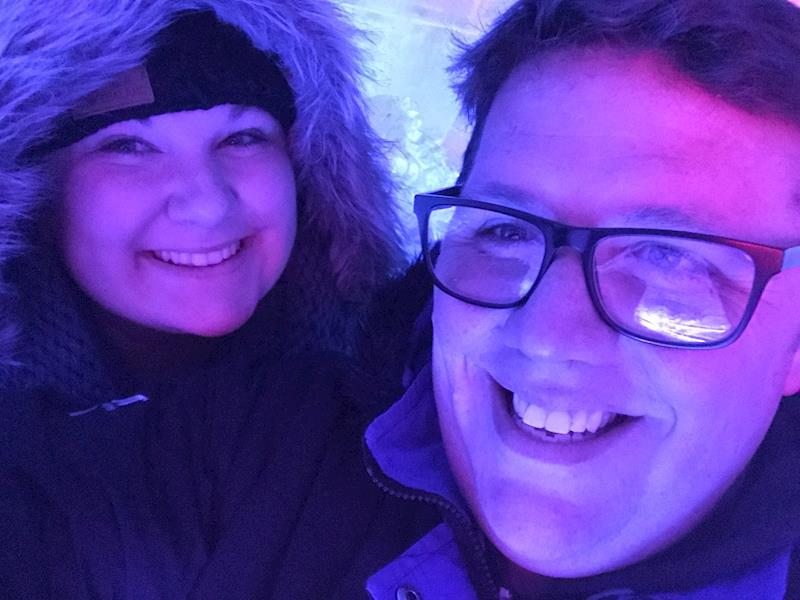 We need your help to beat Caseys infertility
I am infertile due to my pituitary tumour. BUT there is still hope!
Auckland
In 2006 as an otherwise healthy 24 year old guy I was diagnosed with a Pituitary tumour the size of a tomato (i'm not a fan of tomatoes), after several operations, complications and years of fighting the cancer, I thought I had finally seen the back of its lasting effects on me. Little did I know 15 years later it would have one final lasting effect. The Cancer I had fought so hard against had left me infertile without me even knowing.
About Us: 9 years later in 2015 I met Molly, the girl of my dreams and since then we have not spent a day apart. From the beginning we completed every aspect of each others lives and like every couple deeply in love, we set off on our life journey together excited to fulfil the dreams we both shared. Our relationship continued to be full of excitement, laughter and love. So our next logical step after marriage was to start trying for our own little family, excited to share our love and passion for life with a baby.
But as time passed our anxiety began to grow, first it was weeks then it became months and soon we realised we had to look for help. So we sought for answers with the Fertility Associates.
The News:
I am infertile due to my pituitary tumour and the damage inflicted on my pituitary gland during my final debulking surgery. It was pretty shocking, it was sad, it was very emotionally frustrating for both myself and Molly to receive. It felt like our dreams were shattered and we felt terrible that we were now feeling the effects of something (cancer) I had fought so hard to put behind myself several years prior.
The Catch:
Funding for my fertility is not covered, due to strict criteria applied to my wife. Molly is a Secondary School teacher and I have lived and worked my entire life in New Zealand. I had the opportunity to be supported by the government after my brush with cancer but I did not take it. Instead I retrained myself by going to University then getting myself back into the work force striving to better my life, then when I needed help the most I was denied it.
But through everything, we always try our best to remain positive so we organised our lives and started treatment, this was the start of our fertility journey.
Solution:
Phase one of treatment: AD Pregnyl Three times per week Unfunded at a cost of $540 per month and with a positive prognosis for treatment to work.
We set off paying monthly for the medication. It meant making a lot of sacrifices but for us there was no question in our mind, this is what we wanted and with a little hard work and determination we would do what it took to achieve our dream.
Unfortunately after one and a half years, Phase one has still not been successful, but luckily for us there is a secondary phase that is not offered initially due to its cost. 
(FHS) Folic Stimulating Hormone is used in combination with the medication from Phase one and in conversations with my Fertility doctor he described the prognosis for this combination of medication as only being a matter of time. However with that higher chance of success comes a much much higher cost, one in which we cannot afford on our own.
If you know us well or only a little bit, we hope you know how much a family would mean to us and how much love we have to share. We have exhausted every avenue now available to us to fund the next step in our treatment, but each time we come face to face with disappointment.
Asking for help is never easy especially knowing there are always people who are going through harder times. Asking you, our family, friends and community for help could mean that we can make our very own baby, and who wouldn't want a mini me?
Goal:
Time Frame:
To have Sperm in the Bank by 6 months.
How:
This will be done by taking the following drugs
Drug: AD - Pregnyl 1500amp
How Often: From 3 times per week to every other day
Cost: From $540 per month to $630 per month (which we will continue to pay)
Drug: Folic stimulating hormone (FSH) - 450 Units per week
How Often: 3 times per week
Cost: $505 per week ($13,700 for 6 months + givealittle's service fee)
Finally both myself and Molly thank you for taking the time to read our heart felt request and we hope for you to be our very own genie granting us the one wish we could ever ask for.
Use of funds
All funds will go to my fertility treatment. The initial funding is to cover the new medication only as we will continue to cover the first medication.
Any excess funds will go towards potential future fertility treatment for Molly or Myself.
---
Latest update
2020 So far! 5 March 2020
Posted by: Casey Smith
Wow I cannot believe we are already two months into this year already, Its about time we shared with you our 2020 progress!
After the overwhelming support we received so early on in our give a little cause it allowed us to start Caseys new drug treatment at the beginning of the year. We are now two months into the second part of our treatment and so far all blood test results are looking positive for Casey. We are now confident its only a matter of time until we have more good news to share! :)
Thank you all who donated! Myself and Casey both really appreciate all of the support! We we look forward to updating you as soon as we have more good news to share :)
Molly & Casey.
---
Latest donations
$100

Private

$100

Thanks Karen :) Myself and Molly really appreciate the generosity. xxoo

Private

Thank you private donor we appreciate your help! :)

$42

Thank you for your contribution and kind words! We are so lucky that you and so many others help us maintain hope! :)
---
Who's involved?

Created by, and paying to a verified bank account of, Casey Smith
---
Page Moderated
The page has been checked by our team to make sure it complies with our terms and conditions.
---
Got a question for the page owner?
Ask one here
---
Any concerns?
Report this page
---
This page was created on 7 Nov 2019 and closed on 4 May 2020.