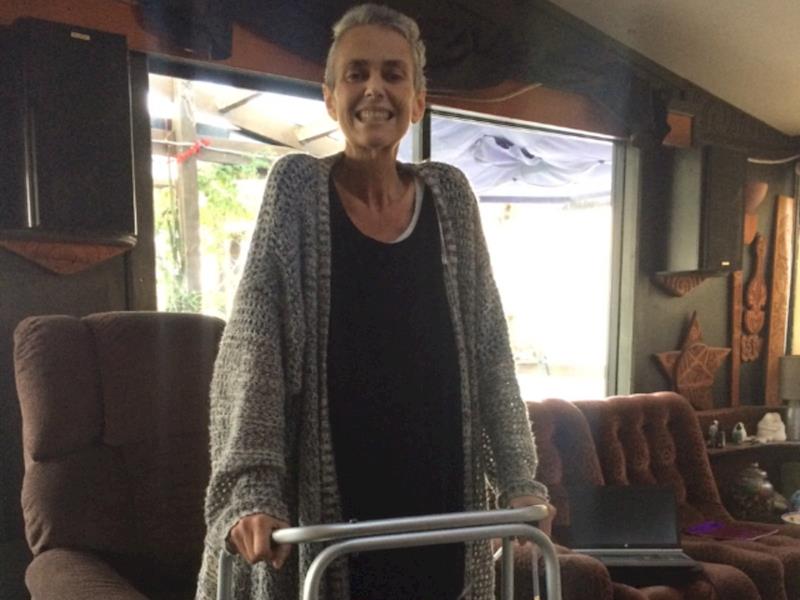 Last year fran was diagnosed with incurable peritonal cancer so please lets all get behind her to show our support.
Please show your support so this beautiful family is without any financial burden as unfunded treatment & meds are urgantly needed.
Northland
Hi everyone my names chantelle arona and i decided to create this page to show my support for my best friend fran matiu as watching her battle with peritonal cancer is just devastating this is my way of giving back so pelease show your support so this beautiful family is without any financial burden as unfunded treatment & meds are urgantly needed.
(UNFUNDED MEDICATION)
CBD oil cost $250.00 a fortnight
Vitamin c infusions cost $250.00 per session
Vitamin c supplements are $50 per bottle
Weekly scripts $20 plus
There is also a unfunded treatment overseas that cost around $100,000 but we are still looking into this and gathering more information so once we no more ill update the page regarding this.
This is frans story it all started when fran was admitted into hospital last year in may 2018 due to her swelling tummy and after several tests and many weeks later her world was turned upside down when she was told that she had incurable peritonal cancer which is stomach cancer on the lining that covers all the organs shes had extensive treatments and three rounds of chemo which wasnt very successful that left her specailist and doctor stumped about not really knowing what to do next.
So after not really knowing what was to come next another specailist from hamilton kindly looked over frans notes and decided that they could operate so after several months of wondering and waiting she finally got a date for her operation so on the 7th of febuary 2019 fran went down to hamilton to have it done it was a major and risky operation which took around 8 hours she had a full hysterectomy,cervix,colan,bowel and they also took the large fatty tissue from the front of her abdomen she was in intensive care for 3 days then got moved to a ward where she stayed there for a further 3 weeks to recover.
She is now at home slowly recovering but she deffanatly knows that she has a long road ahead of her to recover she also has very little movment in her legs and feet as they have swelled and are very numb which restricts her from getting around.
Abit about frans life well we all no fran by her bright blue beautiful eyes and her humble personality she's the most loving and giving person I've ever met shes also known for her super long stunning dreads that touched the ground her dreads were that beautiful people in public used to always touch,grab and admire them people were just stunned it took her 18 long years to grow them then sadly in october 2018 she lost them all due to having all that chemo she has such an amazing husband who is caring for her full time at home therve been married for 19 years and been together for 30 years this comming may they also have three beautiful chrildren age 11,17 and 21 therve all been born and raised in waiotira as therve lived out there for 22 years fran also juggled two local jobs one was at waiotira primary school which she was there for 16 years and we all no that she was the back bone of that school who held everything together and made everything look so easy sadly the schools not the same without her there and all the kids really miss her she was also the local school bus driver for the past 4 years but sadly she was forced to leave both of her jobs due to this major set back in her life shes also gone from 109kgs to 76.4kgs in less than a year.
Her family remain positive as i do to sheil beat this shes already put up one hell of a fight.
You can all make a differnce to her life so please donate even if its just $1 every cent helps and it will all add up in the end i also wanted to thank you all in advance for all your support and kind donations as its all greatly apreciated and without all your help none of this could be possible to help fran and her family.
Chantelle Arona's involvement (page creator)
I love this family with all my heart this is my way of giving back as ill do anything to help them out on this tough journey.
Use of funds
All the money raised will go towards unfunded treatment and medication,ongoing medical expenses,travel expenses and of course all the day to day living costs and to also see the family without any financial burden.
---
Latest update
(Extremely sad update) 14 March 2020
Posted by: Chantelle Arona
I am saddened to write this update about my beautiful best friend fran but as you shoud all no that she has lost her battle to cancer and past away on the 19/09/2019 I am truly deeply sorry that it's taken me this long to update her page but it's been a very tough journey for most of us close to her I am now wanting to raise funds for her loving family that she has left behind including her husband and three beautiful chrildren I have now extended the pages closing date and I will update the page with further information as to how her family is coping ect I just wanted to say a huge thank for everyones support and I along with Frans family really appreciate evwrything xoxo
---
Latest donations

ENJOY be Happy make everyday counts :)

Guest Donor
on 30 Aug 2019

All the very best my thoughts are with you and your family x

The Akuhata Whanau
on 07 May 2019
All our love and support to your Whanau Fran! We will continue to donate when we can! XxX

Southee Whanau
on 01 Apr 2019
Arohanui xoxo
---
Who's involved?

Created by Chantelle Arona

---
Page Moderated
The page has been checked by our team to make sure it complies with our terms and conditions.
---
Gallery
---
Got a question for the page owner?
Ask one here
---
Any concerns?
Report this page
---
This page was created on 14 Mar 2019 and closed on 14 Jun 2020.