You did it! Auckland Pride march was beautiful 🌈🌈🌈 12 February 2019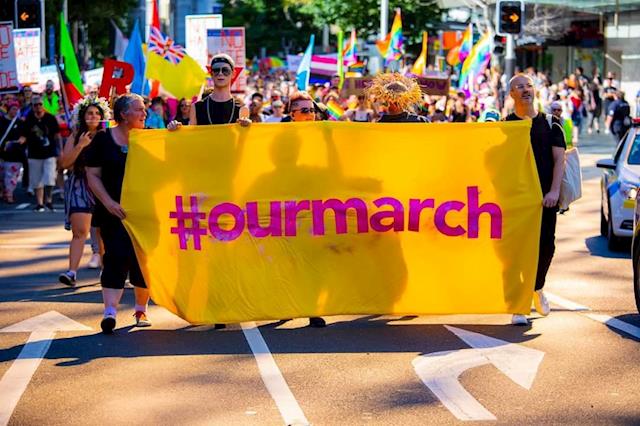 Kia ora e te whānau,
I just received this message from Cissy Rock, the Chair of the Auckland Pride Board, to pass on to all of you who generously supported our Givealittle campaign for a truly people powered Pride:
***
The Auckland Pride Board would like to acknowledge and thank you all. The financial support and solidarity you have showed us enabled the delivery of a grassroots, community-driven Auckland Pride Festival.
An absolute highlight was #ourmarch which without you could not have happened. Feelings of joy and togetherness ran high with over 3,000 people marching from Albert Park to Myers Park in Auckland City.
Thank you for being part of this.
***
For more on the march check out the news stories and videos below:
STUFF:
https://www.stuff.co.nz/auckland/110479391/by-us-for-us-auckland-pride-march-takes-over-central-city
RNZ: https://www.radionz.co.nz/news/national/382189/i-felt-the-solidarity-thousands-turn-out-for-auckland-s-pride-events
NEWSHUB:
https://www.newshub.co.nz/home/new-zealand/2019/02/thousands-turn-out-for-new-auckland-pride-march-up-queen-street.html
GAYNZ GALLERY:
https://www.gaynz.com/gallery/gallery-auckland-pride-march-2019/
***
With aroha,
Laura on behalf of the team who put the Givealittle together.
0 comments | Login to leave a comment