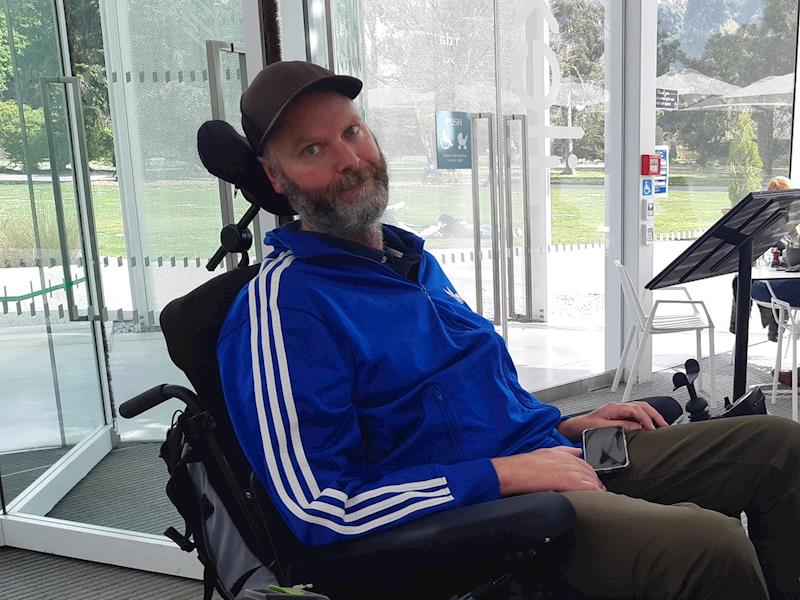 Motor Neuron Disease - Keeping Nick Going
With Motor Neuron Disease in its final stages, Nick Ward urgently needs donations to improve the quality of his life for his young family.
Auckland
NEW EQUIPMENT TO KEEP NICK GOING in March 2019
We all gave a lot on this give-a-little page late last year. Since then, there are a couple of other needs that have come up which would help out Nick as Motor Neuron Disease progresses.
If this is your first time to this page, scroll down and read Nick's story and his words of thanks.
Nick needs to use his ventilator mask, which helps him breathe, not only through the night but increasingly during daytime as well, especially after periods of talking. If he leaves home, he can't take the ventilator with him unless there is a battery pack. This makes longer outings, like medical appointments and movies, distressing and uncomfortable.
All methods of communication and entertainment, including Nick's email, text, tv, computer, and dvds, are going through his big screen in their lounge. A universal remote to control all of these, instead of asking others to change the remote for him, would make life a bit easier.
A battery pack for his ventilator and a universal remote adapted to his use will cost around $1000. Let's raise this amount to show Nick how much we understand that it's these little things that can make a big difference to his days.
Thanks so much for making a donation to Nick's page.
+++++++++++++++++++++++++++++++++++++++++++++++++++++++++++++++++
Nick wrote this note on 14 Nov 18:
Over recent days I'd been thinking about what to say by way of thanks. And when I sat down to write it, it all evaporated into thin air…typical!
The response to this initiative has been so tremendously positive, I felt quite overwhelmed by it, immensely grateful too but still overwhelmed. I think Sophia felt the same.
Nevertheless during the course of this illness, I've come to learn the importance of acceptance. Accepting change, accepting others as they are and accepting myself for who I am. So in the spirit of acceptance, I want to say a heartfelt thank you to you all for your unabashed generosity. We feel very blessed.
And specifically a massive thank you to my wonderful extended family including all my treasured friends - old (who in some cases have been in my life for over 40 years) and new and to those of you that I haven't seen in years but have answered the call anyway. And of course the unknown or anonymous donors, what a wonderful phenomenon you are.
You're all top notch, best in show, premium quality people – thank you for being you.
Love Nick
Follow Nick's journey on https://www.caringbridge.org/visit/drawsalohcin
********************************************************************************************************
Nick Ward, age 50, is in his final stages of Motor Neuron Disease, a neurological disorder that progressively affects the cells that control the muscles of the body.
Nick is now immobile, and operates his electric wheelchair with a finger on one hand that is not yet fully paralysed. He requires 24/7 care and is beginning to lose his ability to speak because of decreased respiratory function.
For those of us who have known Nick for a long time, we can see that this terrible disease has not affected his insights, cognition, sense of humour, or wit. Remarkably, he remains buoyant and spirited, and can throw in a sly remark or encouraging insight with surprising frequency. A recent comment was that "the reality of my disease is that I have become very focused on my immediate care."
Unfortunately, his immediate care needs have increased substantially in a short period of time, requiring more hours of one-to-one professional caregiving. This is important to Nick and his incredible wife Sophia, who works tirelessly for her family and is responsible for the bulk of Nick's daily care, as well as working three days a week to support the family. With their two children, ages 8 and 11, they now require significantly more professional support than the publicly-funded nursing, respite, and disability care can provide.
Your donations will be used for the direct payment of the following resources:
• Supplementing funded daily care to increase the number of hours that professional care is provided in the home. This will enable Sophia and the kids to enjoy quality time with Nick rather than providing solely everyday, practical care,
• Alternative care and treatments to bring increased comfort and support to the family, including counselling, and
• Respite care through the employment of professional caregivers at home, so that Sophia can have a break.
Together, we can bring an increased quality of life for this amazing family who have endured the very worst of health conditions, and now have a limited period of time to make the most out of an awful situation.
Please give generously to help Nick, Sophia and their kids to enjoy these next few months in the best possible way. Ngā mihi nui.
Lana Hart & Martin Ward's involvement (page creator)
I am an old friend who has recently spent time with Nick and his family in both Christchurch and Auckland. I have recently assessed their needs from a personal perspective and now consider fundraising an urgent matter for this family's well-being.
Use of funds
1) increased number of professional caregiving in the home
2) alternative support and treatments such as family counseling, and
3) respite care for his wife Sophia.
All funds will go directly to Nick and Sophia for their discretionary use.
---
Latest update
Keeping on for Nick 25 May 2019
Even though Nick's condition continues to deteriorate, he finds the energy to let us know how he's doing and always welcomes your correspondence with him, which he always reads but can't always reply to. Your donations are important too, so keep them coming to this family that is trying to make the best out of, well, a crap situation.
Here's what Nick posted on his Caring Bridge site on 17 May:
Hi,
Thanks for all your emails over the past couple of months and sorry for my lack of response.
I've enjoyed catching up on your news and am always touched to know that you're thinking of us.
I've been preoccupied recently with changes in my condition, namely my weakening left arm and increased difficulty with my speech, swallowing and breathing. My diminished arm strength has affected my ability to drive my chair and i've found it immensely frustrating loosing my mobility. Fortunately i'm expecting the delivery of headrest mounted controls next week and hopefully i'll get the hang of them quickly.
Did you know that we produce and swallow up to 1.5 ltrs of saliva a day, hard to believe eh? Well you can take my word for it, it's true! Swallowing has become difficult and I have to expel what seems like industrial quantities of the stuff throughout the day and night. We're trying different drug and fluid regimens to deal with it but it's a bit of a moving feast. I'm using my ventilator 24/7 and am off it only briefly each day for showers and I have a tablet attached to my power chair, on which i have speech software. Due to the absence of a kiwi accent I now speak with what is thankfully a relatively gentle Aussie accent going by the name of Tyler!
Today's music choice is Simon and Garfunkel - Keep the customer satisfied. I love it's energy and power, especially the brass - it's a wonderfully ballsy song. Sophia and I saw them in 2009 and i'll never forget when early into bridge over troubled water the PA cut out and without missing a beat the audience picked it up and sung it to conclusion...it was spine tingling.
Love and best
Nick
Keep giving and stay in touch with Nick
---
Latest donations
---
Who's involved?

Created by Lana Hart & Martin Ward

---
Page Moderated
The page has been checked by our team to make sure it complies with our terms and conditions.
---
Fundraise
You can
start a fundraiser
to have your own page that raises money directly for Nick and Sophia Ward.
---
Got a question for the page owner?
One question has been asked already. Check it out and
ask yours here
.
---
Any concerns?
Report this page
---
This page was created on 5 Nov 2018 and closes on 5 Nov 2019.