Strange Worries 22 March 2018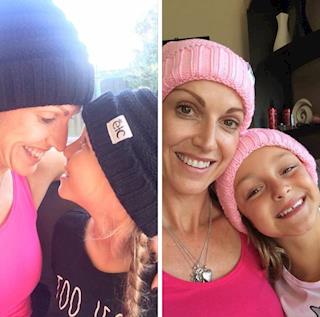 Sometimes what we are worried about can be so strange, yet that is all you can fixate on. Like when I was learning to drive, I was so worried about having to use the indicators. Changing gears didn't bother me, being in charge of a motor vehicle didn't bother me, but I lost sleep over indicating 😂.
So my treatment is chemo based. That's the important part, that will annihilate my immune system and get rid of this monster brewing inside of me 👌. But it also means I will lose all my hair. This doesn't phase me in the slightest, but my little girl Tovah (black beanie) is devastated. Hates the idea, it really upsets her and I was starting to feel like she was actually starting to get frightened knowing I was going to return BALD!!!
It has been really upsetting 😢, I don't want to come home and she is scared of me, it would absolutely break my heart 💔. So the Mum I am, sprung into action....I need to fix this!!!
I suggested the girls cut my hair off together (it's currently down to my bum 😳). Issy was keen, but Tovah, um nope 👎 so not happy with that idea.
Mmmmm...then I saw these beanies, in adult and kid sizes 💡. I thought maybe, if we had matching beanies, and she could see that we all looked the same with them on, it would somehow make her not so worried 🤞. Worth a try!!!
They arrived, we put them on.....she gazed at me, touched my face, and said "Mumma, apart from those whispy bits of hair at the back, this is just what you will look like, you look beautiful Mum" 😢😢😭
So the deal will be, that when we first see each other on my return, we all wear our beanies. I will be wearing my black one that day, to match my Tovah. And I am praying that I will be met with 4 arms wrapped around my neck and no fear in sight 💙💜
Sometimes what we worry about can be so strange....I'm hoping I have relieved her worry....this time. And hope I don't have to wear the beanie permanently till my hair returns 😬
Nat xx
1 comments | Login to leave a comment
Hey Nattie, just a thought but have you got any pics of you when you shaved your head as a teenager? Maybe you could show her that?? Kate xx