Preparation is starting 🇷🇺 14 January 2018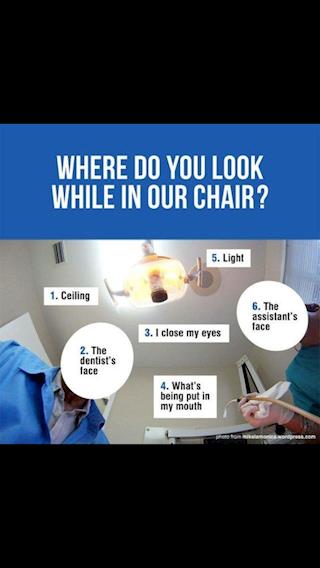 This was me on Thursday....at the dentist. 😂😂
I need to ensure all my teeth are in order prior to treatment as to avoid infections.
Was pleasantly surprised, got one small filling (but not in the tooth I was expecting 😬). Had the full overhaul and all is how it should be 👍. Will go to the hygienist for a clean and book another clean for the week before I go. Can tick that box Woop woop 🙌.
Talking of ticking boxes, I have a lot of them to get through. Lists are my friend. I have 5 different ones on the go at the moment, just for my trip.
✈️ 'to get there' list
🏥 'medical checks/referral' list
💵 'fundraising' list
🛒 'food to take' list
🇷🇺 'essentials to purchase' list
Some are ALOT longer that others!!! Some have sub lists too!!! Fair to say my brain is somewhat overwhelmed 🤯, but I will start ticking those boxes and it will all fall into place.
Bank meeting, flights and hotel booking, fundraising venue/date/details and confirming acts, are all on the agenda next week.
223 days till I depart!!!
I AM COUNTING DOWN!!!
Thanks again to everyone making this a possibility for me!! 🙏 🙏🙏
Nat xx
0 comments | Login to leave a comment