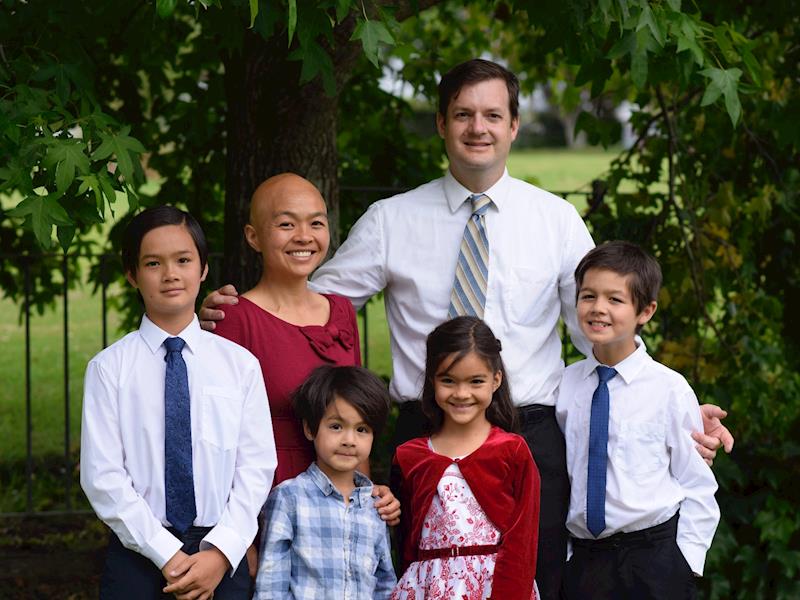 Need help whacking down metastatic colon cancer
I need to raise funds to pay for treatment for metastatic colon cancer.
Auckland
A few weeks ago I learned that my cancer has recurred as "stage IV metastatic cancer." A recent scan showed cancer in the ovary, peritoneum, and small intestine. This comes with good news and bad news. The good news is that overall I feel quite positive and at peace. The bad news is that the New Zealand healthcare system does not fund many of the cancer drugs included in the international standard of care for metastatic cancer. These must be self-funded, to the tune of several tens of thousands of dollars. I feel positive, and peaceful, but poor.
My treatment plan includes FOLFIRI + Avastin (bevacuzimab) first, and then FOLFIRI + cetuximab. Unfortunately the New Zealand public health system does not cover bevacuzimab and cetuximab. I am therefore going to have to self-fund these two drugs. The costs are very steep. They are $40,739 NZD for 12 cycles of bevacuzimab (6 months) and $44,989 NZD for 12 cycles of cetuximab (6 months). Altogether this would be $85,728 NZD ($57,626 USD with current exchange rates). Apparently the drug companies offer a "deal" whereby after cancer patients pay high prices for the first several treatments, the subsequent treatments are "free" ("forever," for bevacuzimab, though apparently it tends to stop working after a period of time, or for the remainder of a 12-month period for cetuximab).
I have hated fundraising ever since I had to go door-to-door selling Christmas wrapping paper and magazine subscriptions in primary school. Nevertheless, Joseph and I do not have the financial reserves to meet these medical expenses, and I need to ask for help. I very much want to stick around as long as possible to be my kids' mother. I am determined to beat the odds. I recently joined a new Facebook group called "Colontown" (ha ha), and have been buoyed up by community members' reports of overcoming their stage IV disease. I am committed to seeking the best medical care possible.
Because my medical situation is fluid, it is possible that I might use funds raised not only for these two drugs, but also for other medical expenses, to seek treatments overseas that are not available in New Zealand (such as new clinical trials, etc.), and to help meet my family's expenses during this time."
Any amount of donation would be so appreciated. I love how, through the power of people acting together, a little becomes a lot. Thank you.
Use of funds
Money will be spent on drugs that the NZ public system doesn't fund, other medical expenses including possibly seeking treatments overseas, and meeting the family's expenses during this time.
---
Latest update
healing and dealing 9 October 2019
Dear everyone,
This is just a little update to say that this coming Monday will be my Fourth American Chemo (Eighth-Post-Recurrence Chemo). Time flies when you have IV infusions once every two weeks!
I have a meeting with a HIPEC surgeon at the Huntsman Cancer Institute tomorrow. HIPEC is a surgery that in some cases has improved outcomes for metastatic peritoneal cancer patients. You have to fit a certain narrow profile, however, and in my case the cancer may be in too many places to be operable. Nevertheless I feel happy to be investigating new possibilities. The NZ HIPEC surgeons already gave up on me, but hopefully this is because the NZ system itself is just inherently more conservative when it comes to metastatic patients.
Besides the medical stuff, things are going pretty well. The two older boys are in middle school. We were squatting at my cousin Emily's house for the first month or so, and then we found our own place to live, but it's still within the same school boundaries, so that's good. The two younger kids go to school with Joseph. Joseph is teaching at a K-8 charter school called Pacific Heritage Academy, run by a Kiwi, with a school wide ethos of honoring Pacific cultures. The school uniforms include school values like Responsibility, Craftsmanship, etc., in Samoan, Tongan, Māori, Hawaiian, and English. All this is to say that all things considered it's been a relatively soft landing for the kids, school wise. Of course it is really hard to move to a new place and a new school, especially since American schools are so much longer and have fewer breaks. (What's up with that, America!?) But the kids seem to have settled in.
Joseph just finished the first term (PHA has a Pacific-style year-round schedule, as well). This week is their inter-term break. Yesterday he was working hard to finish the term progress reports, with a bit of furtive reduplication as he tried to come up with positive, original things to say about students. I was sympathetic as he worked his way through the stack.
I can't believe that right now my colleagues at the University of Auckland are already beginning to see the finish line for the end of the second semester. The time has passed so quickly (and, the University of Auckland's academic calendar is the best!!!!). As I write this it is 11 PM in Utah, which means it's 6 PM in Auckland on a Wednesday. In my mind's eye I can see the end-of-day light on the Northwestern Cycleway, the golden cast on the water and the herons standing at the edge of the mangroves. I can see the traffic on the motorway as people leave the city behind and return to their kitchens and kids. I know the wet, forest-y smell in the air along the bike path that leads to our old house in Sunnyvale. I can see the kids riding their bikes at the end of our street, and Bertie the dog galloping happily alongside them.
At times like this I feel a bit of sadness, as if life's circumstances have snatched me, my husband, and my kids from our happy, charmed life in Auckland and dropped us here in the middle of Trump-land to face uncertainty about the future. (Even Bertie the dog is a bit depressed because we live in a neighborhood where dogs are strictly on-leash.)
But when I take time to consider the whole picture, the sadness shrinks in comparison to the gratitude that I feel to be so close to my cousins, aunts, uncles, and old friends. In this sense I really have come home to a place of refuge. I feel that this is the place that's best for healing and dealing (healing in the long term, and in the short term, dealing with vomit, IV issues, and the many indignities of treatment).
Moving has been extremely expensive (no surprise there), as have insurance co-pays/co-insurance/premiums, and we have drawn on your generous support to get here and fund treatment. We could not have made this move without this help.
All this is to say that I am so grateful to you for your kind support, and mindful of the responsibility to invest this support in my health and helping my family cope. Your generosity has made it possible for us to be flung across the Pacific but still land on our feet, and to access significant healthcare and family support resources that were not available before.
At night, when I turn out the lights and stretch out to sleep, I think about all of the people who, inexplicably, have come to my aid and my family's aid, who are pulling for me with their hearts and minds. As my friend Patrick reminded me, that love has power. Thank you so much for this.
Love
Melissa
---
Latest donations
---
Who's involved?

Created by, and paying to a verified bank account of, Melissa Inouye
---
Page Moderated
The page has been checked by our team to make sure it complies with our terms and conditions.
---
Got a question for the page owner?
One question has been asked already. Check it out and
ask yours here
.
---
Any concerns?
Report this page
---
This page was created on 9 Jul 2019 and closed on 10 Oct 2019.