R.I.P. FEROLINI MALATOESE OF VAILOA FALEATA 15 December 2019
New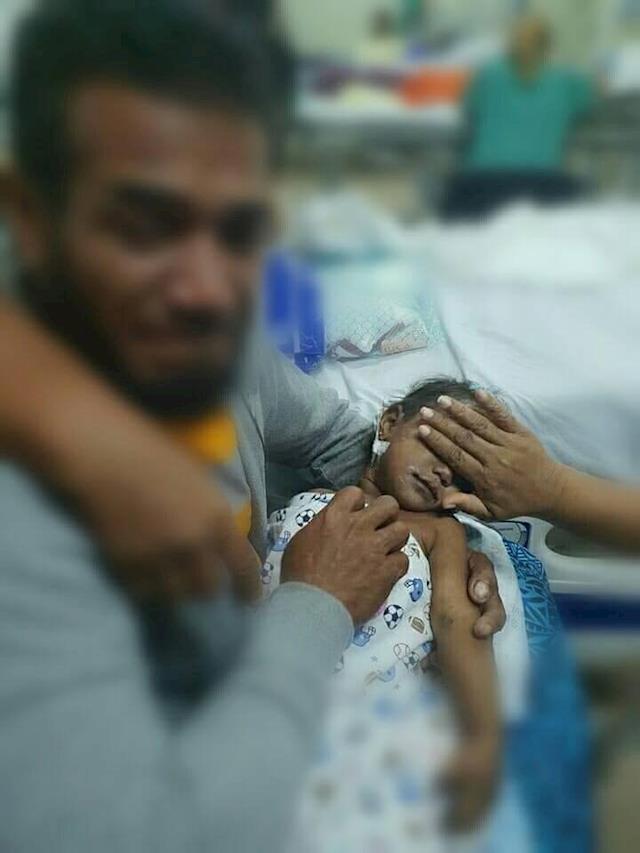 Sad to receive word this morning of another precious soul, baby Ferolini, has succumbed to measles in Samoa. Condolences to parents Lualua and Elisapeta.
ASA Foundation is currently organising support for the family to ensure Ferolini gets a proper burial. Thank you Racheal Stowers for reaching out to us.
If your family or know of a family that is struggling with funeral cost. We want to help. Please contact us.
Today the most urgent assistance needed by the families directly affected with the loss of a child is financial assistance to give the children a proper burial, and supporting those children still hospitalised.
ASA Foundation is only able to help these grieving families because of ordinary people responding to our call for action. The MEASLES SAMOA FUND APPEAL goes directly to the people affected as you can see.
ASA Foundation and partners have been on the ground in Samoa for 5!weeks now providing financial assistance to 26 families to date.
If you want your donation to go straight to support families that lost a child right now and not a month later, then I urge you to please donate to the Givealittle page MEASLES SAMOA FUND APPEAL: https://givealittle.co.nz/cause/please-donate-to-measles-samoa-fund-appeal
ASA Foundation is grateful to companies, churches, organisations and individuals who have partnered with us to ensure there is a well coordinated operation to reach the people in need as soon as resources are available. Most donors that have contacted us wants assurance that their donations goes directly to the people.
Report to date of donations through ASA Foundation and partners:
1. FINANCIAL ASSISTANCE: Supported 26 families to date. 50 more families to go as donations becomes available.
2. COFFINS & FUNERAL SERVICE: 24 coffins donated by Ronald Wattam and the Kiwi Coffin Club in Rotorua will be airfreight this Tuesday courtesy of Air NZ free of charge. ASA Foundation is working with Sefo's Funeral Service and Fesili's Funeral Service offering free coffin to any new measles cases; also a contribution to the funeral service expense to ensure every child has the opportunity for a proper burial.
3. RELIEF SUPPLY: 40 footer container of nappies, wipers, children care supply, masks, gloves and hospital supply from Auckland arriving in Samoa around the 18th December 2019. Donated supply from across New Zealand is being transported up today free of charge courtesy of Main Freight. Another 3 x 20 foot containers expected to be shipped to Samoa later this month with the help of EIF International and Henderdon Cars. A container is also coming from Australia courtesy of appeal partner J & R Enterprise in Sydney.
4. FUNDRAISERS: Thank you you individuals, groups, churches and companies that have chosen ASA Foundation and the Measles Samoa Fund Appeal & Relief as their charity partner for Samoa. The MSFA is direct from donors to the people affected... right now, not a week or a month later. We welcome anyone who wants to partner with ASA Foundation.
5. LIBRARY BOOKS: ASA Foundation and partners will be working through Christmas and New Year with the library book drive. Watch this space...
6. COLLECTION CENTRES: All this would not be possible without the dedicated teams of volunteer partners below:
We acknowledge the significant humanitarian and medical assistance offered by the international community. We are also very grateful to the generosity of ordinary New Zealanders and our Samoan people who are donating nappies, wipers, masks, gloves, hygiene and other supply to assist children that are hospitalised.
We are reaching out to you and anyone that is able to donate funds as this is the quickest way to get help to the families that have lost a child, especially the numbers keep rising. The crisis of the mind and the heart also deserves attention and support.
CLICK link to view update: https://youtu.be/Rgnhpx7qol4
Contact Tuala Tagaloa Tusani on (+6421) 0223-8663 or email tagaloatusani@gmail.com if you wish to be involved in the collection of hygiene supply for Samoa. We have collection points in Auckland and Sydney with other overseas cities to be confirmed soon.
Please share our updates to people that care of what's happening in Samoa. If you want to help and for more information contact Teleiai Edwin Puni on (+6421) 618-042 or email: edwin@puni.co.nz
**** PLEASE SHARE - SHARE - SHARE ****
0 comments | Login to leave a comment