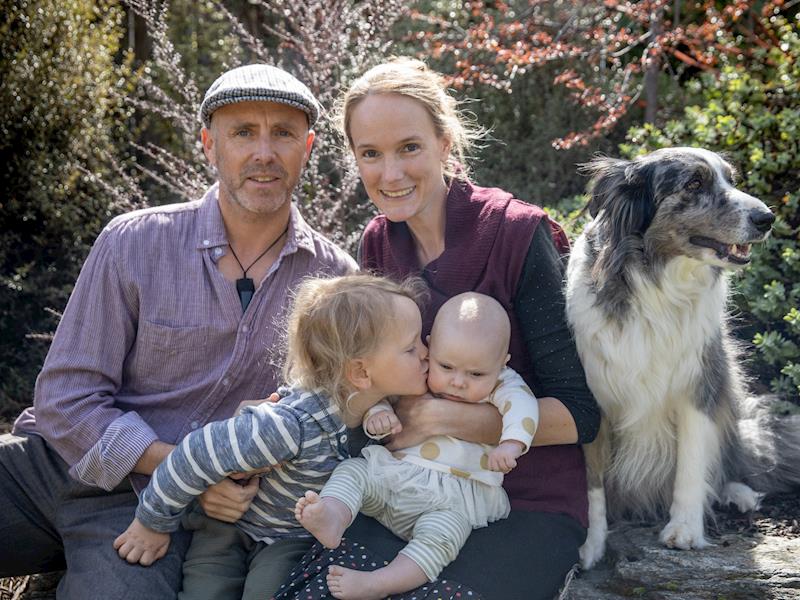 Roo Stanford
Help this young mother of two beat cancer.
Otago
This July, at 37 years old and a mother of a three year old and a six week old baby, Roo and her husband Neil got delivered the devastating news that Roo has Stage IV Colon Cancer. It had already spread to her liver and lungs by the time it was diagnosed.
During Roo's pregnancy with her baby girl Isla, she experienced excruciating pain in her abdomen, but being so heavily pregnant not much could be done in the way of testing. Being the super hero she is, she miraculously carried her healthy baby to full term and had a natural birth, all with a yet unknown giant tumour in her pelvis.
After having her baby in May the pain did not go away as the doctors said it would, but instead continued to get worse. After six weeks of caring for her new born and her boy Oscar, Roo fell seriously ill and was rushed to Dunedin hospital once again, a four hour drive away from their home town of Wanaka. A series of tests and scans delivered the devastating diagnosis. Roo had emergency surgery but they were unable to remove the tumour from her pelvis.
Two weeks later Roo, Neil and Isla were able to go back to Wanaka to be at home with Oscar again, while Roo recovered from surgery and got strong enough to commence both chemotherapy and radiation treatment in order to shrink the tumours so they could be surgically removed. With phenomenal help from Roo's parents, Neil's mum and an amazing crew of friends, an incredible support team has built up around this precious family.
In early August, once recovered from surgery, Roo started her chemotherapy and radiation journey. This has involved Roo and Neil traveling to Dunedin for four days every two weeks as the chemotherapy is such a hefty dose that it takes three days to administer. They have to leave the kids with their grandparents. By the time she is recovered from one treatment and back on her feet she gets hit with the next and is thus permanently sick and exhausted. Yet Roo's incredible fighting spirit and bright outlook on life is carrying her through the treatment and she jokes about her oncologist's magic cocktails. The chemical warfare has begun, and as Roo says, cancer has messed with the wrong lady!
Cleansing the body of cancer is not just achieved with conventional medicine. It is a healing journey of mind, body and spirit. Roo is under the care of a holistic cancer councillor to help her cope mentally and steer her in the right direction with alternative treatments to compliment the conventional medicine. Roo is also taking nutrition advice from an oncology naturopath ensuring that she is nourished in the best way possible as diet is a key factor in cancer growth. After extensive research by Neil, they have started her on an integrative off-label drug protocol using a host of prescription drugs to cut off the metabolic pathways that feed the cancer.
Roo has been given a devastating diagnosis, but she is fighting every step of the way to climb this mountain and become a radical remission survivor. And luckily climbing mountains is one thing this girl knows how to do. A ski patroller, landscape designer, mum extraordinaire and adventurer extreme, she has one hell of a spirit. If you are fortunate to have met this beautiful family, you will know that they will not give up, but they do need all the help they can get.
Money is a stress that is not necessary when there is enough to worry about already. Cancer costs a fortune! With a little help from us all we can make a huge difference to this family in need. Some of the costs include: Child care; emotional support; integrative doctors; nutrition supplements; detoxification treatments, and many other factors such as loss of income.
However, the biggest cost is some of the lifesaving chemotherapy drugs which are not Pharmac funded and are cripplingly expensive. The fortnightly travel to Dunedin to have these drugs administered also has significant costs in fuel and accommodation.
The good news is that everything they are doing is working! The last scan and blood work showed the cancer on the lung had disappeared and that Roo's tumour blood markers were falling speedily! It's working, it's going to be a marathon not a sprint, and they need your help to do it.
Please give as little or much as you can to help this family in need.
Camilla Rutherford's involvement (page creator)
This page is run on behalf of Roo and Neil's closest friends.
Use of funds
Primarily money will be used for lifesaving chemotherapy drugs (Avastin) which is not Pharmac funded, future un-funded chemo drugs along with travel expenses to Dunedin. The family also need help paying for child care; emotional counselling support; integrative doctors; nutrition supplements; detoxification treatments, and many other factors such as loss of income.
---
Latest donations

Lex & Gaynor
on 02 Jan 2021

Aroha nui from Mae Mae xxxx

Much love from Mish & Erica

Studio Home
on 15 Dec 2020
To dear Roo and Neil with all our love, Studio Home fam xo

Thinking of you lots Roo xxx
---
Who's involved?

Created by Camilla Rutherford

Paying to a verified bank account of
Neil Kerr
on behalf of Rachael Stanford
---
Page Moderated
The page has been checked by our team to make sure it complies with our terms and conditions.
---
Want to get in touch with Camilla Rutherford?
Ask a question here
---
Any concerns?
Report this page
---
This page was created on 15 Jul 2020 and closed on 16 Jan 2021.