IMPORTANT OPPORTUNITY ! - NELSON PLAN OPEN FOR COMMENTS 14 October 2020
Posted by: Alli Jackson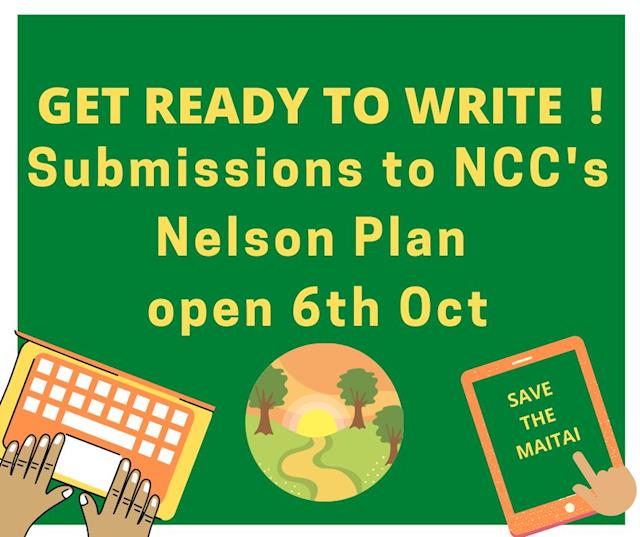 **PLEASE MAKE A SUBMISSION TO NCC TO STOP PLANS TO DEVELOP THE MAITAI VALLEY**
Council have labelled the Kaka Valley area of the Maitai as a 'Development Area' in the Draft Nelson Plan. Please submit against this and ask for the rural character of the Maitai Valley and Kaka Valley to be preserved.
The Draft Plan outlines how NCC will develop Nelson and manage our environment. Your comments can be brief, but PLEASE use this opportunity. We are in this situation because very few of us submitted against last year's Future Development Strategy consultation which included Kaka Valley as potential development land. Inclusion in the Draft Plan is the next step.
The Draft Nelson Plan is OPEN NOW for public comments (submissions) -- from 6 Oct til 6 Dec 2020 -- at this link: https://shape.nelson.govt.nz/nelson-plan
The next 'Save The Maitai' newsletter will have more info on how to make submissions.
**PETITION CLOSING 1st November**
Please share the link to change.org/savethemaitai - especially to people who don't use facebook - they might not have seen it elsewhere. Email them.
**PLEASE DIARY 12 November**
The petition will be presented to Council on this date.
WATCH the Save the Maitai facebook group athttps://www.facebook.com/groups/610138579607814/ for options for participation.
0 comments | Login to leave a comment | Share this update