Congo Activities in 2018-2019 26 January 2020
Posted by: Tasman Community Trust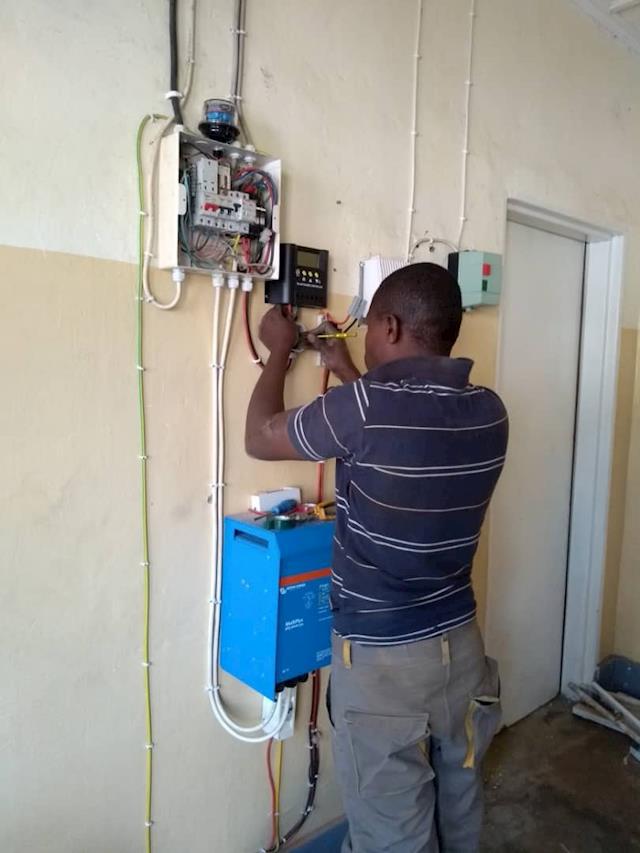 It has been a while since we updated you all on what has been done in 2018 and is being planned in 2020 (2019 was a "rest year" for health reasons)!
During our visit in 2018 we installed a 3kW Solar and Mains stabilised system into Papillon Hospital in Lubumbashi. This hospital already had mains power, but only on random days and times. The new system tops up reserve battery levels when mains are available, and charges these same batteries via Solar Power when mains are absent.
In addition, we installed a similar 3Kw system into the main administration building of the organisation we work. CDLA coordinates humanitarian help in the provinces nearby. This system has enabled the regular use of the internet via a cellular WiFi system, something that is integral to the containerised state-of-the-art X-Ray machine on site that has been generously donated by a partner in Ireland. This has revolutionised the capability for our partners to do affordable imaging for patients, the results of which can be sent around the world for interpretation (if necessary). All images are instantly digitised into High Definition files (no more old-style X-Ray plates needed!). Of course you can only do this if you have reliable power!
2020 will see us visit all installations in order to make sure everything is maintained and fully functional. The bulk of our installations will last for 20 years, but things like batteries do need replacing from time to time. In addition, some of our sites are prone to lightening strikes. For example, Mulongo and Mitwaba Hospital sites have both been hit by lightening during 2019. Fortunately, both sites are equipped with lightening rods and surge protectors, which minimised damage. However, replacement of some panels and controllers was necessary as a result of these events. This all costs money!
We are so thankful for those who continue to support this valuable work in a country where 90% of the population do not have access to electricity. Your help enables us to make a real difference by equipping desperately needed hospitals with reliable electricity.
0 comments | Login to leave a comment | Share this update