Laps for Lachie 9 November 2019
Posted by: St Martins School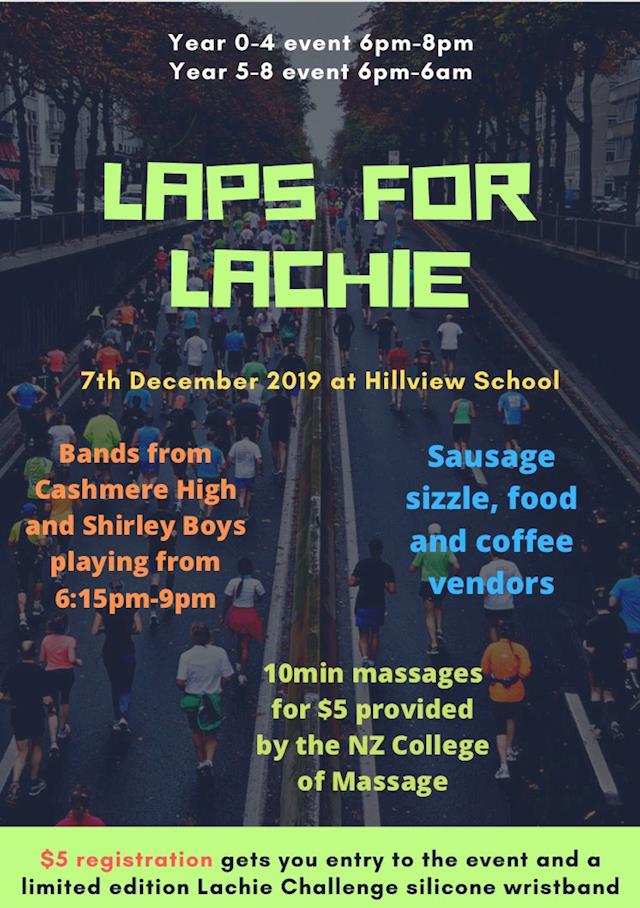 Kia ora Parents and Caregivers
We invite you and your family to participate in our upcoming Laps for Lachie event on Saturday 7th December at Hillview Christian School. We will hold a junior event for our Year 0-4 students 6pm-8pm, and an overnight event for Year 5-8, 6pm-6am.
Registration is $5 per person (please send cash to the school office). Registration includes: entry to the event and a Lachie Challenge silicone wristband. We ask that participants direct sponsors to https://givealittle.co.nz/cause/the-lachie-challenge to make donations. This event is not a race, nor are you asked to collect sponsorship based on the number of laps you complete. Please seek donations on the basis of taking up the challenge.
In a relay style, there must always be one participant moving around the 400m track. Teams of four may consist of family and friends — age is no limit and dress up is encouraged! There will be a BBQ running with sausages for $2.00, and four high school bands will perform, along with other entertainment/games for the evening.
We understand that not everyone will be able to stay for the duration of the event, so we are offering early pick ups at our Check In and Check Out tent. Please don't shy away because of the length of the challenge — we still want you involved!
If you do not wish to participate in the event itself, please still come along for a sausage, to listen to some local musicians (6:15-9pm) and to be a part of our special St Martins community.
Thank you,
The Lachie Challenge Team and The Student Council
0 comments | Login to leave a comment | Share this update