He did it! Bruce nails the Te Araroa Trail
31 May 2018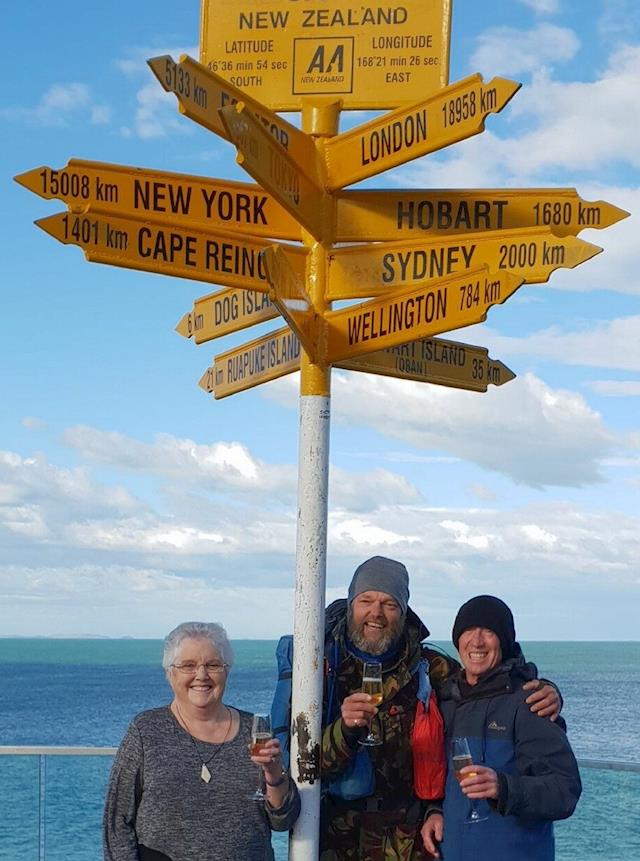 Earlier this month, Bruce took the final steps of the Te Araroa Trail to the famous sign at Stirling Point at Bluff, ate some yummy chocolate cake baked by trail founder Geoff Chappell's wife Miriam and savoured some cool bubbles picked up en-route to meet Bruce, by our Southland Support Coordinator, Lynette Nielsen.
The enormity of his journey, the stories he's told/been told, the people he has met (including a number of our grandparent care families along the way), the injuries and near death experiences he's endured and the personal reflections on life after walking 3000 km in all extremes of weather; are all now sinking in for Bruce as he gets used to normal life again.
We are delighted and most grateful to see that donations continue to come into this Givealittle page, and to date over $24,000 has been raised for GRG via the page and our website. On behalf of us all, thank you Bruce—now get some much needed rest and relaxation. You deserve it!
Donations to this page expire today. But if you would like to make a donation to GRG, please go to our main Givealittle page at https://givealittle.co.nz/org/grg to make a donation or to our website at www.grg.org.nz.
To follow the last leg of Bruce's journey raising awareness and funds for GRG along the way, or to listen to his podcasts on Radio NZ please go to:
Facebook.com/BruceHopkinsTeAraroa
Radionz.co.nz/tags/Bruce%20Hopkins
Many thanks to you all from the GRG team!
0 comments |
Login
to leave a comment