Thank You! 4 April 2019
Posted by: Waiheke Resources Trust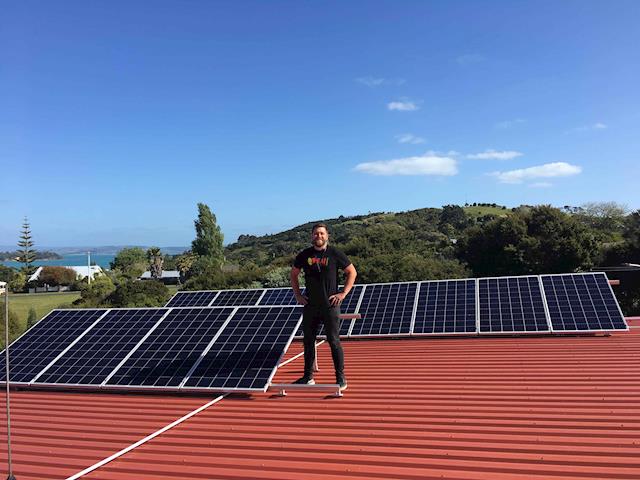 Here at the WRT we are working towards greater sustainability on Waiheke Island and our solar journey started with a French electrical engineering intern Solene who did a study of our energy use and recommended we "go solar". At WRT we know how to party so we turned our Chairman's birthday into an international event with scripted videos, a live stream, fabulous food, music, and a very special brew. Great volunteers, generous friends and our partners at Clean Stream Waiheke Ltd partied heartily and together we raised enough for a solar system.
In November 2018 we installed solar panels at our centre! Our roof now houses twelve solar panels generating 3.2Kw worth of solar energy.
Thank you!
In order to achieve this goal, a fundraiser event was held in February 2018. Thanks to the success of the event, as well as a Give a Little funding page, the generosity of the community, and donors from around the globe, a total of $5,000 was raised which Clean Stream Waiheke Ltd. then matched, giving a grand total of $10,000 to go towards funding solar panels!
What's next?
Phase 2:
We are now looking to invest in an expansion with another row of panels, allowing the centre to go off grid and be completely self-sufficient, reducing our impact on the environment through energy savings.
Phase 3:
We will then be investing in a battery so that surplus energy generated can be stored and used on cloudy days or in the evenings, when the panels will be generating little or no power.
Once we have these essentials, we will look to install e-bike and car charging points, to help encourage and support the use of electric transport on Waiheke.
Continued donations towards our projects are accepted on our website. www.wrt.org.nz
0 comments | Login to leave a comment | Share this update