Make your impact go further. Harness the power of your donation and pay it forward by gifting your tax credit to your chosen charity.
Givealittle has partnered with TaxGift to give you the option to donate your available tax credit to the charity you initially donated, to keep your giving going and make an even bigger impact for your chosen charity.
Simple to sign up
When you donate to a charity with Tax Donee status, you can opt in, via a tick-box, to re-donate your tax credit via TaxGift. If you opt-in, you will be prompted to supply your IRD number and declare TaxGift has authority to process your tax credit and re-gift it as a donation. If you are already registered with TaxGift on Givealittle, all you need to do is tick the box.
All the hard work is done for you
TaxGift is a simple and secure process integrating with Inland Revenue to claim a tax credit as your tax agent. TaxGift receives the tax credit from Inland Revenue and passes it through as a further donation to your originally chosen charity via Givealittle. This means your original donation is amplified by 33.33%, being the tax credit amount, and is magnified further as each subsequent qualifying tax credit is re-gifted to your original charity, up to approximately 48% of the original donation.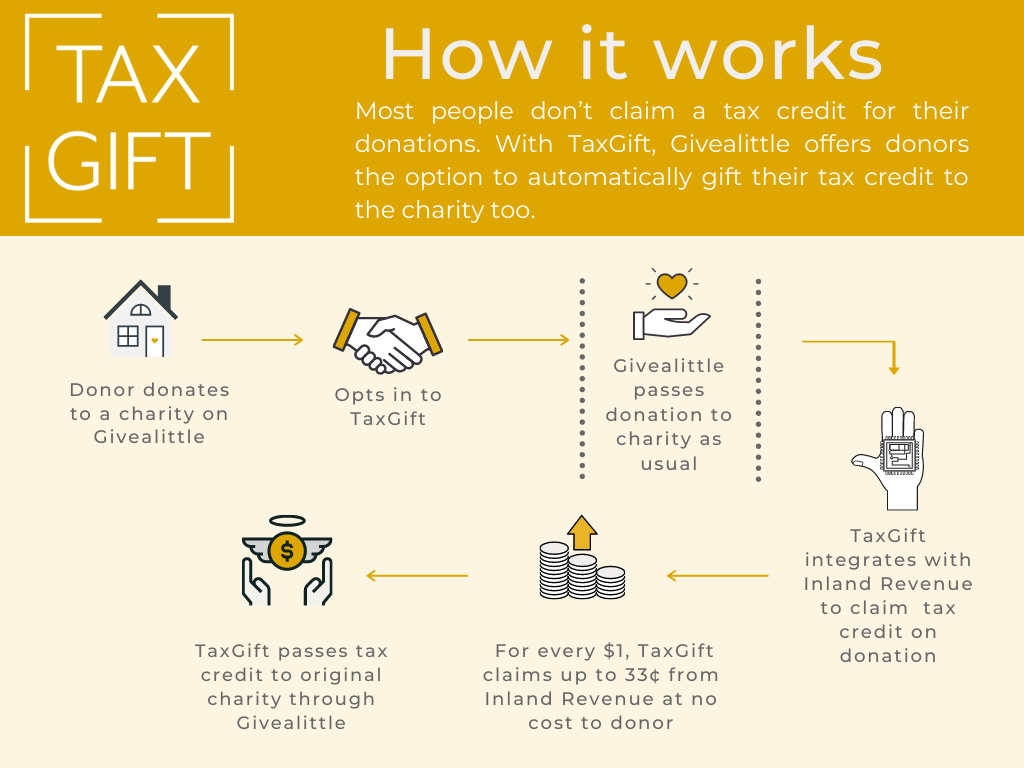 A big impact for the charities you care about
The threshold for a tax credit on a donation is $5 or more. You must also be a New Zealand tax resident who has paid income tax in the relevant tax year in order to claim a tax credit.
Example 1
You donate $10 to a charity.
Your available tax credit is up to $3.30, received as a cash refund.
The $3.30 is re-gifted to that charity when your tax position for the relevant period has been finalised, so your total gift becomes $13.30.
Example 2
You donate $100 to a charity.
Your available tax credit is up to $33.33, received as a cash refund.
The $33.33 is donated to the originally chosen charity when your tax position for the year is finalised. This results in a further tax credit of $11.11.
$11.11 becomes an additional gift actioned in the following tax year, resulting in a further tax credit of $3.70.
$3.70 is below the $5 minimum threshold to trigger another tax credit, so the benefit of your re-gift choice ends.
Over three years, from an initial donation of $100, your total gift to the charity is $148.14 at no additional cost!
---
Common questions
When does the charity receive the funds?
TaxGift receives your tax refund once your tax position for the year has been assessed and cleared via the IRD. Donations are provided to Givealittle for processing to allocate to beneficiary charities. In some cases it may take one to two years for an original donation tax credit to be processed by the IRD. In subsequent years, donation tax credits are typically processed annually.
Who is TaxGift?
TaxGift is a Kiwi organisation born out of a desire to help those in the charity sector maximise their impact through fundraising, by helping generous New Zealanders like you, maximise their social impact through charitable giving. TaxGift is a member of the Fundraising Institute of New Zealand (FINZ) and is bound by its code of ethics and code of conduct. Please see TaxGift's FAQs on their website here for further information.
Why do I need to approve TaxGift as my Tax Agent?
Donors need to appoint TaxGift as your tax agent for the sole purpose of claiming a tax credit on eligible donations through Givealittle. Appointing TaxGift as your trusted tax agent allows them to act on your behalf to prepare and file an IR526 (a donation specific tax return) with Inland Revenue on your behalf to claim available tax credits. Importantly, this does not affect any other tax agent relationships such as an accountant appointed to manage income tax returns or other affairs.
When you opt in to TaxGift for your first donation on Givealittle, you will complete the fields and be sent a TaxGift authorisation form for your records. The authorisation form covers the donation for which you have opted in, together with any future donations on the Givealittle platform that you might choose to TaxGift at the time that you make those donations. This means that you will not have to go through the process of signing, providing your IRD number, etc. again. However, each donation will only be a TaxGift donation if you choose to tick the box for that specific donation – it will not happen automatically.
Who pays the processing costs?
Re-gifting a tax credit doesn't cost the donor anything, but it does mean the donor will forego their tax benefit. Due to the volume and nature of the work required to administer, track and apply funds on behalf of many donors, a combined TaxGift/Givealittle fee of 14.2% (12.35%+GST) is charged on the total of the tax credit received and charged to the charity beneficiary, who can also claim back the GST component.
Can I change my mind?
Yes, if you decide for any reason that you wish to claim your tax credit personally, before it has been claimed by TaxGift, you can notify Givealittle, and we will issue you with a Tax Receipt and change your donation to 'non-gifted'.