Mathematics Competition - Light up the darkness 24 May 2021
Posted by: Children of the Light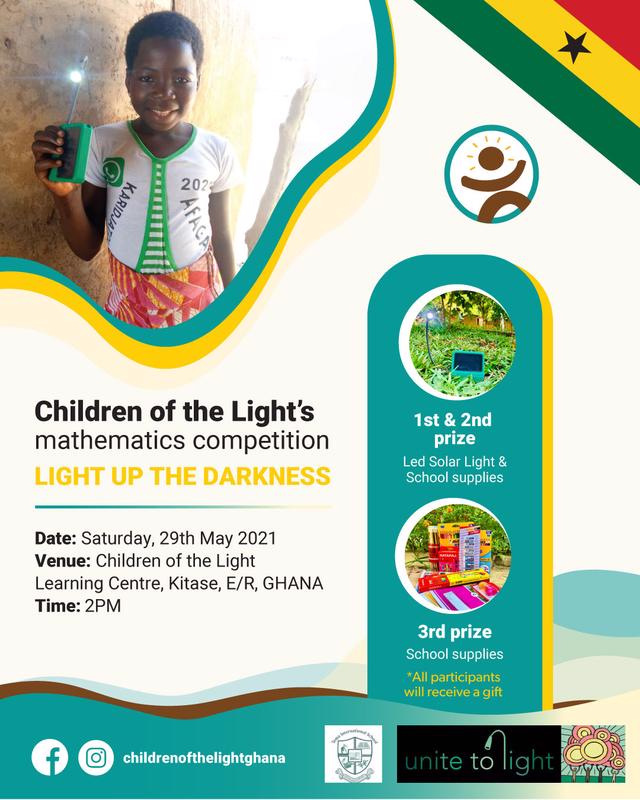 On Saturday, 29th May we will be holding our Annual Mathematics Competition at the Children of the Light Learning Centre. Great prizes to be won and all participants will receive a gift. Alongside this program, we are currently preparing the students of two schools (950 students) in the North East Region in Northern Ghana to take part in a Mathematics Competition on Saturday, 17 July - 1st school: 10 am, 2nd school: 2pm.
On our recent visit to Northern Ghana, we came to understand that the majority of the children in the two schools we are now working with were going to school without their needed supplies this being something as simple as a pencil. With this information, back in February we sent 1000 exercise books, pens and pencils for all the students. They were absolutely delighted.
Organizing this competition for these children is excitement all round. We recently received a fantastic donation of LED Solar lights from Tema International School in Ghana, we now seek assistance to purchase school supplies and a gift for all the participants. Any donation towards this will surely help us 'Light Up The Darkness'. Thank you and God bless you.
0 comments | Login to leave a comment | Share this update