Craniotomy 8 May 2019
Posted by: Dave Ledbetter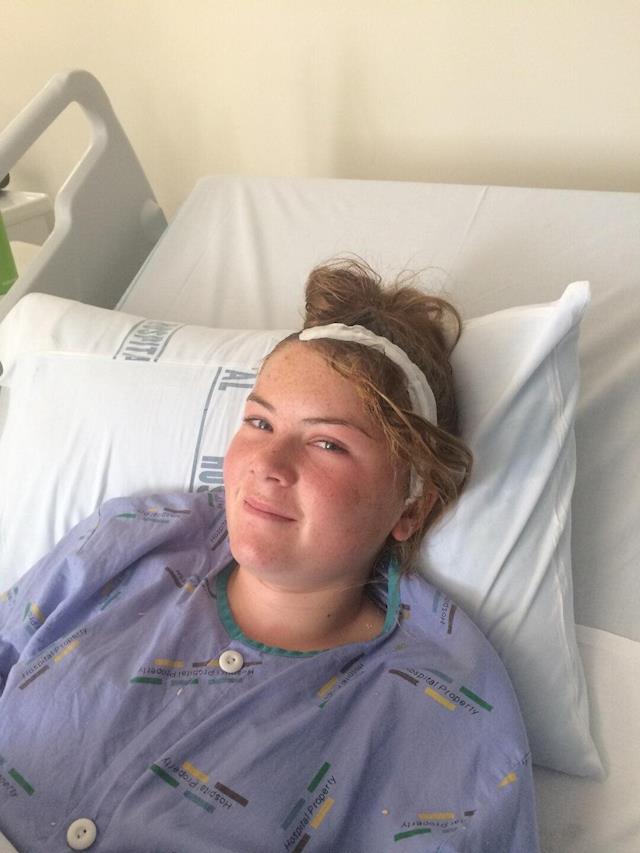 After the embolism we were quite happy that the risk was reduced significantly but we knew it was not over yet.
Dr Andrew Law (our brain surgeon) informed us that the remaining 10% of the AVM in her brain (malformed vein- prone to rupturing) HAD to be removed through a craniotomy. If it wasn't removed, it could grow bigger and present similar risks as before the embolism. Simply, the idea was to remove every last bit of the AVM and put this thing to rest forever. We did not like the intrusiveness of cutting a hole in her skull, removing the AVM and the long recovery associated with a craniotomy but we had tried everything else- this was the next step.
On May 6th 2019 we came up for pre-operative scans and test to prepare for the craniotomy the next day. May 7th Alyssa was nil by mouth from 6 am, she was admitted to hospital at 1030 am and was scheduled for surgery at 1 pm. Unfortunately the surgery before her took longer than expected and Alyssa did not go into surgery until 3 pm. Waiting that long without food or drink was an emotional time for everyone. I (Dave) took her into the surgical room and supported her as they put her under general anaesthetic.
A long 3-½ hour wait ensued. Waiting is tough- too much thinking through different scenarios for concerned parents. We were relieved to see her in the recovery room and hear the surgery went very well. The doctors think they got all of it!
Today, May 8th, she has been moved form ICU into her own room; the head bandage and catheter has been removed. She is returning to normal. The swelling will remain for a few days but everyone is positive with her progress as we see her returning to normal.
Now we have a week in Starship Hospital before she has one more scan to confirm the doctors have removed it all. After that it is two weeks at home in Whakatane with no school for Alyssa. Depending upon her recovery rates, the subsequent next 4-8 weeks is transition back to school with possible half days or similar.
0 comments | Login to leave a comment