Completed! 18 March 2017
Posted by: Mr DR & Mrs AE Bannister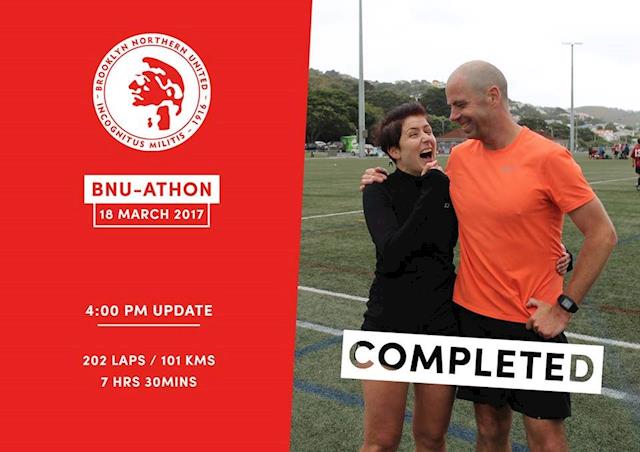 We have completed the 101km!
Wow what a day. Dene completed 54.5km, Annie completed 46.5km.
Annie, having spent the last two days in bed with a cold and being plagued by back pain, registered her first ever marathon. A really special achievement.
This was Dene's second ultra marathon distance.
It was a really long, hard day as the wind picked up around lunchtime, making the second 50.5km a real challenge. We finished the 101km in a time of 7.5 hours - starting at 8:30 am, finishing at 4 pm.
We apologise about the lack of updates on the Givealittle page during the event - it proved difficult to access the updates on the mobile app. We were updating recently on the BNU Facebook page - @BNUAFC - some great pics on there if you want to check them out. We will also have pics added to the BNU website during the week: bnu.org.nz
Thank you to all who have supported us, with donations, with time, with kind words, with training advice, with social media and photography expertise. We couldn't have done it without you.
Now for the next event....! :) :)
BNU! BNU! BNU! BNU! BNU!
Thanks again, Dene and Annie
0 comments | Login to leave a comment