BNU-athon
BNU Men's 1st team coaching duo Dene and Annie Bannister are going to extreme measures to raise money for the competitive teams 2017 subs.
Coaches to go to extreme measures to raise money for football club
Brooklyn Northern United's Men's 1st team coaching duo Dene and Annie Bannister are going to extreme measures in an effort to raise money for the men's and women's competitive teams.
The husband and wife team are preparing for what is being dubbed a "BNU-athon", with the couple running a combined 101kms (celebrating the club's 101st season) on 18 March to tie in with the clubs annual Club Day.
The couple will run a combined 202 laps of a perimeter course around the club's home ground, Wakefield Park, kicking off at 7am on 18 March.
Amateur sports clubs face a constant challenge raising funds and the couple are prepared to "put their money where their mouth is" in an extreme attempt to raise $12,000 - $16,000 to pay for the subscription fees of the men's and women's competitive teams at this proud club.
Brooklyn's Men's 1st team play in the Capital Premier division; Head Coach Dene Bannister says:
"Each season our small but dedicated committee work around the clock trying to raise enough funds to support the needs of the competitive teams. It's not easy on them, each year they put up with me arriving cap in hand, asking for gear, kit, training grounds and they do all they can to meet those needs. We thought it was time for us to show our commitment to the players and repay the faith to the committee. "
He goes on to say:
"Neither of us have contemplated anything like this before but we aren't afraid of a bit of hard work. Who knows, we may fail spectacularly, but we can't keep expecting the club to put in the man hours they are putting in, trying to keep the club afloat. We need to try something different if we expect a different outcome."
"It's not just about the Men's 1st team squad, it's a show of support to all competitive players at the club. We see so many capable players drop off the scene due to affordability issues. Amateur sport needs to be accessible to everyone, not just those who can afford the privilege. This is as much about supporting the sporting community as anything else."
This Givealittle page has been set up for people to show support of the event as the couple in attempt to complete this mammoth ultra-running challenge.
There will be a range of donation options available, including donation buckets circulating the grounds during the Club Day event.
Men's 1st Team Manager Annie Bannister says:
"There are no guarantees we will raise the $12,000 - $16,000 we are aiming for, even if we go the distance. We need the assistance of our members, supporters, local businesses and the general public to help us out by spreading the word via social media and word of mouth. Without the required support we are just a couple of crazy people running around for no particular reason."
While Dene and Annie are both nervous about the big event, the love for their club and determination to provide the players with the best possible football experience outweighs any reservations they may have.
It sounds like 18 March is going to be an eventful day. Why not come along (or jump online), dip into your pocket and show your support. Every little bit helps.
Thank you.
Use of funds
2017 subs for the four competitive men's and women's teams at BNU.
Other page links
---
Latest update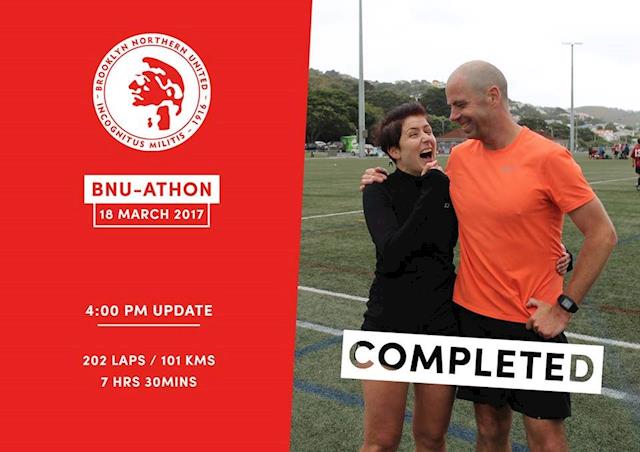 Completed! 18 March 2017
Posted by: Mr DR & Mrs AE Bannister
We have completed the 101km!
Wow what a day. Dene completed 54.5km, Annie completed 46.5km.
Annie, having spent the last two days in bed with a cold and being plagued by back pain, registered her first ever marathon. A really special achievement.
This was Dene's second ultra marathon distance.
It was a really long, hard day as the wind picked up around lunchtime, making the second 50.5km a real challenge. We finished the 101km in a time of 7.5 hours - starting at 8:30 am, finishing at 4 pm.
We apologise about the lack of updates on the Givealittle page during the event - it proved difficult to access the updates on the mobile app. We were updating recently on the BNU Facebook page - @BNUAFC - some great pics on there if you want to check them out. We will also have pics added to the BNU website during the week: bnu.org.nz
Thank you to all who have supported us, with donations, with time, with kind words, with training advice, with social media and photography expertise. We couldn't have done it without you.
Now for the next event....! :) :)
BNU! BNU! BNU! BNU! BNU!
Thanks again, Dene and Annie
---
Latest donations

Geoffrey Bannister and Jerri Ross
on 28 Mar 2017
SO very proud of you Dene and Annie!
Mr DR & Mrs AE Bannister
Thanks heaps Geoff and Jerri - really appreciate this :) xxoo


Guest Donor
on 22 Mar 2017
Mr DR & Mrs AE Bannister
Thank you so much xxxooo


Mr DR & Mrs AE Bannister
Cheers Eu. Big love to ya!


Cam & Kate Mitchell
on 21 Mar 2017
Great works guys!
Mr DR & Mrs AE Bannister
Thanks Cam and Kate - much appreciated 😊


Donation bucket at club day
on 19 Mar 2017
This is the amount collected on club day 😊
Mr DR & Mrs AE Bannister
Thank you to all who supported us and donated on the day. Really appreciate it 😊

---
Who's involved?
---
Page Moderated
The page has been checked by our team to make sure it complies with our terms and conditions.
---
Want to get in touch with Mr DR & Mrs AE Bannister?
Ask a question here
---
Any concerns?
Report this page
---
This page was created on 4 Mar 2017 and closed on 30 Apr 2017.