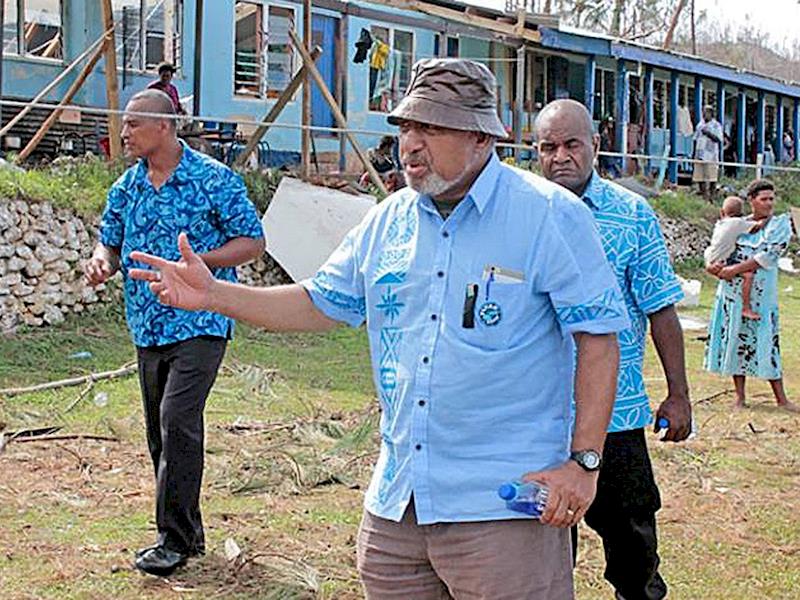 Support research into climate change and democracy in Fiji
Help me travel to South Africa to deliver a paper at an international conference about the politics of climate change and democracy in Fiji.
I am raising funds in order to travel to South Africa to attend a conference where I will speak on climate change and democracy in Fiji.
I have been invited to deliver a conference paper at the triennial consultation of the Global Network for Public Theology in Stellenbosch, South Africa. The conference dates are 24-26 October 2016.
The theme of their meeting is "Democracy and Social Justice in Glocal Contexts". My proposed paper is entitled "Public Theology in the Context of Climate Change and Fiji's Unchanging State of Exception".
Fiji has emerged from military rule and moves toward democracy. This paper investigates the case that climate change might reinforce undemocratic governmental practices due to the exceptional nature of this global threat and the idea that strong states are need to counter this threat. My paper proposes actions that the church can take to decentralize and democratize action for climate justice. You can read the paper abstract here: https://radiescent.wordpress.com/2016/06/28/research-into-climate-change-and-democracy-in-fiji/
Funds raised will go to cover return travel from Fiji to South Africa, accommodation, conference fees, and related expenses.
No amount is too small (or too big). Every little bit helps.
If you can't make any financial contribution you can still help me by letting your networks know of my plea for assistance. By sharing this campaign with your friends you increase my chances of attending the conference.
(the above photo is of Frank Bainimarama, Prime Minister of Fiji, surveying damage caused by Tropical Cyclone Winston in 2016)
Other page links
---
Latest update
Tickets Booked 9 October 2016
Posted by: Richard Davis
I have made my bookings for the Conference and will leave Fiji on 22 October 2016.
Yesterday the Fiji Times carried this article about the "Climate Crisis" hitting Fiji:
---
Latest donations

Guest Donor
on 30 Aug 2016
Richard Davis
Thanks so much for the generous donation. Much appreciated.


Guest Donor
on 27 Aug 2016
Richard Davis
Thanks for the generous donation. Much appreciated!


Guest Donor
on 12 Aug 2016
Richard Davis
Thanks for the generous donation.


Richard Lawrence
on 27 Jul 2016
Honouring those who worked to bring climate change to the attention of people and governments. Good wishes for the work ahead.
Richard Davis
Vinaka Richard - thanks for your generous support and encouragement, Richard


Climate change researchers have a moral problem if they travel to a distant place to deliver and discuss results of their research. A climate change conference is almost certain to bemoan the huge quantities of fossil fuels we burn. Each person who flies a long way to such a conference will burn a substantial fraction of a tonne of fuel - each person on the airliner burns this much. Hence there is an element of hypocrisy in traveling to the conference. An alternative is to present the paper electronically then discuss it on a forum such as ResearchGate. I have written a little program based on fundamental aerodynamics to compute the amount of fuel burned. I have sought, but not yet received, fuel burn data from real flights to check my calculations. At present I will go no further than to say we are talking about a substantial fraction of a tonne for each passenger, but that airliners are becoming more economical. Because yours is a theological conference, not primarily devoted to climate change, the element of hypocrisy is mitigated. Because I have derived enjoyment from pursuing the fuel-burn question, I feel honour-bound to pay for my pleasure. Hence, I am pleased to give a little.
Richard Davis
Cameron, Thanks for the donation and the comment. You are right that we need to think carefully about international travel and conference attendance. I certainly don't make a habit out of going to conferences on other continents. We in the Pacific struggle with two things - huge impacts from climate change and being a long way from one's academic peers and colleagues. We need innovative ways to deal with both problems. Richard.

---
Who's involved?
---
Page Moderated
The page has been checked by our team to make sure it complies with our terms and conditions.
---
Want to get in touch with Richard Davis?
Ask a question here
---
Any concerns?
Report this page
---
This page was created on 18 Jun 2016 and closed on 31 Aug 2016.