New Developments 10 March 2019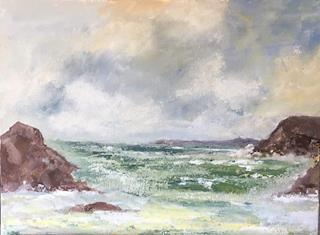 There have been some developments in Ed's journey this week, and we also wanted to let those of you who are local know that we have a movie night fundraiser organised on Thursday the 28th of March at 6pm - 'Swimming With Men - Sync or Swim'.
Thanks to your efforts, the Weston's were able to afford to fund the $7500 a month for his dramatically life-changing medication. As a result, Ed is now able to fulfil his long-held dream of painting full time, and, thanks to the incredible efforts and support by you he feels he, at last, has the energy and determination to get up a few canvases. This angel of a man has painted an absolutely stunning picture to auction as a fund-raiser for one of Otumoetai College's students, who is also battling cancer. It is the first time in just over a year that Ed has felt so inspired to get things done and he wants everyone to know how grateful he is for your wonderful, ongoing support! It has meant more to him and his family than one could imagine!
In a recent development, the doctor's have now changed the medication that Ed is on. A positive outcome, however, is that, for the time being, the new medications ARE funded so the burden of the heavily non-funded drug has been lifted for now.
As we are unsure of what medication will be required in the future to ensure that Ed continues to lead a full and active life, we are keeping the page open. As many of you can appreciate, the cost of this journey has not been cheap.
Ed is really looking forward to the movie night!! So if you are able, please join him! Email kwhyte@otc.school.nz for tickets!
0 comments | Login to leave a comment