What if I fall? But Oh! What if I walk! 15 May 2018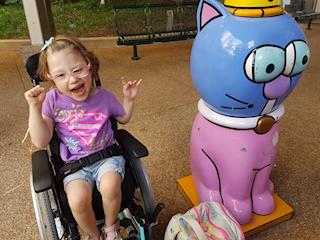 I just wanted to send an absolutely enormous thank you to every single one of you who have supported Ella to get to St Louis (and back).
SDR was performed on Ella's fifth birthday, May 3rd, and was a huge success. Ella's recovery went smoothly - pretty much by the book. The week that followed saw absolutely incredible gains and abilities we have never seen before.
Hands down, best decision I have ever made in my entire life. Ella is having another procedure today, PERCS, to lengthen the muscles in her calves to increase the range of motion in her ankles. All to improve her ability to walk. PT begins again tomorrow and then we return to the hotel for another few weeks of rehab with the St Louis SDR team.
We have managed to raise over $220,000 in all. We await our final costs for our return travel, hope like heck nothing extra crops up & then focus on Ella's rehab plan when we return home.
Please just take one small moment to imagine I am giving you a huge thank you hug for supporting Ella. It truly has been a breathtaking experience watching her experience such delight and ease of movement in only one short week. I cannot wait to share with you all her bright, bright future.
One of my favourite moments here was in a PT session last week. The physio asked me if she had ever been on a treadmill and I shook my head. I said to Ella,
Hey Ella, you want to try out the treadmill?
YEAH!!!! Ella squealed
Do you know what a treadmill is?
Very matter of fact, she whispers..
"Noooooooo"
Gotta love this kid!
She kicked the treadmill butt by the way! Video is up on Facebook x
0 comments | Login to leave a comment